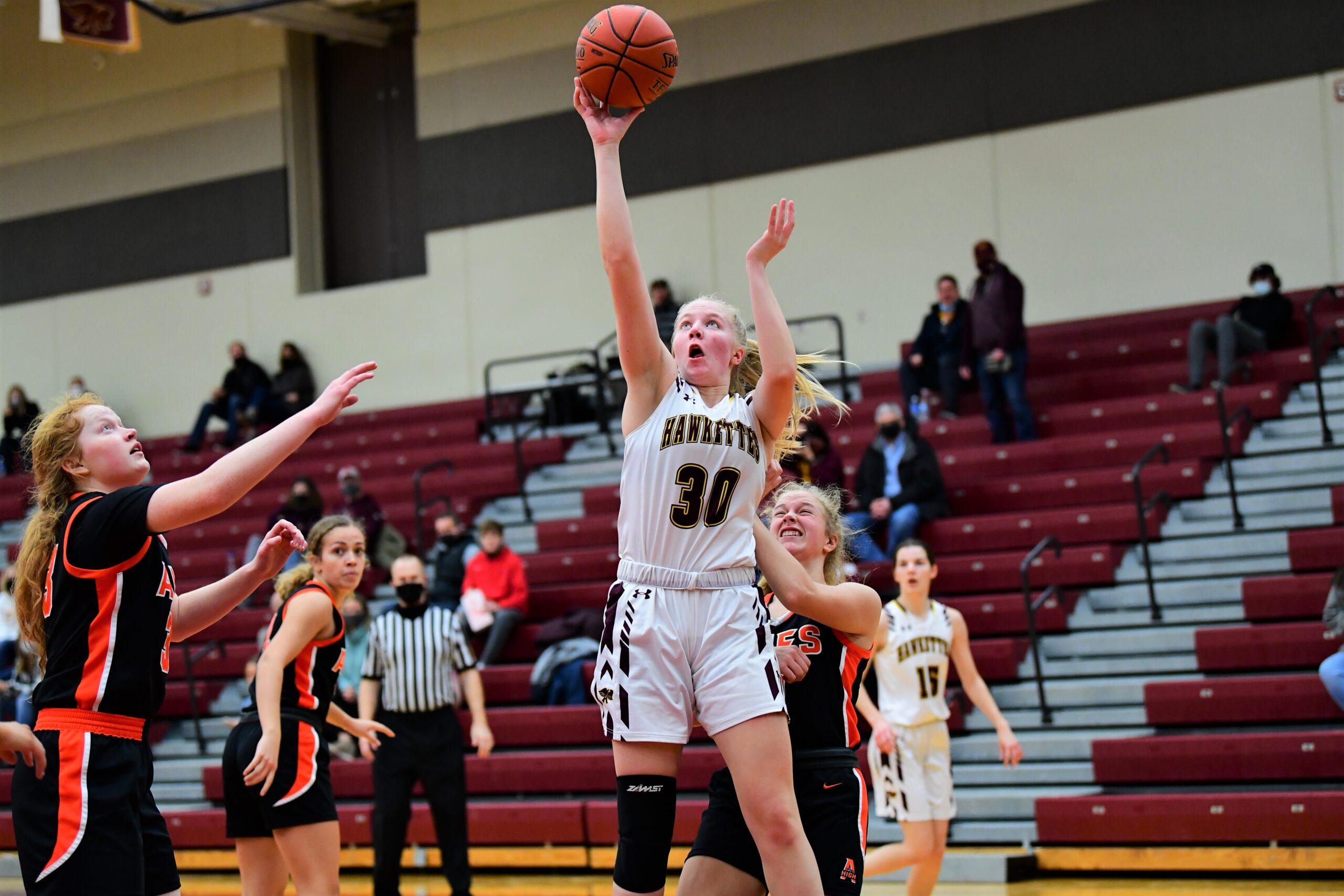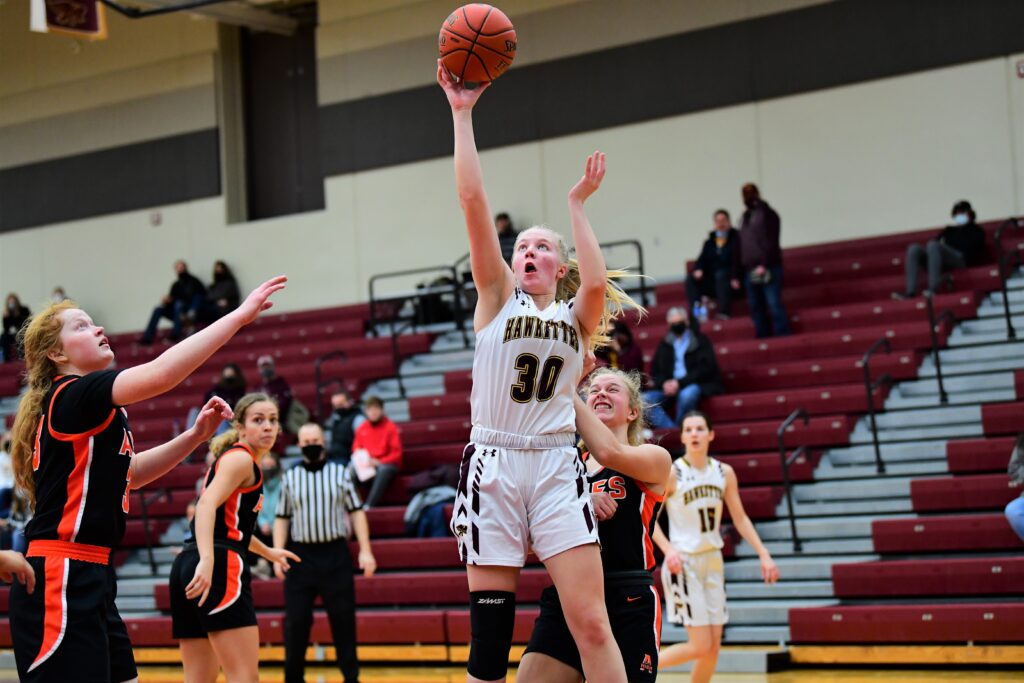 The Ankeny and Ames girls' basketball teams were both missing a key player for Friday's regular-season finale at Ankeny.
Only one of them could be back next Saturday, when the two squads will likely face off again in a Class 5A regional semifinal.
Forwards Calyssa Wright of Ankeny and Ashley Iiams of Ames both sat out with concussions as the Hawkettes posted a 45-32 victory. While Wright is expected to return to Ankeny's lineup next week, Iiams has been ruled out for the season because the Drake recruit has suffered multiple concussions.
"It was kind of a weird night," said Ankeny coach Dru McAnelly. "We knew Calyssa wasn't going to play, and then (we learned) Iiams had suffered a concussion, too. There was no sophomore game and (assistant) coach (Seth) Hagarty is home with COVID. It's just kind of a weird vibe, but we overcame some tough shooting the first half. We really won it with defense and staying together as a family and mental toughness."
Abby Johnson scored 18 points as Ankeny defeated the Little Cyclones for the second time this season. The Hawkettes finished 7-2 in the CIML Iowa Conference and improved to 9-6 overall, while Ames' records dropped to 5-5 and 8-10.
"It was really important to win this game after having a tough four-game stretch and then having a great game against Hoover (on Tuesday)," Johnson said. "Just continuing that (winning) streak was really important going into the postseason."
Ankeny jumped out to a 12-2 lead in the first quarter before Ames rallied. The Little Cyclones closed the gap to 16-13 at halftime, then tied the score at 18-18 on a basket by Caroline Waite in the third quarter.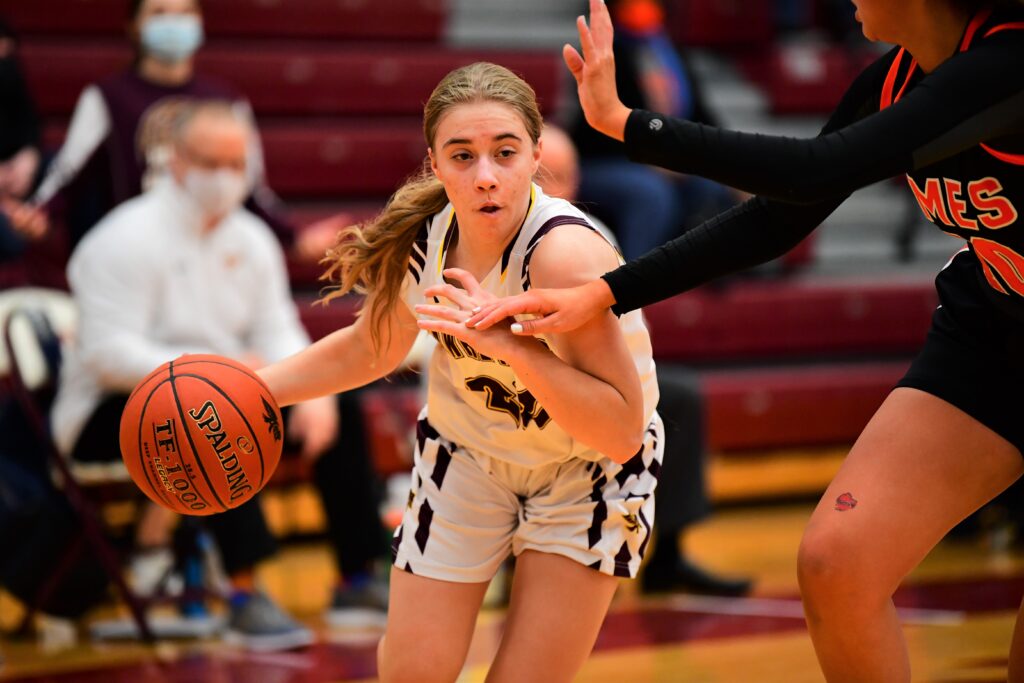 Freshman Karsen Jacks answered with a 3-pointer for the Hawkettes, igniting a 15-3 run that broke the game open. Johnson, Katelyn Anderson, Jenna Pitz and Rachael Christmann also made 3-pointers during the run.
"That's one of the biggest things about this team. Everybody can score so you can't just focus on one of us," Johnson said. "You have to account for all of us. That's one of the reasons that I believe we can go far in the postseason."
Johnson had 12 of her points in the second half. She scored seven straight points late in the game to help seal the victory.
"She just has a great confident demeanor," McAnelly said. "She believes in herself at all times. I thought our girls did a great job of getting her the ball in spots where she could score."
Waite scored a game-high 21 points for the Little Cyclones, but it wasn't enough. The loss of Iiams, who averages 16.9 points and 8.1 rebounds per game, was too much to overcome.
Iiams was injured during Tuesday's game against Southeast Polk.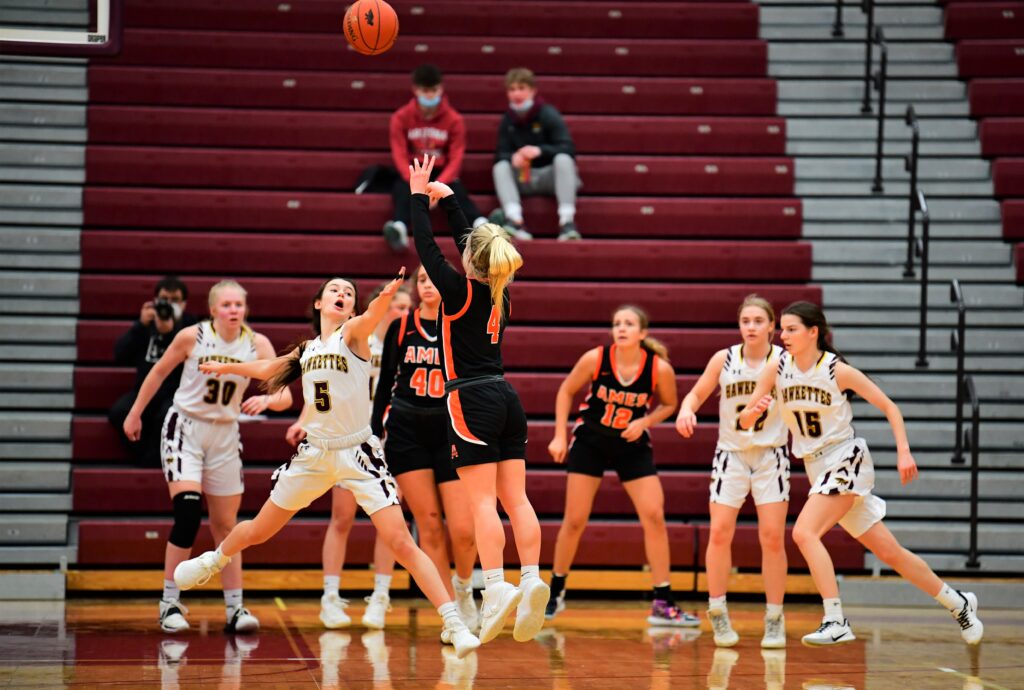 "It's been hard not having her on the court," Waite told the Ames Tribune. "She's good at every area and we're all just trying to fill her spot. I think we're all just playing for her."
Ames will host a regional quarterfinal against Sioux City West (5-15) on Wednesday. The winner will advance to a semifinal on Saturday at Ankeny at 7 p.m.
"We're hoping Calyssa will be healthy soon and back on Saturday," Johnson said.