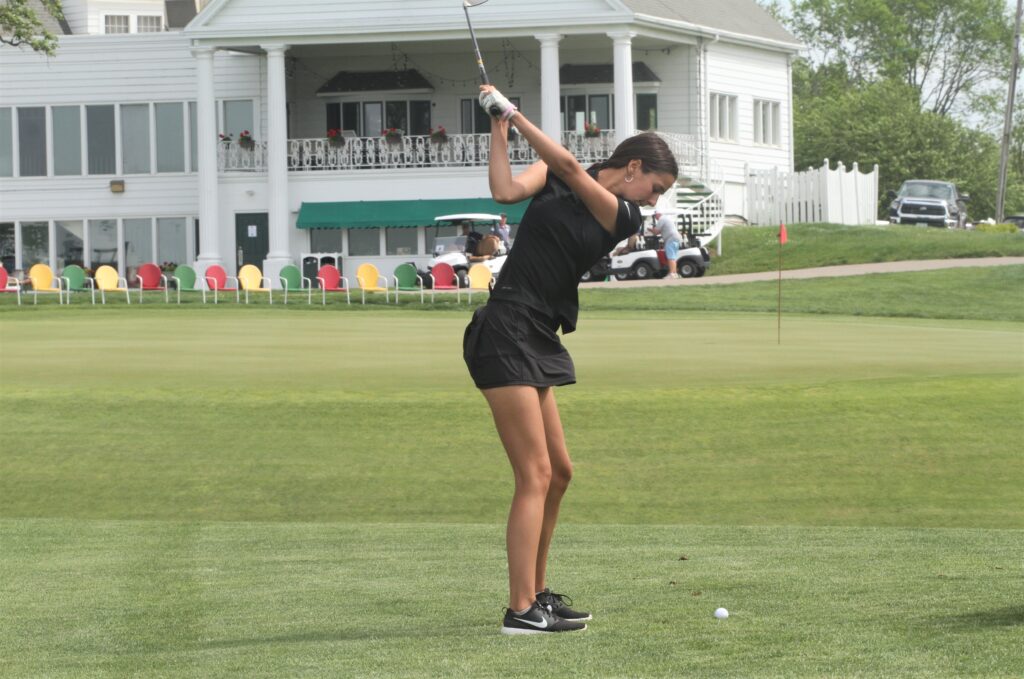 Ankeny senior Jaci Webb has qualified for the girls' state golf meet for the third time in her career. She placed fourth with an 85 in a Class 4A regional meet on May 24 at Elmwood Country Club in Marshalltown, helping the Hawkettes to a third-place finish.
Ankeny Centennial junior Kaitlyn Ault shot a 114 to finish 25th in a field of 45 golfers at the same regional meet. She helped the Jaguars to a sixth-place finish.
Here is some inside info on the duo:
What did you think of your performance at the regional meet?
Ault: I think my performance definitely could have been better. I was going in feeling confident about several areas of my game, but nerves, conditions and the course led to a higher score than I was happy with.
Webb: I am absolutely thrilled to have qualified for state again! I was really happy with how I played given the course and the conditions that were there.
I know Elmwood is already a difficult course, and it was pretty windy that day. Did the wind make things even more difficult?
Ault: Absolutely. The wind made the course way more challenging, especially with the tight fairways and fast greens. You have to give it consideration on pretty much every shot.
Webb: The wind really came into effect on the back nine. It picked up to about 35 mph at one point, which made the course even more difficult.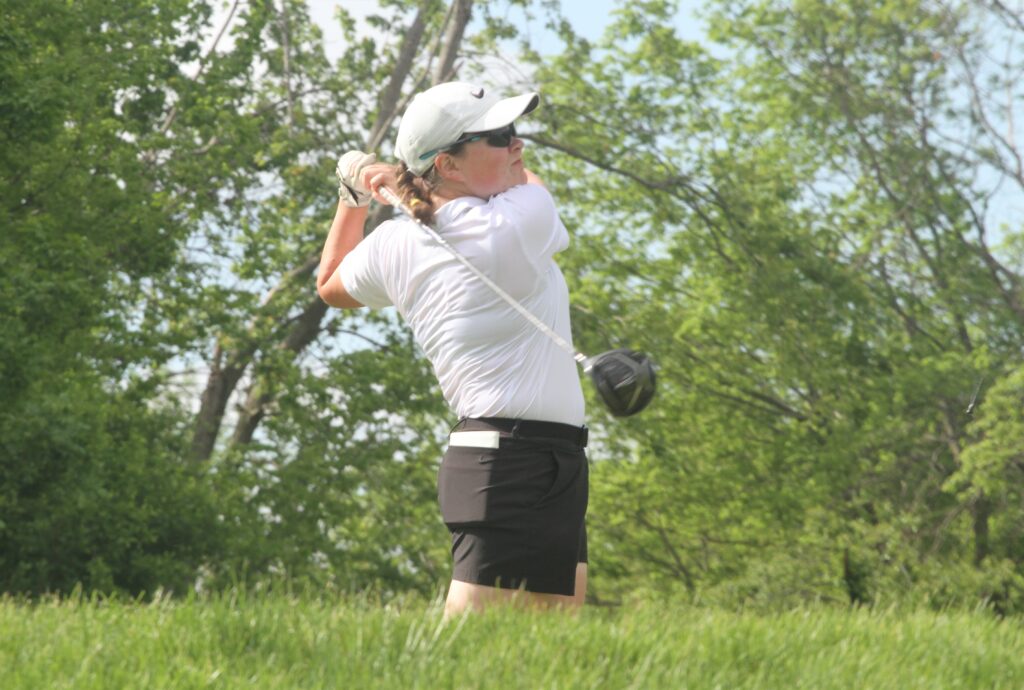 What did you think of your team's performance?
Ault: I can safely speak for myself and the whole team in saying that we expected much better results. It was the first time any of us had competed in a regional meet, and I'm really proud of everyone's efforts despite the challenges.
Webb: I am really proud of my team this year. They all worked really hard and it stinks that the meet didn't go our way, but I am looking forward to seeing how the program progresses over the next few years.
Kaitlyn, I know your team had already played the course twice earlier this season. Was that previous experience helpful?
Ault: The other rounds before helped a lot in the fact that we knew where to aim and how to stay out of trouble for the most part. It definitely built our confidence going into the day.
I see on your scorecard that you had a 10 on the par-5 No. 13 hole. Did you find some trouble on that hole?
Ault: Uhhh yes…that hole was my first hole of the day and was certainly not the start I wanted. I got out of position on one of my shots that led to me hitting in the hazard, and then to top it off I had a rough time chipping and putting on the fast green.
Jaci, you played in the 2018 state meet at Elmwood. Did you have any flashbacks to that meet while you were playing at the regional meet?
Webb: I had a lot of flashbacks while I was playing. At state and during regionals coach Hagarty walked with me the whole round so him and I were just kind of talking about different things that happened during state. The most talked about flashback was when he had to push me up the No. 11 hole because he thought I was going to pass out because it was so hot out that year.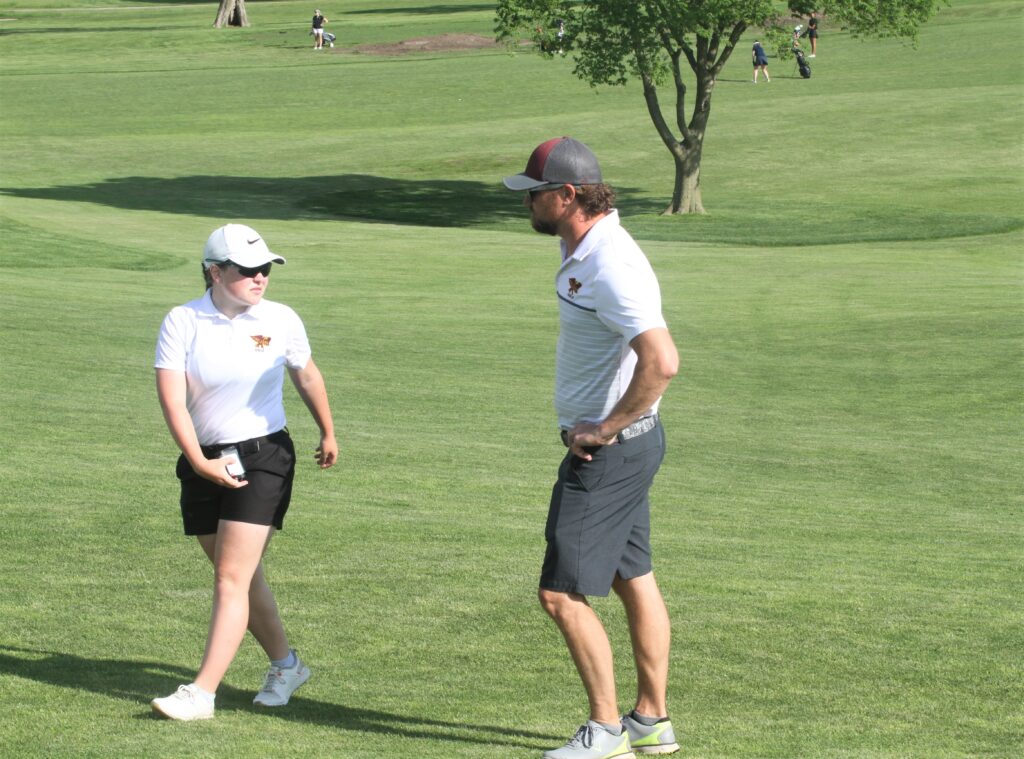 You had a 39 on the front nine and a 46 on the back nine. Is the back nine considerably tougher, or did you just not play as well in the second half of your round?
Webb: The back nine is a lot more draining on your body due to the amount of hills. There are just so many different lies that you have on that nine, due to the hills, so it is definitely a little more challenging than the front nine.
Kaitlyn, were you happy with what your team accomplished this season? Do you feel like you made a lot of progress?
Ault: I am beyond proud of my team. None of us had ever played in a varsity meet prior to this season. Every single one of us met multiple goals throughout the season. We definitely could not have done it without the support of coach Pete(rsen) and coach Hadley. I appreciate their patience, positivity and constant help throughout the season.
Your older sisters played a variety of sports including golf, soccer and swimming? Did you try them all, and what did you like about golf?
Ault: Growing up I tried a little bit of everything, but found that I really enjoyed golf. I love that it's an outdoor activity and that I can do it for a lifetime. Nikki still loves golf too, so it is fun to have her help as well.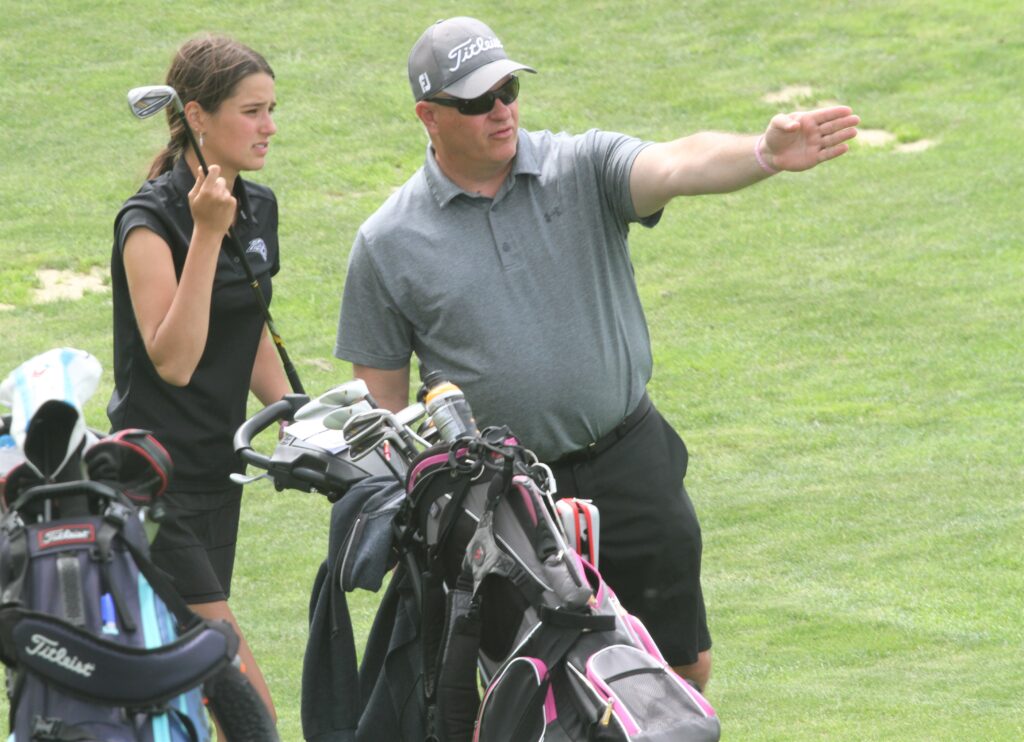 Are you planning to play a lot this summer? What aspects of your game do you need to work on the most?
Ault: Yes, my dad and I are planning on playing several rounds this summer and checking out different courses. I really want to work on consistency through all my swings, but especially my driver. I'd also like to keep those three-putts to a minimum.
Jaci, you will now get to play in the state meet on your home course at Otter Creek on Tuesday and Wednesday. What is your goal going into the meet?
Webb: My goal is just going to be to have fun and enjoy my last two days of high school golf. I would love to place in the top 10 at state, but I really just want to enjoy my last couple of days and make a lot of memories.
Paige Hoffman of Valley and Shannyn Vogler of Bettendorf, the top two finishers in the 2019 state meet, are both back in the field. Who do you think is the favorite to win the individual title?
Webb: I think both of them have a great shot given their individual seasons this year, so it is really hard to pick one, but I ultimately think it is going to come down to who can handle Otter better in whatever conditions there are.
You will obviously have an advantage over some other golfers because of your familiarity with the course. For those golfers who have never played Otter before, where can you run into trouble on the course?
Webb: You can really run into trouble at Otter by not knowing where to place the ball on a lot of holes because of how many hazards and bunkers there are. The other thing that I think I have an advantage over, in my opinion, is that I really understand how the greens work and that is really important at Otter.