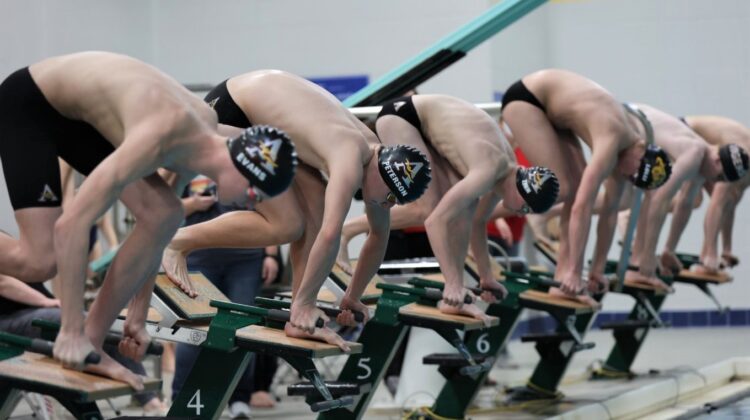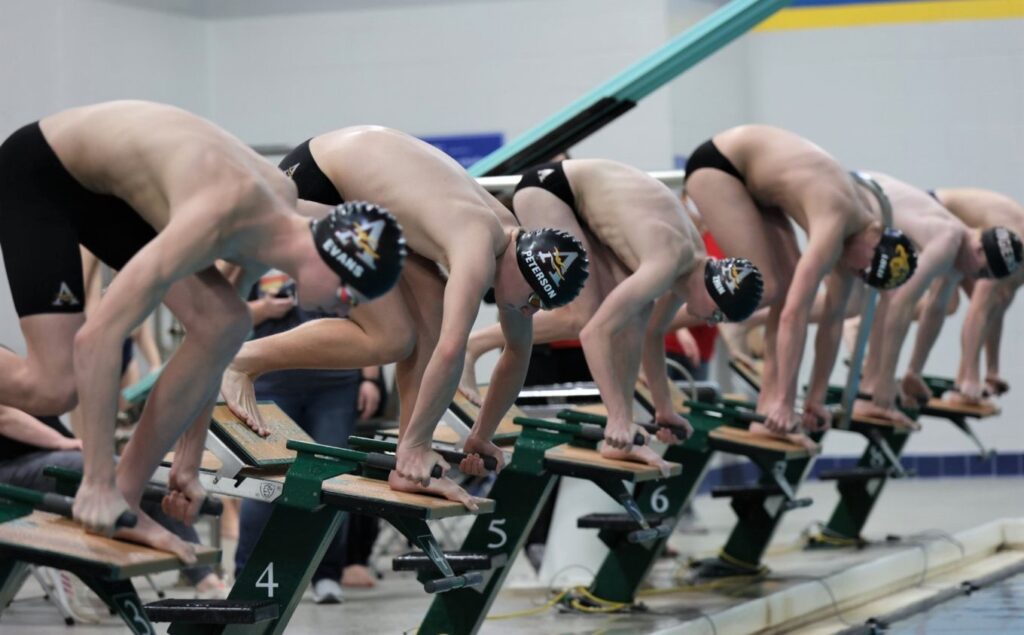 Saturday's Little Hawk Invitational at the Coralville Recreation Center featured four of the top six boys' swimming teams in Iowa.
Sixth-ranked Ankeny placed fourth in the eight-team field with 289 points. No. 5 Bettendorf won the meet with 403 points, edging No. 2 Iowa City West by four points.
No. 4 Pleasant Valley took third with 330 points.
"We are in the middle of an interesting stretch for our team," said Ankeny coach Justin Crouch. "With no practice on Wednesday due to weather, we came out against Marshalltown on Thursday at home and really had a good day filled with a lot of season bests. Today was a mixed bag performance which was to be expected after the short turnaround. Now looking ahead to next week we have a meet at Waukee before winter break."
Ankeny's best event of the day was the 100 butterfly, where the Hawks placed three swimmers in the top six and scored 48 points.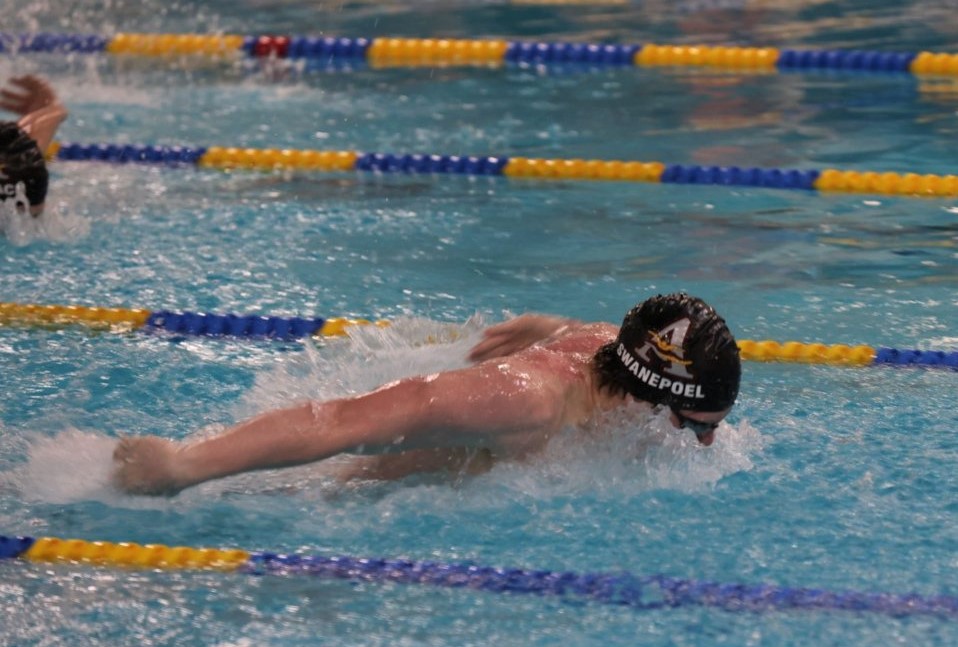 Lance Swanepoel won the butterfly in a time of 51.27, finishing more than a second ahead of the field. Owen Schwebach was fourth in 52.88, and Calvin Howard finished sixth in 55.63.
Zach Zinn placed seventh in a pair of events. He posted times of 1:52.08 in the 200 freestyle and 50.67 in the 100 freestyle.
Brock Peterson took seventh in the 100 backstroke in 56.83. Nathan Neppl was seventh in the 100 breaststroke in 1:04.69, finishing .05 seconds ahead of teammate Hudson Griffin, who was eighth.
Devin Thornton placed eighth in the 50 freestyle. He was clocked in 23.21.
Finn Stukerjurgen was eighth in the 200 individual medley in a time of 2:09.33. He later placed 12th in the 500 freestyle in 5:16.10.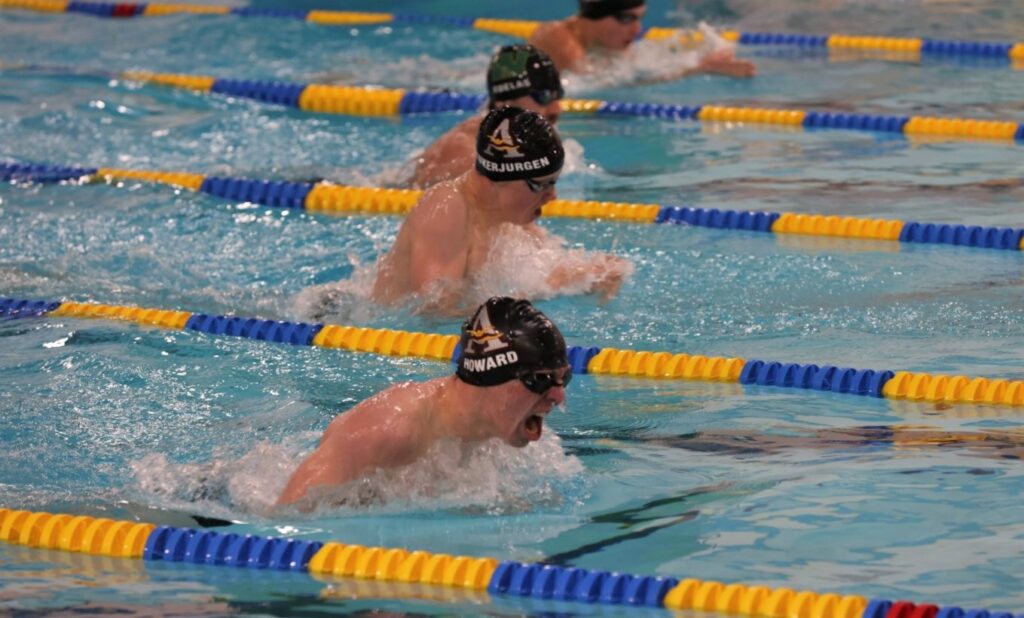 "I felt like we swam well in some spots, but there are definitely places where we can get better," Crouch said. "I am thankful we have this opportunity to go to Iowa City every year to see some teams that we aren't accustomed to seeing. It gives us an opportunity to race in unfamiliar situations and see how our team reacts when there is some pressure. Today, especially early in the meet, I felt for the first time this year we didn't respond well in an uncomfortable situation. You can always find things to correct in races. No one has a completely perfect race, especially this time of year. There is always something that can be done better. Today I felt like we could have come out with more energy and been more aggressive early in the meet."
Ankeny opened the meet with a third-place finish in the 200 medley relay. The foursome of Peterson, Neppl, Schwebach and Swanepoel posted a time of 1:39.44.
The Hawks took third in the 200 freestyle relay in a time of 1:28.72. That team consisted of Swanepoel, Howard, Thornton and Schwebach.
Ankeny later added another third-place finish in the 400 freestyle relay. The team of Schwebach, Howard, Peterson and Swanepoel was clocked in 3:17.29.
"With a younger team I was not completely surprised by (how we performed)–it was just out of character from what I have seen so far this year," Crouch said. "It was definitely a good learning experience and going forward we will see how we respond against a really good team in Waukee (on Tuesday). After that meet, we have approximately three weeks to work on the things we can control and get better moving forward as a team."