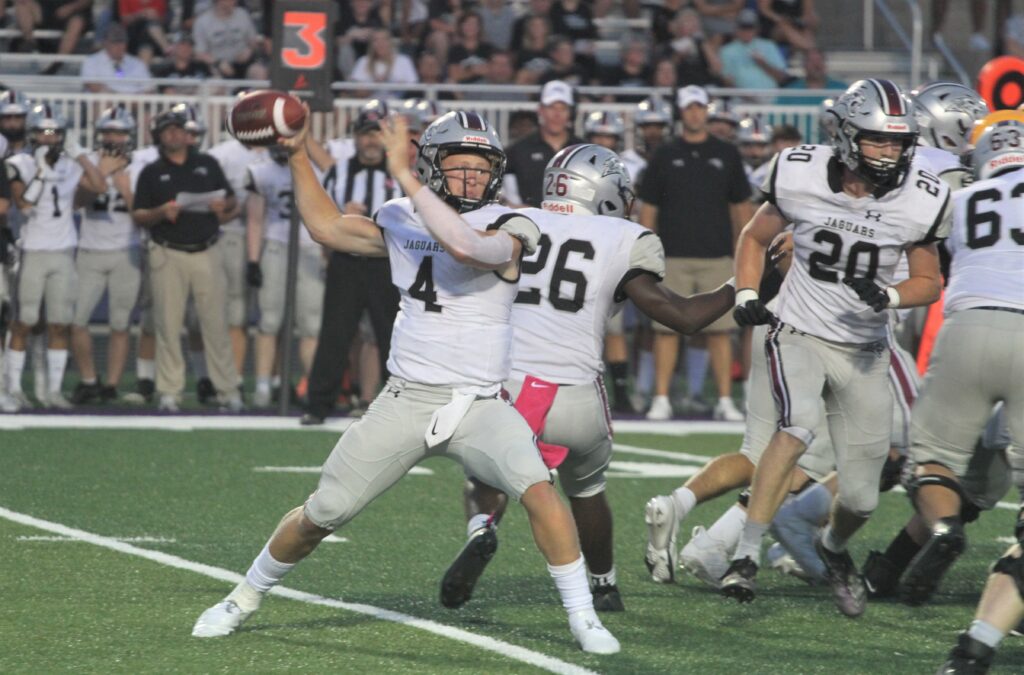 A gutsy call to open the second half helped spark the Ankeny Centennial football team to a 30-0 road victory over Sioux City East on Friday at Olsen Stadium.
Leading by only 10-0 at halftime, the Jaguars recovered an onside kick to open the third quarter and went on to reach the end zone. They added two more touchdowns in the fourth quarter to seal the win.
"The onside kick was big," said Centennial co-head coach Ryan Pezzetti. "We saw something on film, and we needed a little boost going into the second half. Our defense was playing so well that we felt like we could take a chance to try to give us some energy, and it worked out."
Isaiah Sterns caught a 15-yard touchdown pass from Peyton Goode to give Centennial a 23-0 lead with 8 minutes 36 seconds left. Carter Cahill ran 21 yards for another score with 1:49 remaining.
The Jaguars, who bounced back from a loss at Cedar Falls last week, improved to 3-2 on the season. Sioux City East (3-2) suffered its second straight loss.
"(East) did some nice things defensively (in the first half), and we had some guys playing new positions due to some injuries," Pezzetti said. "We're a little banged up, but our kids came together and once we felt comfortable in the second half, we really got some things going."
The loss spoiled East's homecoming. The Black Raiders averaged 46 points per game while getting off to a 3-0 start, then dropped a 35-7 decision to Sergeant Bluff-Luton a week ago.
On Friday, the Jaguars prevented East from reaching the end zone.
"Our defense played really well, the special teams played well, and the offense did enough," Pezzetti said.
Both teams are part of Group 6 in the new Class 5A. Playoff qualifiers will be determined by RPI rankings, which made Friday's game crucial.
"Anytime you go up there and in the RPI rankings Sioux City East was No. 6 going into the game and we were 16th, and we knew we needed to close the gap on some teams," Pezzetti said. "We did what we needed to do to win."
Centennial has played a brutal schedule that began with a loss at Indianola, one of the top teams in Class 4A, before the Jaguars knocked off defending state champion Ankeny.
"We had a very tough first four games with who we played, and all four of those teams won again tonight," Pezzetti said. "Our win-loss of our opponents and our strength of schedule is No. 1 by far in the state. We just need to take care of ourselves, and we did tonight.
"Now, we look forward to Urbandale on Friday and another tough game," he added.