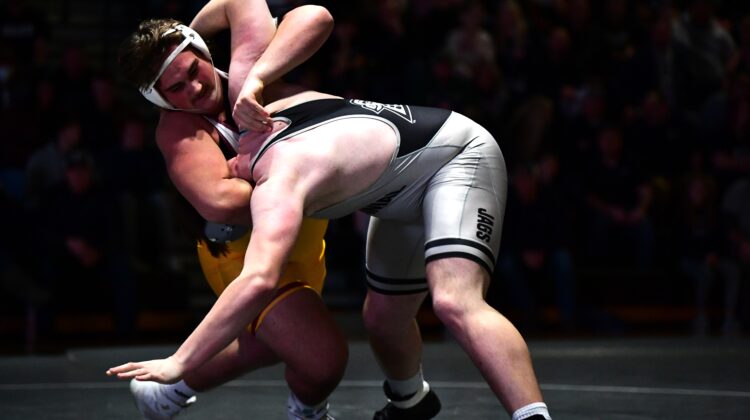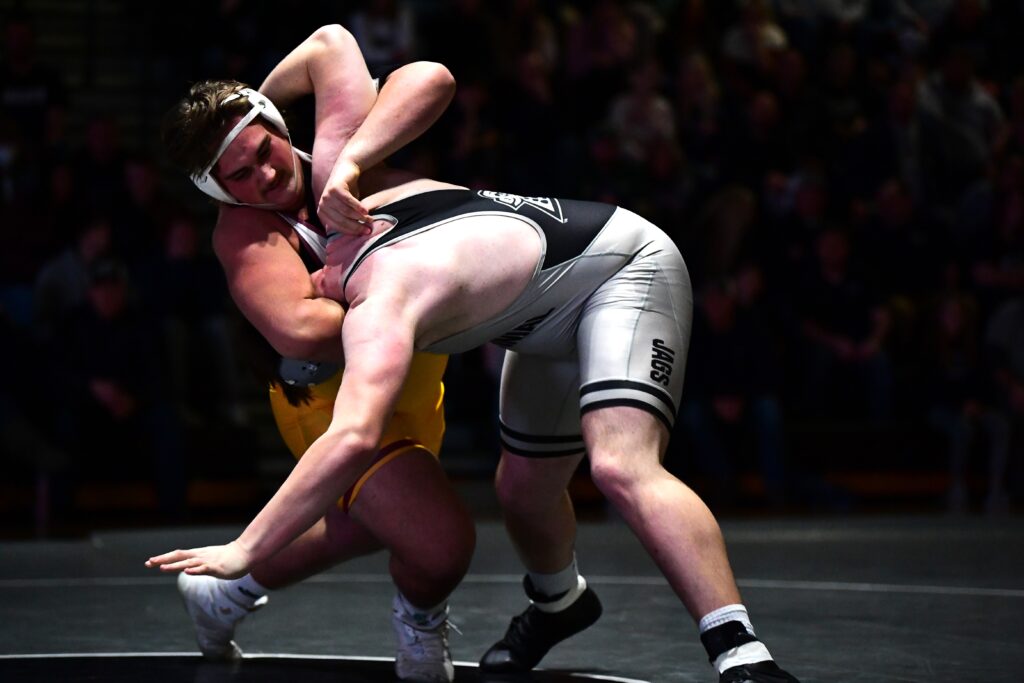 Ankeny heavyweight Joe Kingston hasn't forgotten what happened on the night of Sept. 3.
That's when Kingston and the Ankeny football team suffered a 14-7 loss to Ankeny Centennial in what turned out to be one of the biggest upsets during the regular season.
Kingston was determined not to let the same thing happen on the wrestling mat.
The junior recorded one of Ankeny's five pins and the ninth-ranked Hawks earned bragging rights over their crosstown rival for the second straight year with a 36-26 victory on Thursday at Centennial.
"It was nice to come out and beat the Jags in their own gym," said Kingston, who pinned Will Adams in just 31 seconds. "It's a pretty good feeling."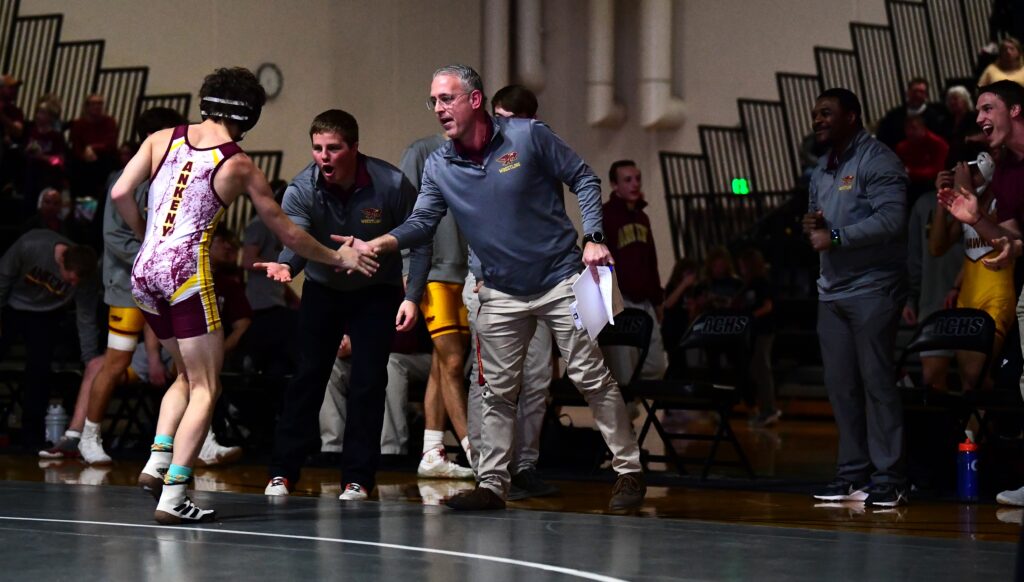 Both teams won seven matches in the CIML Iowa Conference dual meet, but Ankeny had a significant edge in bonus points. The Hawks improved to 3-0 in the league and 8-2 overall, while Centennial's records dropped to 2-1 and 7-1.
"We were pretty confident, but I also know this isn't just another dual meet. Ask our football team, right," said Ankeny coach Jack Wignall. "They felt really confident in that game, and Centennial came out and smacked them in the mouth. We've dealt with that, too, with this team. We were confident, but we just needed to go execute and our kids did that tonight."
Ankeny won seven of the first nine matches to build a commanding 36-6 lead. The Jaguars then closed out the meet with five straight victories, but they didn't get any bonus points until the last two matches.
"We lost a couple matches that I think we could have won, and if we wrestled again I think we can win," said Centennial coach Jay Groth. "But we didn't win tonight. They capitalized on the mistakes that we made and wrestled well. They were hard to beat tonight."
The Hawks got falls from third-ranked Cade Bennethum at 182 and Will Hinrichs at 195 to erase Centennial's early 3-0 lead. Kingston then added another fall shortly thereafter to give Ankeny an 18-6 advantage.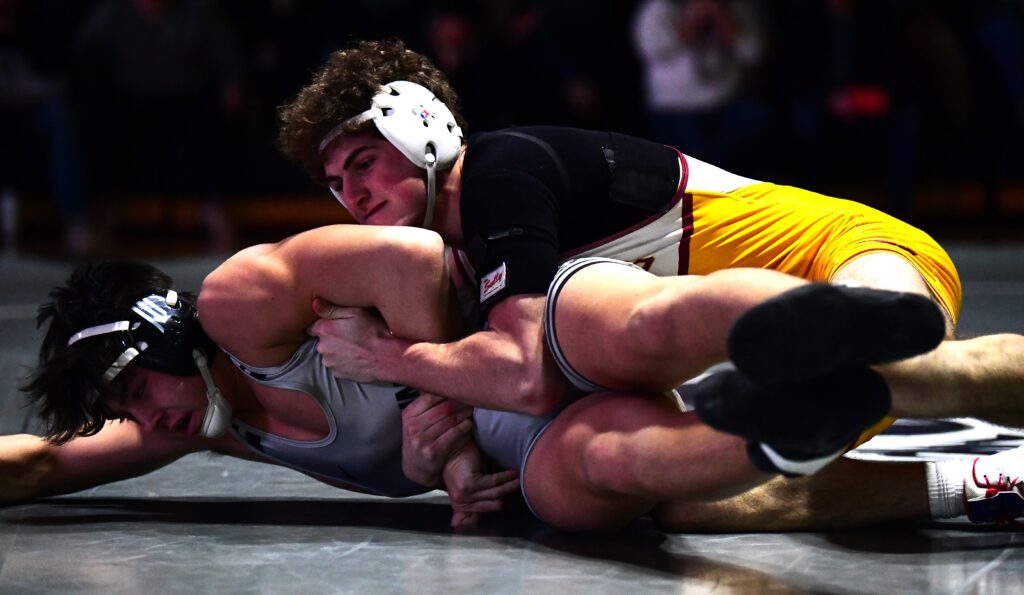 It took Kingston awhile to get into wrestling shape after helping the football team to a runner-up finish in Class 5A.
"I was a little nervous going into it after not wrestling over break and having some injury trouble after football," Kingston said. "It was a little hard at first having to cut 40 (pounds) in two weeks (to get down to 285). It was a little rough cutting that football weight. But I got there, and now we're back in it."
Ankeny then got a big victory from Truman Folkers at 106. Folkers got a late takedown to clinch a 4-1 decision over No. 10 Cody Vandermark.
Wignall made some adjustments to his lineup, inserting Isaac O'Toole at 113 and bumping up four of his lower weights to a higher class. O'Toole responded with a pin over Ryan Muller.
JJ Maihan, who is ranked seventh at 113, followed with a 12-6 decision over Payton Bright at 120. Two-time state champion Trever Anderson, who is ranked No. 1 at 120, then pinned Cael Hron at 126 to essentially seal the Hawks' victory.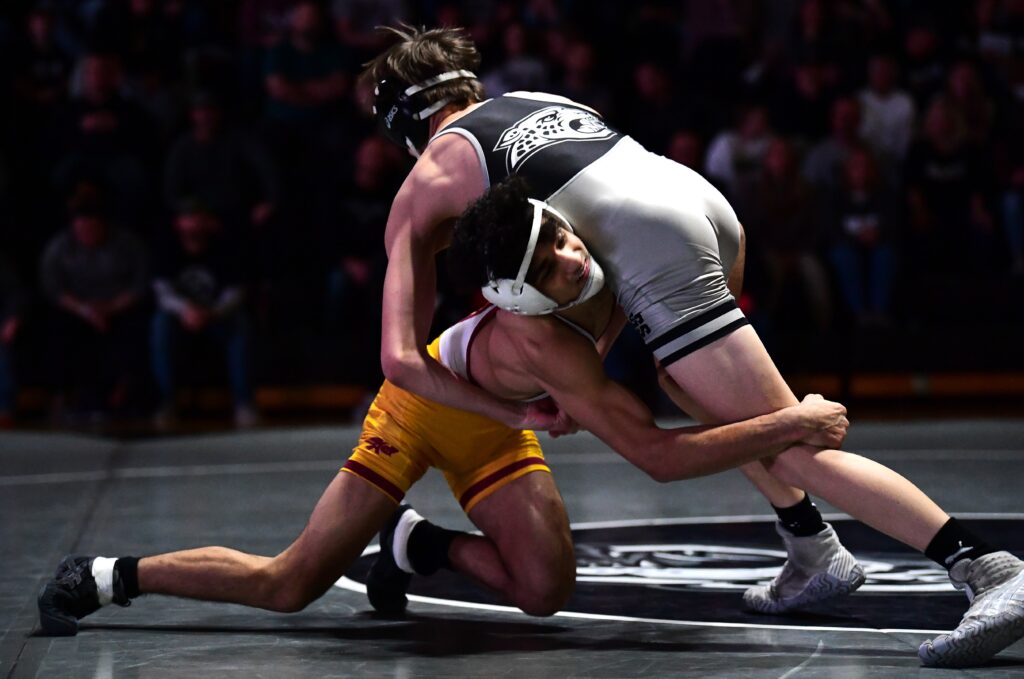 "We probably lost some matches that we shouldn't have and maybe played with the lineup a little too much, but we wanted to go out and put up some points early, and that's what we did," Wignall said. "We were able to get the win."
Centennial's Cael Wiener ended Ankeny's string of victories with a 3-1 overtime decision against Ben Hansen at 132. Hansen is ranked seventh at 126.
"I knew once it went into overtime that the next takedown wins," Wiener said. "I just had to put everything into this late takedown. I finished with more heart, and that's what got me the win."
Wiener was back in the Jaguars' lineup after missing several meets due to illness.
"I was having really bad stomach problems, but we were able to figure that out," he said. "I just had to change my whole diet up, and hopefully that will work. I should be good to go now for the rest of the season."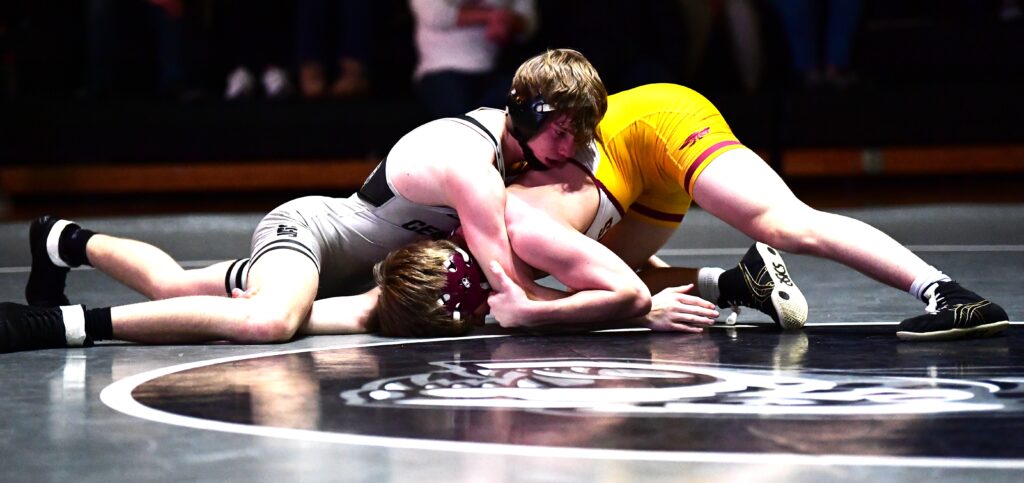 Lucas Bruhl made his season debut for Centennial at 145. He posted an 11-6 decision over No. 7 Jace Anderson.
"It was great having Lucas back," Groth said. "That's his first match since probably May of 2021. He had a few cobwebs to blow out obviously, but other than that, I was pleased with how he did."
The Jaguars got a fall from No. 3 Carter Cahill at 152. Logan Song then recorded a technical fall in the final match at 160.
Earlier, Centennial's Kaden Kaiser got three takedowns in the final minute to rally for a 10-9 victory over Jack Dorfler at 220.
"I really liked the come-from-behind win by Kaiser," Groth said. "He weighed in at 186, so that was a good win for him."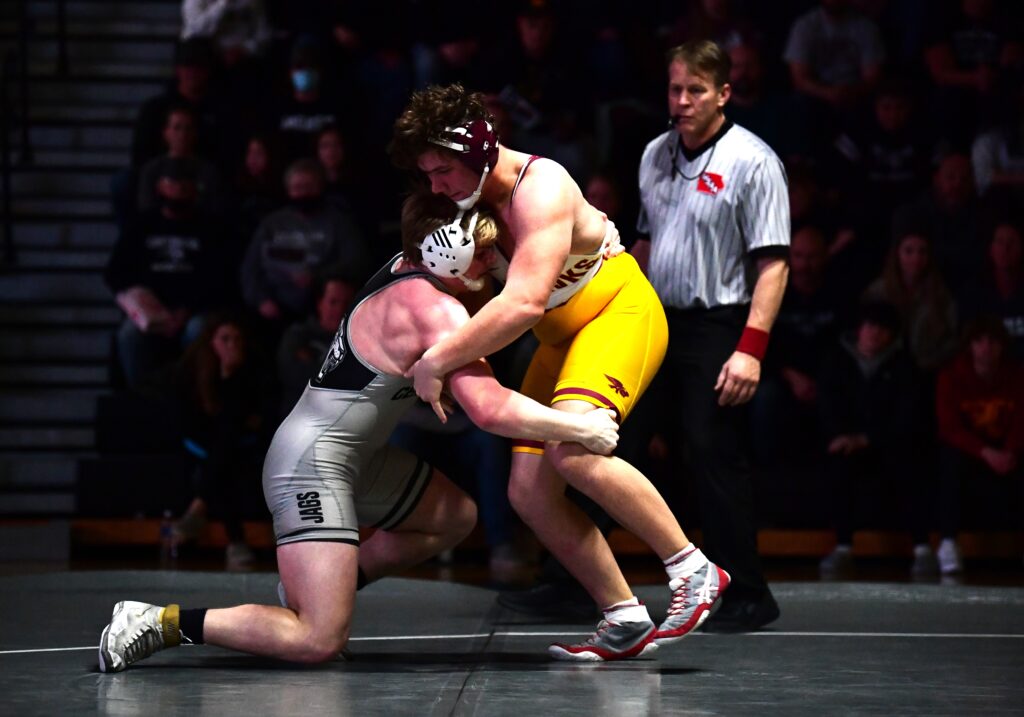 The Jaguars also got wins from No. 12 Carter Bennett at 138 and No. 9 Zach English at 170.
"We won the same number of matches," Wiener said. "We just weren't finishing our pins and everything. I think in the next couple of weeks we're really going to focus on getting those bonus points and just work extra hard."
Ankeny and Centennial will both compete in a Class 3A district tournament on Feb. 12 at Fort Dodge.
"This was a big meet with it being a crosstown rivalry, but in the big picture what it means is some seeding (for the district tournament), and honestly it may not affect the seedings because a lot of the guys didn't wrestle at the weight class that they're going to be at later on," Groth said. "It was a fun meet. Everybody fought, but they just got more bonus points than we did. We've got to get the bonus points when they're there."
Wignall said the Hawks may have adjusted their lineup too much.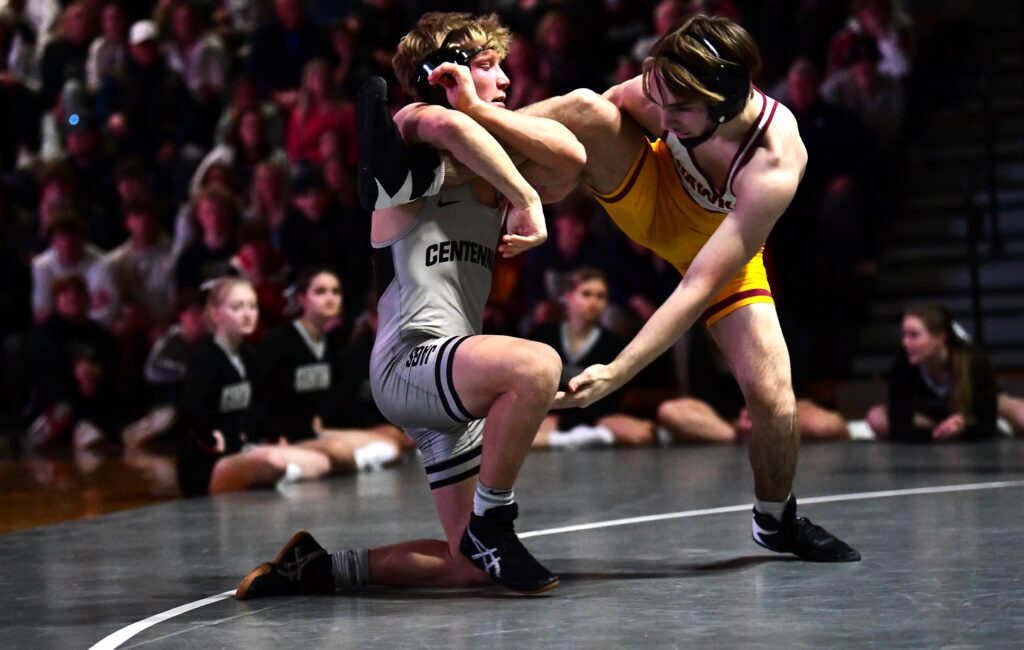 "I think Ben getting beat kind of hurt. And Carter Davis (who lost at 138) can wrestle with Wiener," Wignall said. "It worked out well enough. We got some wins where we needed them, but I'm not sure how necessary (the lineup changes) were at the end of the day."
Both teams will be in action this weekend. The Jaguars will compete in The Clash on Friday and Saturday at LaCrosse, Wis., while Ankeny will travel to Ames on Saturday for the Jack Mendenhall Invitational.
Here are the match-by-match results from Thursday's meet:
Ankeny 36, Centennial 26
170: English (AC) beat Kenworthy, 6-4; 182: Bennethum (A) pinned Watson, 1:11; 195: Hinrichs (A) pinned Grider, 2:45; 220: Kaiser (AC) beat Dorfler, 10-9; 285: Kingston (A) pinned Adams, :31; 106: Folkers (A) beat Vandermark, 4-1; 113: O'Toole (A) pinned Muller, 1:25; 120: Maihan (A) beat Bright, 12-6; 126: T. Anderson (A) pinned Hron, 3:54; 132: Wiener (AC) beat Hansen, 3-1 (OT); 138: Bennett (AC) beat Davis, 9-4; 145: Bruhl (AC) beat J. Anderson, 11-6; 152: Cahill (AC) pinned Rose, 1:04; 160: Song (AC) won by technical fall over Peiffer, 16-0.