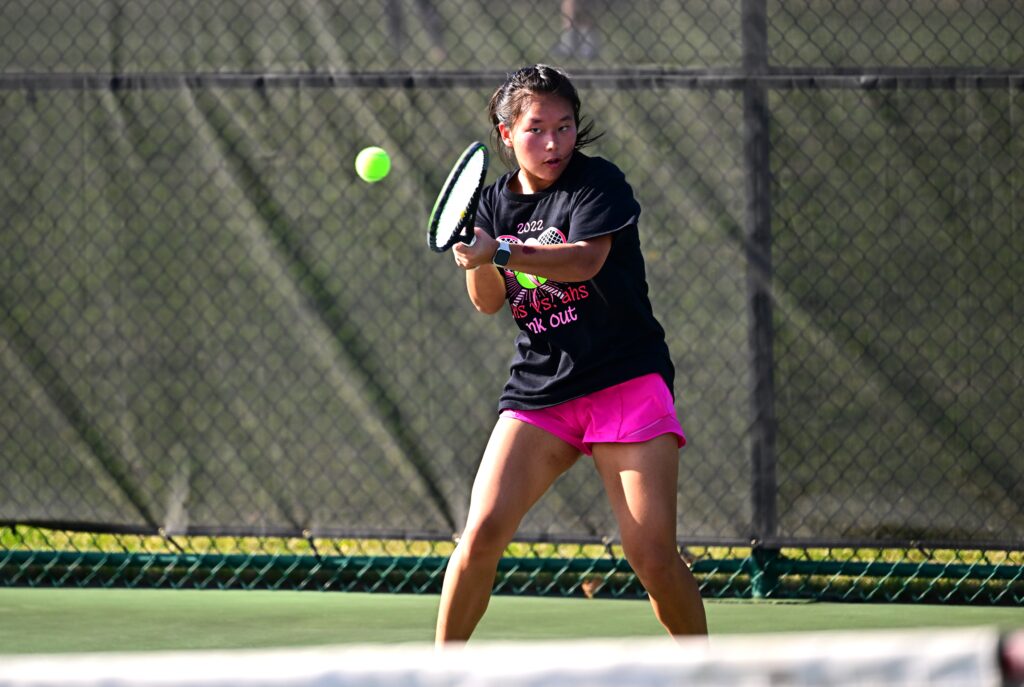 Ankeny Centennial junior Esther Guan is headed back to the girls' state tennis tournament–this time as a singles qualifier.
Guan, who placed sixth in the Class 2A doubles tournament while playing with her sister Claudia a year ago, earned runner-up honors in a regional meet on Wednesday at Valley. She advances to the state tournament, which is slated for May 27-28 at Waukee Northwest.
"I was confident going into today because I knew exactly what I had to do to be a state qualifier," Guan said.
The second-seeded Guan easily won her first two matches to qualify for state. She then dropped a 6-1, 6-0 decision to top-seeded Claire Gu of Valley in the finals.
"We knew going into the regional meet that the competition would be difficult with having Valley there," said Centennial coach Alli Gustafson. "Today, however, was a great day of tennis. We are so excited to have Esther heading to state once again this season! She played smart and consistent to get to the finals. Our goal was to get her to Claire Gu in the final round, and she got there with ease. I am so proud of her."
The Jaguars got a fourth-place finish from the third-seeded duo of Jenna Benkufsky and Ara Lofgren in doubles. They reached the semifinals before losing to the eventual champions from Valley.
"They came together and played the best that I have seen them play all season," Gustafson said. "Their last match (for third place) was a close one, and they gave it everything they had. Jenna and Ara are both only sophomores, so it will be exciting to see what they accomplish in the future."
The Centennial doubles team of Rozzie Sterling and Morgan DenBeste won a first-round match before losing in the quarterfinals to Valley's second doubles team, which also qualified for state.
The Jaguars also entered Madison Price in singles. The fourth-seeded Price received a first-round bye, then lost in the quarterfinals.
Centennial will host Des Moines Lincoln in the quarterfinals of a Class 2A regional team tournament on Saturday.
Here are the match-by-match results from Wednesday's regional:
Singles
Guan beat Ronk (CBTJ), 6-3, 6-0; beat Myneni (V), 6-2, 6-1; lost to Gu (V), 6-1, 6-0.
Price lost to Laschanzky (Ind), 6-1, 6-1.
Doubles
Benkufsky-Lofgren beat Christensen-Dowler (Ind), 6-3, 4-6, 1-0 (3); lost to Wang-Hockmuth (V), 6-1, 6-0; lost to Warner-Metzger (WN), 6-3, 7-5.
Sterling-DenBeste beat Lemus-Muldinzoda (CBTJ), 6-0, 6-3; lost to Brown-Rickert (V), 6-1, 6-0.