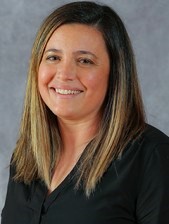 One of my favorite guests ever on the Ankeny Fanatic weekly podcast was Candice Fabry, who appeared on Episode 24 in November of 2018 to discuss the #MeTooMovement. Here is a link to that podcast:
Candice, who lived in Ankeny at the time, was previously the general manager and coach of the Iowa Rush Soccer Club. She coached, recruited and retained players, in addition to assisting with marketing, communications and social media, and ran numerous large-scale fundraising and promotional events for the club.
Candice was a member of the Toledo women's soccer program and earned her Bachelor of Arts in History in 2007. Upon graduating, Candice was then hired by her coach, Brad Evans, to become a volunteer assistant coach for the Rockets.
Candice is one of several former Toledo players who have now accused Evans of sexually assaulting them. She discussed those alleged incidents on the podcast four years ago, although at the time she did not identify Evans by name.
In early July, Candice was a subject of a story in The Guardian titled: "'It shattered my world': an Ohio soccer coach, sexual misconduct and the system that has protected him". The story reveals the circumstances behind Evans' sudden exit as Toledo's coach, how the school managed reports about his behavior, and how he has still been allowed to hold prominent positions within the game in the United States.
Here is a link to the story:
https://www.theguardian.com/sport/2022/jul/06/brad-evans-allegations-toledo-soccer-coach-sexual-misconduct-system?CMP=share_btn_tw&fbclid=IwAR0rtqb5yno4OKZ_E9BTT2AvbNbNzHSHaRceAvDY0PgsU983QK1zxbdohA4
Earlier this month, I had a chance to catch up with Candice during a 30-minute conversation over the phone. She is in her first season as the head coach of the Ottawa University women's soccer program in the Kansas City area.
Here are some of the highlights of that conversation, which has been edited for clarity:
Dan: I re-listened to our podcast from 2018, and you said that was the first time you had talked about these things in public. So I guess my first question is this: How did the article in The Guardian come about? Do you know how they were tipped off to all of these things that happened?
Candice: Yes, I have been doing a lot more speaking and talking to various groups and organizations. One of the groups that I help a lot with is the Women in Soccer Network and so I was on a panel called "Reclaim the Game". That women's organization had known my story, and they asked me to be on this panel about how each of us is reclaiming the game. (The Guardian) heard me speak in this 8-minute (talk), just talking about the things that I believe in, and how it stems from the experiences that I have had. Part of my story is the assault by my coach, and unfortunately there are too many women in the game who have had similar experiences. And so from there, The Guardian was actually on that call–they had a reporter listening in, and they reached out a couple weeks later. They had listened to every podcast I had been on, including your (podcast) Dan, and they looked through all of my social media and really did their research on me. They believed the story and really wanted to tell it to the world. And over the years I had mentioned that this has happened to others, and from there they were able to make this timeline and really get to understand what had truly transpired and were able to get some people to speak who had never really been willing to speak before. It was kind of a wild ride. It took several months to get to the point where the article was released. It's been an interesting ride.
Dan: Did you have any idea that some of those other victims had been assaulted as well?
Candice: I had heard some names through the grapevine. I was one of the first to go public, and in those times that I talked about it I had never really said his name. I had never really put the university's name next to the conversation. It wouldn't be hard with the internet for people to figure out where I played and what had happened and who was probably at fault for this. But since I first started posting and talking about this in 2015, I've started to learn that from some of the alumni gatherings of the girls who played there that there were some more players who had something happen to them. It wasn't something that I knew concretely, but I heard some things. It was a crazy mix of people–some who were ready to talk and some who weren't, and maybe some others who were willing to talk but not to go public with it. And I totally respect that because it's a lot of trauma to dig up. But since the article came out, we've actually had more victims step forward. The tales are much bigger than what was put into The Guardian (story). It is deeper and longer and more sad than what we even know at this point in time.
Dan: It is startling how if somebody does something like this once or twice, you can almost assume they've done it to many more people, right?
Candice: Unfortunately, that is what the data tells us. It's a tough thing to swallow. If you're a victim or a survivor or whatever word you want to use, that's a tough thing to wrap your head around. Because you're trying to figure out if you were at fault in any way. These are the kind of things that rummage around (in your head). But the data shows that because of the position of power that he was in, he was able to abuse over and over again in the same way and get away with it for so long because we were just so unsure if there was anyone else. It's terrifying, but in a weird way there's some relief to know that you're not alone.
Dan: Has anybody ever tried to press charges against the coach that assaulted you?
Candice: With everyone's situation, there was really no police reports. The way that everything transpired for most of us, this is somebody we had known for years, we had trusted and in most cases alcohol was used as a way to kind of release the inhibitions–to get you in a comfort state. For many of us, we felt like we were potentially at fault there. And honestly, the culture that exists where you won't be believed. There's a lot (of victims) that have not gone to the police. At this point, I have reported it to the Toledo police department. There is at least a file report of what occurred at the Toledo department. But as you can read in the article, he apologized after the first time. And so that makes it seem like he didn't mean it, which is a really manipulative tactic. And he didn't apologize after the second time. That was just part of the abuse that I was experiencing, being isolated and things like that.
Dan: Well, I know you have posted some things on Facebook that were geared toward the school, with comments like: "You knew". Are you trying to get an acknowledgement from them that these things happened?
Candice: So first and foremost, the whole reason I did that story was to help answer the question, "How do you get your next job?". We all knew that he had done these awful things, and then we find out that he is still coaching the game. How does this person keep moving from one job to another? And so, part of the why for me doing this whole public story is to help answer that question. We want to find the gaps that allow this to happen. There are certain organizations that aren't allowed to talk to each other. For example, (The United States Center for) SafeSport has no jurisdiction over the NCAA. So really SafeSport can't go to the NCAA and require any sort of paperwork or information from them. So when you have an individual that drops from the collegiate world to youth soccer, like he did, there's really little to be done in terms of oversight to prevent him from coaching again. The school has repeatedly, I believe, ignored the situation. They swept it under the rug. When I sent the email to the university in 2015, if the proper investigation had been done, if the proper story had come out, if the real issues at hand were brought to light and not allowing this individual to be able to escape criticism, consequence, anything…he was able to do that. He was able to control the narrative and escape all of that and was able to make the life he wanted in the game. He was able to get back into it, and that's an issue in itself. You really have these massive gaps so that true predators in sports can actually navigate pretty easily and freely, especially between differing levels. So that's what I want to shine light on. With regards to the university specifically, I have confirmation of the emails that I sent to them. At this point, the story from their side has changed. One, there was no acknowledgement, and they have blatantly lied that they never got an email from me. And secondly, now they have put out that there was this verbal harassment investigation going on at the same time I had sent them the email, and we had no clue about that. What we're finding out is that there are a whole bunch of lies and a lot of cover up and a whole lot of hope that silence will prevail and then this will come out of the public eye and people will stop asking questions about what truly transpired in February of 2015 when I sent that email. I want to know why Brad Evans was able to control the narrative when he resigned. That's the question that the university needs to be answering.
Dan: It seems like there are so many institutions in this country, whether it's a college, a church, or whatever….if they can just get rid of the problem and lay it off into somebody else's hands, then they seem to be good with it, don't they?
Candice: It seems to be way too prevalent that the moral obligation (to do the right thing), it's hard to do. It takes a lot to make a stand there when he was the coach of the year and led the program to conference championships and into the NCAA Tournament. It takes a lot to stand up and say that there may not be something right with this person. It takes guts, but if you're going to work in sports and part of your job is to protect the athletes in your programs, then that is what it is going to take. This is a big issue that we have, but we need people to do the hard things.
Dan: I know you got a lot of reaction to your Facebook links to The Guardian article. Were you encouraged by all the support that you received?
Candice: Oh yeah, it was overwhelming support. Obviously, I had a support network going into the article that knew it was coming out. It was really a tight-knit group, primarily my family. That support helped a lot, because I still hate to see his name publicly. It makes me physically nauseous to say his name. When you do something like this, you do worry that someone won't believe you or they'll take his side, but that was absolutely not the case. I had an amazing amount of support. To be frank and honest, I didn't see a negative comment. Hopefully, this (story) will get more people to come out with their truths. We need to get people out of sports who are hurting others more than what anybody wants to talk about.
Dan: Have you been able to tell your kids a little bit more about what happened to you, now that they are older?
Candice: Yeah, that's certainly been part of that process when I agreed to go in and do the article. They know more now that they're older–they're entering seventh grade and fourth grade. They were a part of this process. My kids were great. They know more of the details, which is hard for them to know. My son, in particular, was just really outraged when he found out a bit more of the details of what actually happened. That made him angry, and rightfully so. But they've been great. They're proud of mommy, and that was the biggest thing. I got a lot of big hugs.
Dan: I know coach Evans eventually got back into the game, and you would run into him at various youth tournaments. Is he still employed now?
Candice: The last I was informed he was on an indefinite suspension from US Soccer and SafeSport pending investigations. That's the last I know. I don't know if he's paid administratively. I don't know if he's completely unemployed. I have not gotten any updates. Because I know a lot of the people in the large governing bodies that he's been a part of, everyone has to be very careful in what they say to me, which is kind of an interesting dynamic. The SafeSport investigation will depend largely on my willingness to cooperate with them, which I intend to do, but that's another deep breath that I'll have to take (to retell my story once again). Could he be employed again with another organization if we as victims don't stand up and tell our stories? Yes, that's certainly a possibility. But even if he's permanently banned from SafeSport, that is not the NCAA. He could still go back to the NCAA and coach in Division I, II or III, or at a junior college. Who would hire him? You would hope that (the schools) would do their research, but it's terrifying to think that he could still possibly coach again. That's the reality right now.
Dan: It sounds like you're going to do everything you can to make sure that he never coaches again, aren't you?
Candice: I'm pretty set on trying to help the situation. The degree to which I can do that is unknown at this time. I'll be frank and honest with you, it is a physical and emotional toll that it takes on you when you try to do these things. I certainly am on a mission to try to help bring clarity to what transpired. Obviously, getting him off the field is a part of that piece. But this is so much more than just him in some ways. He did some really bad things, but there were a lot of people who knew. Too many people knew, and that was the problem. I felt like the governing bodies didn't do the things that they needed to do. Why did we get to this point? I'm truly trying to put these pieces together and help these organizations, if they're willing to listen. But are they willing to listen, or do they just want to continue to sweep this under the rug? The fear right now, Dan, is how many more (victims) do we not know about.
Dan: Well Candice, I really appreciate your time. That was a lot of ground to cover, and I know it's never easy to talk about.
Candice: I appreciate it, Dan.