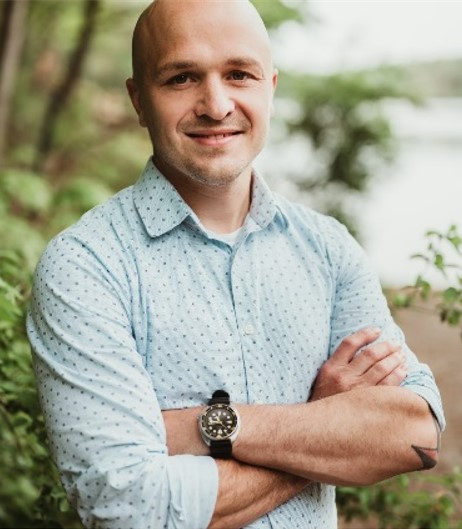 Because September is Suicide Prevention Month, Ankeny Fanatic publisher Dan Holm has interviewed a variety of guests in an effort to promote awareness of the topic. He will also be interviewing two other guests on the Ankeny Fanatic weekly podcast.
Here is his interview with Drew Martel, the Chief Clinical and Training Officer at Foundation 2 in Cedar Rapids, where he serves as the expert on all things suicide-related.
Dan: Well Drew, I really appreciate your time. I know you've been working at Foundation 2 since 2014, so you obviously have a lot of experience in this field and I wanted to talk to somebody who could lend their expertise in this area. Now do you guys do anything special during September at Foundation 2 to raise awareness about suicide prevention, or is that something that you really try to do 12 months out of the year?
Drew: That's a great question. We try to do it 12 months out of the year, and we also try to do some special events around Suicide Prevention Month as well–just different community awareness campaigns just to try to get people more aware around the plight of suicide because it's a massive public health crisis in the United States. We want to raise awareness 12 months a year, but we also want to really invest some energy in some public awareness campaigns this time of year as well.
Dan: I know that you're a certified trainer in Applied Suicide Intervention Skills Training, which includes assessing and managing suicide risk. So let me ask you this. When you get a call at Foundation 2 from somebody who is having suicidal thoughts and is reaching out for help, can you kind of discuss the process of how you go about assessing that person's risk?
Drew: Sure. The first thing we do when anybody calls is start with where they are. The most important thing we can do is listen. Everybody who is in crisis wants to be understood and wants somebody who can listen to them, so that's the priority of our counselors and staff is to be there with them and to really give them their full attention because it takes a lot of courage to reach out for help, especially around suicide because it has been so stigmatized in our society for so long. And also realizing that that person reaching out is in tremendous pain, and so we give them our full and undivided attention and we are also doing risk screening. And doing that to help them, to identify resources that will be helpful to them. To make sure that they are safe and to connect them with resources in their community or nationally that will set them on the road to living a happy and healthy life. It's really important to note that intervention works with suicide–it's effective. And so when someone calls we want to be there with them, to listen to them and then we're going to ask some questions, and really try to identify what their unique needs are. Suicide is a very individual and personalized experience, and so our counselors are trying to identify what the underlying drivers might be in that person's life and how we might be able to tie things together to ensure that the individual who calls us feels supported and is connected with the resources that they need.
Dan: I've read where researchers in the field still haven't nailed down how to better predict who's at risk for attempting suicide, and whether or when vulnerable people will do it. So would you agree with that….that it can be difficult to predict who might try to harm themselves?
Drew: It can be difficult without appropriate training, but it's not impossible. There are several, very well researched, what we would call warning signs, and on the other side what we call risk factors for suicide. And so we're not completely in the dark. We know that there are certain events that occur in a person's life, and we know that there are certain mental health disorders, and we know that there are certain behaviors that increase the person's risk of dying by suicide, or just experiencing thoughts of suicide. It's worth repeating that just because a person has thoughts of suicide does not mean that they'll go on to die by suicide, and in fact many Americans each year experience thoughts of suicide but don't go on to die by suicide. Now, it is a difficult process, so that's why we start with where the person is and just listen to them.
Dan: You mentioned what a public health crisis this is. I know during the COVID-19 pandemic that a lot of people struggled with various things, including a feeling of isolation. Did you notice an increase in suicides or attempted suicides during the pandemic?
Drew: There is a lot of research out now, but the verdict on increases in suicides during the pandemic we won't know for a couple of years, until the research pans out. A lot of the mental health costs from the pandemic are still ongoing. You're absolutely right that the pandemic played on a lot of mental health disorders, which isolation compounds the underlying problems like depressive disorder. We also know that people even being isolated from their co-workers or fellow students can certainly increase mental health issues. We did see an increase in calls during the pandemic, and we've continued to see increases in year-over-year call volume. If you had asked me six years ago what our average call volume would be on our crisis lines, they would have been about 35,000 calls. This most recent year we had 70,000 calls into our crisis center, so we're talking about an increase in the tens of thousands. But we certainly saw increases in loneliness and depression and anxiety-related calls during the pandemic, as well as calls having to do with financial issues.
Dan: You obviously get calls from people who are going through some tough times, but if they call you I would think that would be an indication that they are reaching out for help….because I'm sure a lot of people who commit suicide probably never do reach out for help, and that would make it more difficult to prevent it from happening, right?
Drew: It does, and we do know that many people who die by suicide have had contact with a professional within 30 days of that suicide, and that's why it's really important for us to be professionals and try to intervene when they see a person struggling and at the same time we recognize how hard it is for a person in that much pain sometimes to reach out or feel hopeful that reaching out will lead to a change. So we really, really want to be there for them. There is a host of intervention and treatment protocols that are very effective for depression as well as suicide. It's just getting people connected to those services. Again, the goal is for them to go on to live a happy and healthy life, and we want to do all that we can to support them in that.
Dan: Well Drew, can you talk a little bit about the different services you provide there at Foundation 2? I think you offer some various crisis programs, don't you?
Drew: Yeah, we do. That's a really good question. And across the state of Iowa there are some services available because the state has really invested in building out a spectrum of services, and that's still in process. The first line of intervention is a person calling the crisis line–they can call the state of Iowa crisis line, YourLifeIowa, or they can call the national number, 988, which used to be called the national suicide prevention line. That 3-digit number went live this summer, and the other important thing to say is that you don't have to be having thoughts of suicide to call those numbers. If you are struggling with your mental health, if you feel like you need to connect with someone over a mental health crisis, or if you're worried about somebody in your life, either of those numbers is the best, first place to start. And those counselors will help identify other services that are available throughout the state. And then on the treatment side, we know that therapy as well as psychiatry can be a very effective mechanism at kind of the long-term treatment side of mental health crisis.
Dan: Do you guys provide long-term counseling for somebody who appears to be suicidal, or do you mostly treat that person's immediate situation and then have to refer them to somebody else for their long-term care needs?
Drew: We don't provide treatment long term. A person can use our services as many times as they would like–there's no limit. And we're always proud if a person calls us back to use our services because it means they found it valuable the first time. That said, the goal of our crisis teams is to stabilize the person in their setting to get them through a period of time during which they can connect with long-term treatment and get the support that they need.
Dan: Alright Drew, well I really appreciate your time today. You've given us a lot of good information. I hope people will find it helpful. So thanks again for your time.
Drew: Thanks so much for having me, and I'll just stick in the pitch that if you are out there (reading this) and you're struggling today or tomorrow, please reach out and get the help and support that you deserve and need.