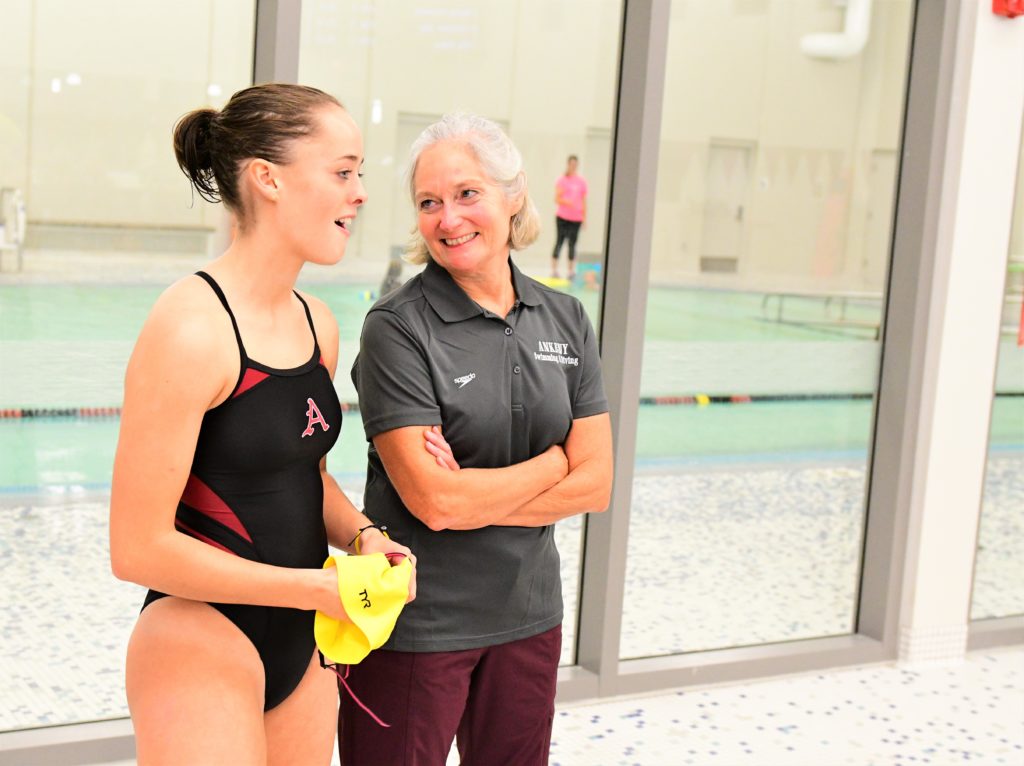 Because September is Suicide Prevention Month, Ankeny Fanatic publisher Dan Holm has interviewed a variety of guests in an effort to promote awareness of the topic. He will also be interviewing two other guests on the Ankeny Fanatic weekly podcast.
Here is his interview with former Ankeny girls' swimming coach Michelle Stout, who lost her daughter Jessie to suicide about five years ago.
Dan: Well Michelle, I'm sure you think about your daughter every day. Does it seem like she's been gone five years now, or maybe it seems even longer, huh?
Michelle: Actually, it's the opposite of that. It's actually pretty difficult to believe that it has been five years already. It seems much more recent than that.
Dan: Jessie was a 2012 graduate of Ankeny High School, and she was a very talented swimmer. I remember covering her in high school, and she was a four-time state qualifier in both the 500 freestyle and the 200 medley relay. About a year ago, we named her to the Ankeny Fanatic all-time Ankeny girls' swimming team. But I know Jessie had some other interests outside of swimming. Can you talk about some of the other things that she liked to do?
Michelle: Sure. She was an accomplished triathlete actually. She competed at the national level–both on teams and as an individual. And we actually raced together a number of times on a team setting. She loved the outdoors–she loved bicycling, she liked skateboarding. The Neal Smith Trail was one of her favorite places for that. She liked camping, and she especially liked music. If it was an outdoor concert, that was just awesome for her.
Dan: I know you told me when we put that all-time team together that Jessie was a swimmer who had high expectations of herself and teammates, and that you could always count on her focus and leading the team through meets and practices. And Jessie had the opportunity to go on and swim in college at Western Illinois, but if I remember right, she didn't stay there very long. What was that experience like for her? Was that a big adjustment for her going to the collegiate level?
Michelle: I don't think so much. She loved sports and she loved competing; she loved being on a team. I think a big driver for her in college was that she developed some health issues on top of some mental health struggles that began when she was in high school. Ultimately, she was treated for thyroid cancer at Mayo Clinic and underwent surgery for that, and we still continue to wonder if all those challenges put together contributed to her death.
Dan: I know Jessie returned home and eventually enrolled at Iowa State and was studying hospitality management. Did she have a pretty good idea of what she wanted to do after graduation?
Michelle: I believe she did. She had worked at a number of properties and venues in the Des Moines area, and she loved providing people with a great vacation experience or a special occasion experience. Really, with the people that she worked with, she went over and above expectations. She was interested ultimately I think in large venues that provided multiple vacation destinations and those special event destinations.
Dan: I don't want you to go into any more detail than you're comfortable with, but did you have any idea at all that maybe Jessie was going through some tough times? Was there any warning signs at all?
Michelle: She exhibited some of those classic signs beginning in high school, particularly with depression and anxiety. She did have the signs. We played a big part in seeking treatment on her behalf. We supported her through some hospital visits, some doctor visits, and many, many therapy visits as well.
Dan: Well Michelle, I remember you telling me later that fall after you returned to coach the girls' swimming team that your job was kind of a nice distraction for you because it allowed you to just get away from everything for awhile each day. Looking back at it now, do you think it would have been a lot more difficult to deal with the loss if you didn't have that coaching job to go to each day?
Michelle: I think it was twofold. First, I have to mention that the swim community really embraced me. They embraced my family. The girls on the team and Justin Crouch, my longtime colleague and co-coach…they loved Jessie too as much as we did. They gave me grace that was needed at the time, and that was really helpful. I think returning to something that you personally love and have a passion for is very important.
Dan: I know you have a great husband, Larry, and three other kids, and I'm sure you all were able to lean on each other through the tough times. And like you mentioned, your girls' swimming team has always been like a family, too, so I'm sure you got a lot of support from the girls as well. Would you have any advice, though, for anyone who has suffered a similar loss? Did you find anything that you could do that was helpful?
Michelle: I found that for me what I needed was a very gradual return to a daily routine. I also needed to find private time and a private space throughout the work day–whether it was at the pool or at school–when I would be overcome with unexpected grief. I was able to have those opportunities. Those were two important things for me. Returning to public places, for me, was also a gradual process. Things like the grocery store. Returning to the gym and having some physical activity was also important for me. I also found that I needed to understand and accept that my world was changed and would never be the same. I know there are lots of different support groups out there for people that are dealing with grief. So, I would advise people–whether it's through their church or some other organization–to reach out to those kind of groups if they feel like it's going to be helpful for them.
Dan: You mentioned the church. Did your faith help you at all?
Michelle: Yes, in some aspects, I would say. But it's a very individual thing. You have to do what's going to help you the most.
Dan: I'll be honest, I have a son who is part of the LGBTQ community, and it's well-known that there is a higher suicide rate for that community, so I'd be lying if I said that I have never worried that something like that wouldn't cross my son's mind. I can't even imagine what it's like to lose a child, and I don't even know what to say to someone who has. So as someone who has experienced such a terrible loss, I'm sure you had a lot of people who tried to express their sympathy to you afterwards. What advice would you give to people if they are ever in that situation? Are there certain things that they should say, and what shouldn't they say?
Michelle: Support can come in many forms. It can come in the form of a text, in the form of a note through the mail, a visit to the house. I'm sure it's very uncomfortable for some people how to express support. I really appreciated that that was kind of a brave act to come and stop by the house for a little bit, not knowing what to expect for a reaction from us. But it was greatly appreciated. After a bit, I was really appreciative of stories that people would share with me about the impact that Jess had on their lives. Those fun stories, those inspiring stories…that was what I liked to hear. And invitations to go anywhere–to lunch or to the gym–were really helpful. In terms of what not to say, the things that were very difficult for me were people repeating gossip. That was really hard to hear. Or second guessing, "Why did she make that choice?". Those were the things that we'll never know the full impact, I guess. Those things were very, very difficult.
Dan: Well Michelle, again, I appreciate you taking the time to talk to me today. I'm sure it wasn't easy, but I know you feel like it's important to raise awareness for suicide prevention. Thanks again.
Michelle: Ok, thank you Dan.