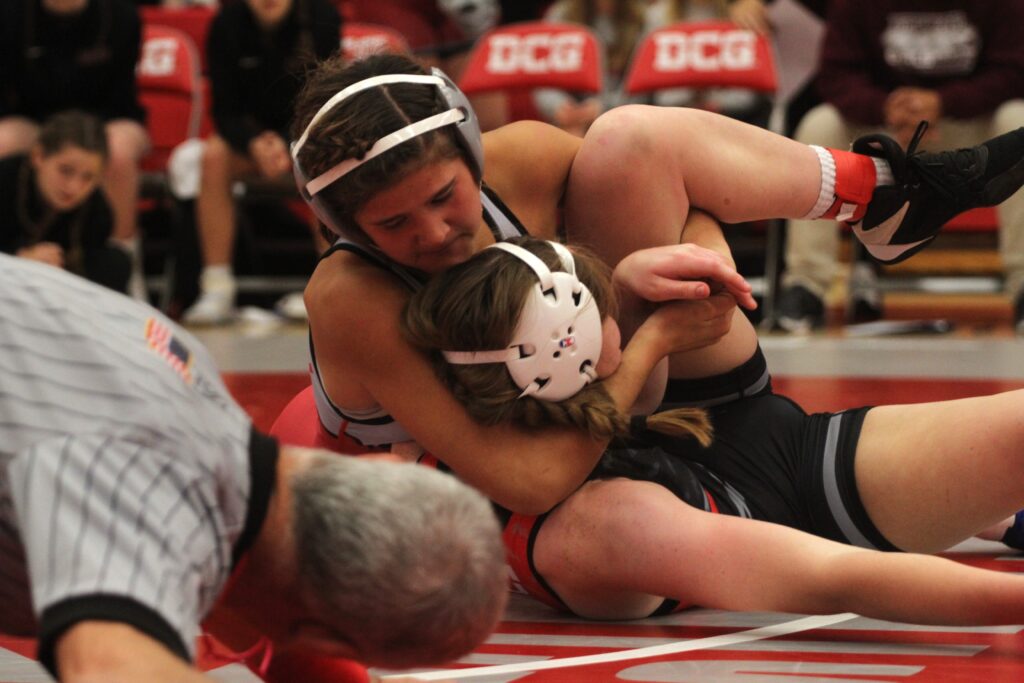 Dustin Roland isn't too concerned about the losses that his Ankeny girls' wrestling team suffered on Monday night.
Just being a part of an historic event was all that mattered to the squad's coach.
Ankeny opened its inaugural season as a varsity program with a 48-27 loss at Dallas Center-Grimes. The team then dropped a 60-24 decision to Waverly-Shell Rock.
Spencer also competed in the four-team event, which was billed as the first team dual in the state of Iowa for girls' wrestling. A large crowd packed into the Meadows Gym to watch the meet.
"We knew what we were getting into tonight," said Roland. "Those other three teams were three of the biggest programs last year in the state of Iowa. We had four girls in our lineup that wrestled at the state tournament last year. Both teams we wrestled were represented by 20-plus girls at that tournament. (I'm) not making excuses, but we knew what we were getting into."
Elyse Engebretson and Dana Cleveland each won a pair of matches for Ankeny. Cleveland recorded a pair of falls at 155 pounds.
"It's very different coming to a meet where it's only girls," Cleveland said. "We did that one time last year whereas most of the time we would go with all the guys on our team."
Engebretson is one of two North Polk wrestlers on the combined squad. She notched the first win in program history with an 8-6 decision over Dallas Center-Grimes' Josephine Bond at 120.
Avery Grim at 125 and Gia Blaser at 145 each had a fall against the Mustangs. Sophia Leo won by forfeit at 235.
"In practice we're making a lot of progress, and it's fun to see when we compete against each other and a girl gets a pin," Cleveland said.
Cleveland pinned Dallas Center-Grimes' Mackenzie Sizemore in 4 minutes 52 seconds. She then got a fall against Alli Seegers of Waverly-Shell Rock in 1:35.
Engebretson pinned Brinley Meier in 1:23 in her second match of the night. Ella Hron at 110 and Nora Bockes at 115 each won by forfeit.
Waverly-Shell Rock recorded seven pins and won three other matches by forfeit.
"We had a choice to either partake in this event and make history or take the easy road and just wrestle our regular schedule," Roland said. "We wanted to be a part of history, and we ended up making history tonight. I'm super proud of the girls."
Ankeny will compete in the CIML Preseason Scramble on Tuesday at Waukee Northwest.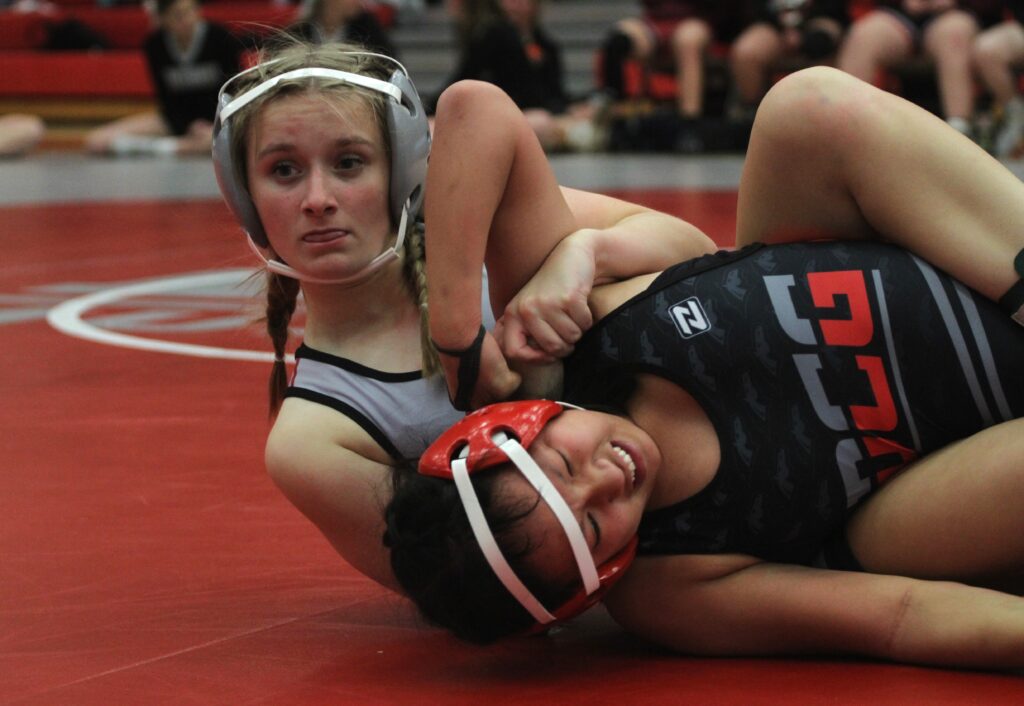 Here are the match-by-match results from Monday's meet:
Dallas Center-Grimes 48, Ankeny 27
115: Waage pinned Bockes, 5:06; 120: Engebretson (A) beat Bond, 8-6; 125: Grim (A) pinned Osborn, 2:48; 130: Jahangir pinned Hans, 3:24; 135: Mulder pinned Clark, :49; 140: Henigan pinned Makovec, :56; 145: Blaser (A) pinned Henrici, 2:14; 155: Cleveland (A) pinned Sizemore, 4:52; 170: Fritz pinned Heimer, 3:27; 190: Beaudet pinned Bishop, :27; 235: Leo (A) won by forfeit; 100: double forfeit; 105: Gannon won by forfeit; 110: Newell pinned Hron, 2:53.
Waverly-Shell Rock 60, Ankeny 24
100: Hoth won by forfeit; 105: Tiedt won by forfeit; 110: Hron (A) won by forfeit; 115: Bockes (A) won by forfeit; 120: Engebretson (A) pinned Meier, 1:23; 125: Heise pinned Grim, :57; 130: Stough pinned Hans, 2:35; 135: Wagner pinned Clark, 3:24; 140: Djoumessi pinned Blaser, 1:00; 145: Snyder won by forfeit; 155: Cleveland (A) pinned Seegers, 1:35; 170: Oldenburger pinned Heimer, 2:43; 190: Johnson pinned Bishop, 4:21; 235: Hinrichs pinned Leo, 1:30.