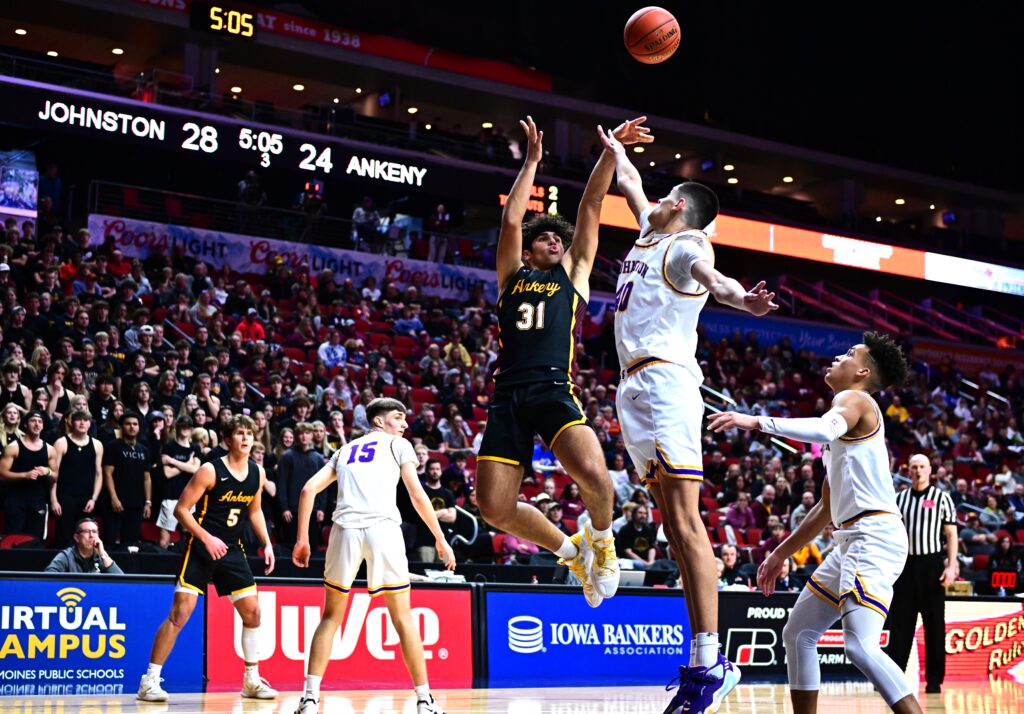 The depth on the Ankeny boys' basketball team has taken a severe hit before the season has even tipped off.
The Hawks have lost four varsity-level competitors in JJ Kohl, Alex Aguirre, Karson Wehde and Joel Mpore to either injury or early college enrollment, according to Ankeny coach Brandt Carlson.
"Although not ideal, I believe in the tradition of our program in that we will have many guys that will contribute and have that 'next man in' mentality," said Carlson.
Ankeny posted a 19-5 record last season and qualified for the Class 4A state tournament. Wehde started all 24 games for the Hawks, while Aguirre and Kohl were valuable players off the bench.
Wehde, a wing player, averaged 6.9 points per game and was also considered one of the team's best defenders. However, he suffered a broken leg during open gym last month and will miss the entire season.
Kohl, a post player, averaged 10.3 points and was named to the CIML Iowa Conference second team. An all-state quarterback, he is headed to Ames to begin his college football career at Iowa State.
Aguirre, a forward, averaged 8.5 points. He will graduate at the semester after the IHSAA ruled that he was ineligible to play this season, so he will begin preparing to play at Morningside next year.
Despite those significant losses, Carlson said he was encouraged by his team's opening week of practices.
"We are experiencing a balance of leadership from our players, and I have been impressed with the consistency of our improvement even though we have many new faces on our team this year," he said.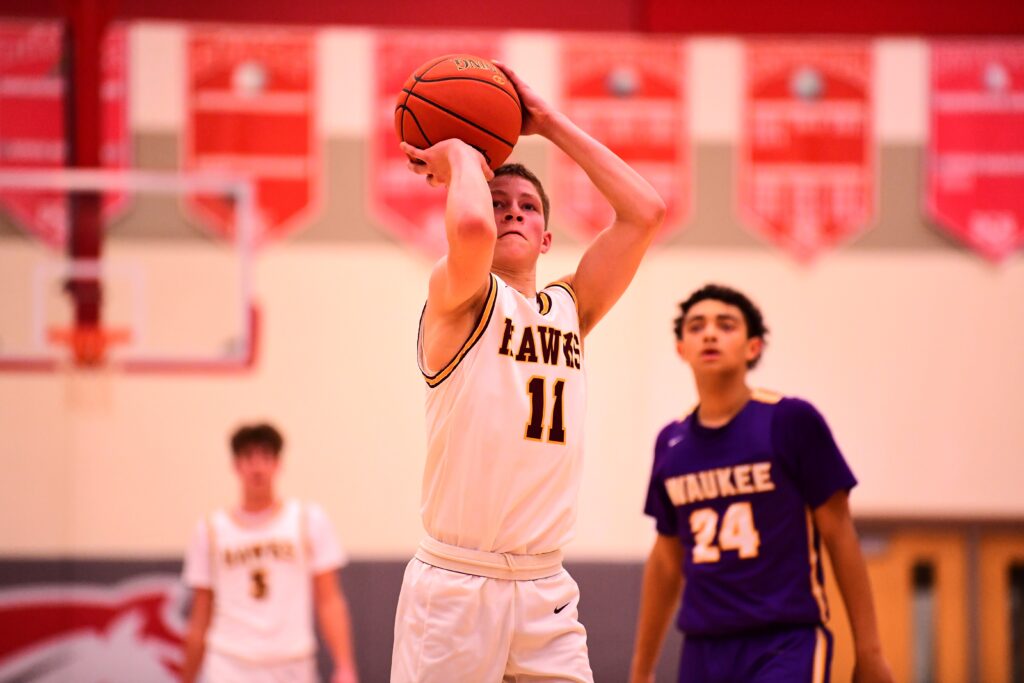 Ankeny boasts a pair of returning starters in junior point guard Carson Johnson and junior guard Lio Aguirre. Both players were named to the Class 4A Substate 1 team a year ago.
Johnson averaged 9.9 points and 2.5 assists. He led the Hawks with 32 3-point goals, shooting 36.7 percent from behind the arc.
Johnson also connected on 90.9 percent of his free throws (50-of-55). He was a second-team all-conference pick.
Johnson scored a career-high 20 points in one of Ankeny's biggest victories last season–a 74-63 road triumph against then-No. 3 Waukee Northwest.
Aguirre, meanwhile, averaged 10.6 points and 5.0 rebounds. He received all-conference honorable mention.
Aguirre made a game-winning basket at the buzzer to give the Hawks an 81-79 overtime victory against crosstown rival Ankeny Centennial.
"There is no doubt that Carson and Lio will be the focal point of our opponents," Carlson said. "They have worked hard the past eight months to put themselves in a leadership role and will be counted upon to compete at a high level."
Among the team's other returnees are senior guard Maddox Ward and junior forward Cash Schoolen. Ward played a key role down the stretch–he averaged 2.7 points and 1.4 rebounds while also contributing 40 assists and 18 steals.
Schoolen played in six games, averaging 1.0 points and 0.8 rebounds.
"We have other members of our varsity team last year that are improving every day in Cash and Maddox who have great confidence in themselves and will be essential to our team's success," Carlson said. "We also have many new faces to our program who are going to surprise many people in how gifted they are and how hard they play."
Carlson said he simply wants his players to give a maximum effort every day. If that happens, then good things will come.
"We want to be champions in our behavior on and off the court, share the basketball to find mismatches, and then ultimately be playing our best at the end of the season," Carlson said. "Our coaches have been working hard, and I feel our program continues to move in the right direction."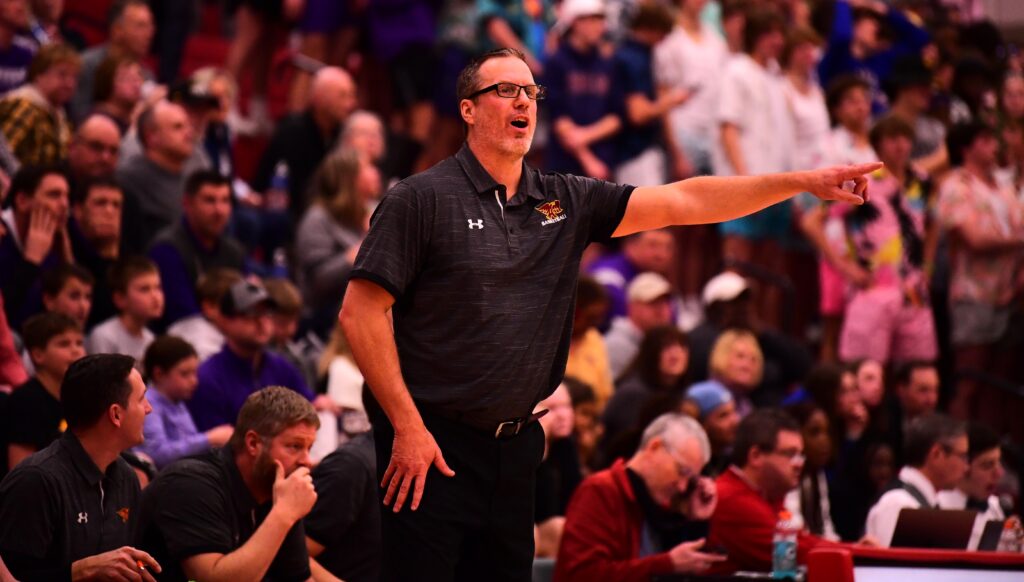 Ankeny will play a grueling schedule, beginning with a matchup at Waukee on Nov. 29. The Warriors will be looking to avenge last year's 62-57 loss in a substate final.
Waukee has been strengthened by the return of five-star recruit Omaha Biliew, who starred on the Warriors' state championship team in 2021 before playing his junior year at a prep school. He has signed with Iowa State.
"Our schedule is tough and with the new look CIML Conference and our non-conference opponents we will have a challenge every Tuesday and Friday–and a couple of Saturdays," Carlson said. "There is no doubt Waukee and Waukee Northwest are the favorites to win the state championship this season. If either of these teams do not win the title, it will be a shock to most people. Additionally, I am sure Waukee will be looking for some revenge from last season, so it will be a competitive environment next Tuesday. I really believe our first nine games will give us a great perspective on what we will be capable of doing this year. I believe we will be the best version of ourselves in February and ultimately our goal is to be playing in March.
"I love the focus of our team, and I am very honored to be the basketball coach here in Ankeny. We have tremendous support from our community, school district and families, which is awesome to experience. Lastly, the history of this program is something we all strive to hold in high regard, and I hope coach (Larry) Ireland's family and coach (John) Petersen are proud of us," he added.