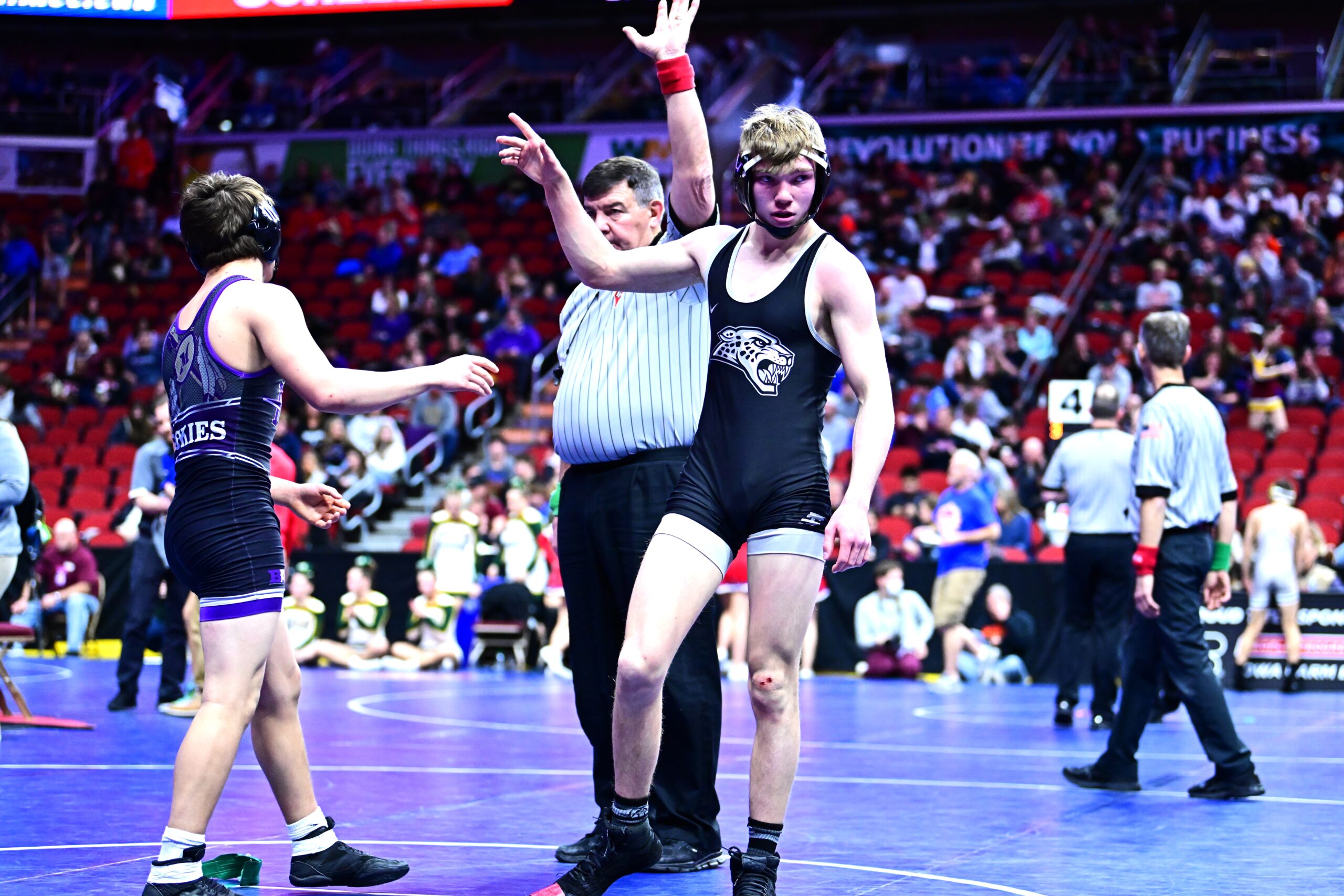 When the Ankeny Centennial wrestling team opens its season this week, the Jaguars will have some new faces in their lineup.
Centennial graduated five state qualifiers from last year's team, including four-time qualifier Jackson Helmkamp and fellow two-time placewinner Carter Cahill. The Jaguars tied for 16th place in Class 3A with 34 points.
"The practices are going well," said Centennial coach Jay Groth. "We have 64 kids on the team, and it's a good mix of youth and experience. The kids are working hard, paying attention and embracing the suck."
Centennial posted a 14-11 dual record a year ago. The Jaguars return a trio of state qualifiers in seniors Payton Bright and Cael Wiener and junior Lucas Bruhl.
Wiener will try to become a four-time qualifier. He owns a career mark of 60-39.
Wiener qualified at 106 pounds as a freshman, at 113 as a sophomore and at 132 last year, when he compiled a 19-11 record. He is 11th at 138 in the preseason rankings.
Bright will try to become a three-time qualifier. He qualified at 106 as a sophomore and at 120 a year ago, when he posted a 19-24 mark.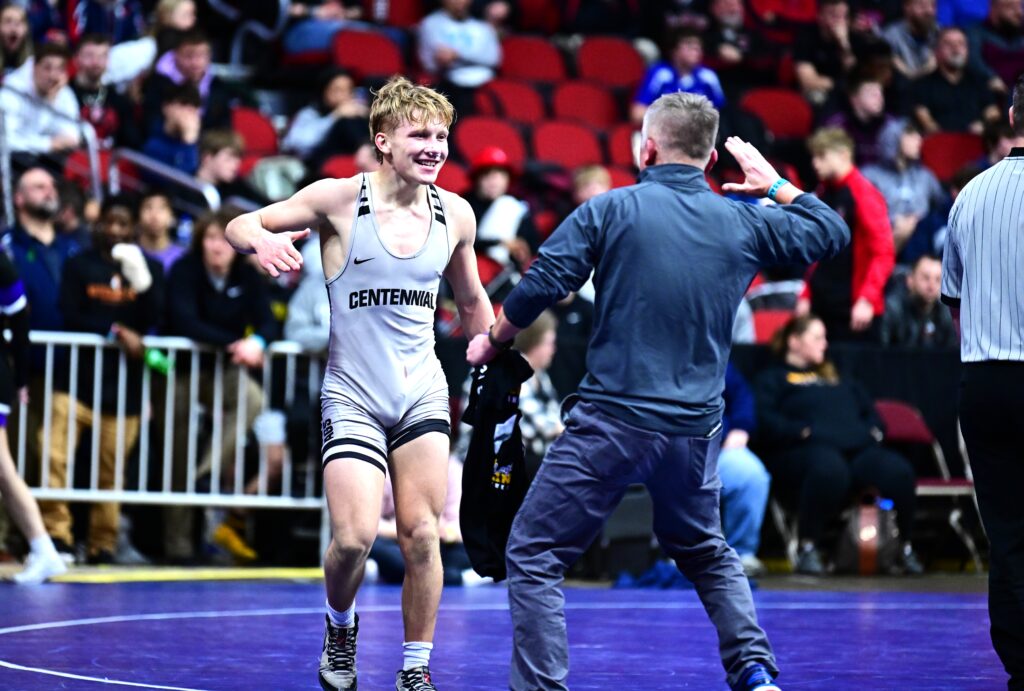 Bruhl went 19-5 as a sophomore and placed sixth at 138. He is fifth at 145 in the preseason rankings.
Bruhl reached the semifinals at last year's state tournament with a 2-1 overtime decision against Jacob Helgeson of Johnston. He then lost to top-ranked Ryder Block of Waverly-Shell Rock, 19-10, and eventually dropped a 6-2 decision to Chase Fizer of Bondurant-Farrar in the fifth-place match.
Among Centennial's other returnees are seniors Zach English and Logan Song and sophomore Cody Vandermark. They are also listed in the preseason rankings–Vandermark is 10th at 113, Song is 12th at 170 and English is ninth at 182.
English posted a 34-11 record at 170 a year ago. He captured titles at both the Dallas Center-Grimes and Fort Dodge tournaments while winning his first 15 matches of the season.
English later placed third at the district tournament.
Vandermark went 24-18 at 106, while Song finished 28-16 at 182. They both took fourth at the district tournament.
"English, Song and Wiener were all great leaders last year," Groth said. "They are grooming the juniors to be good leaders. Our upperclassmen are great young men. We are continuing to develop as leaders, mentors and all-around good people.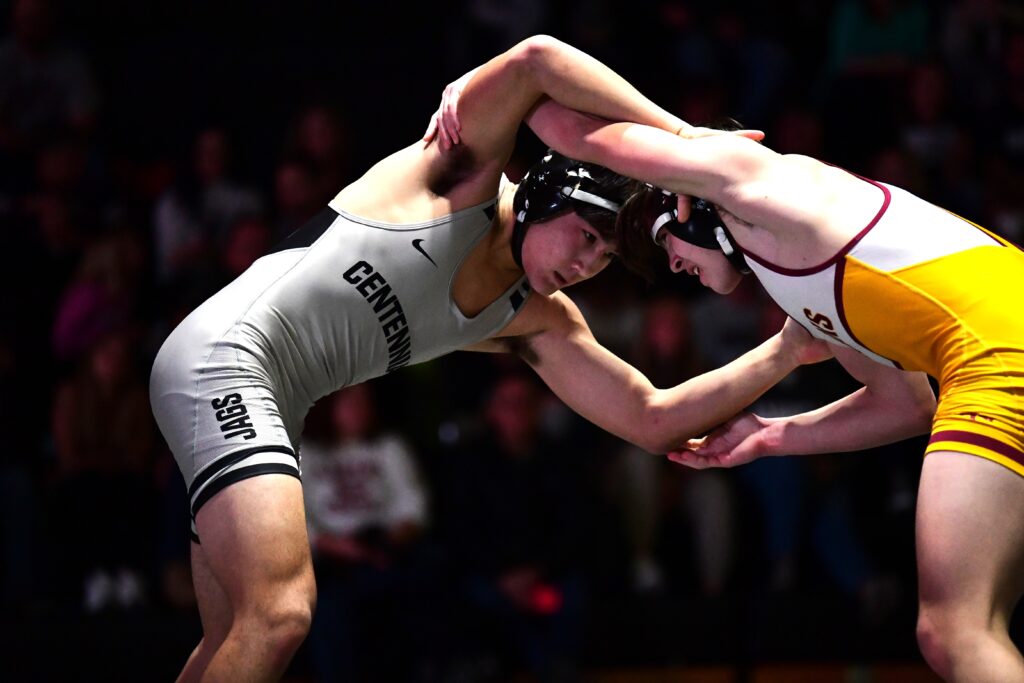 "Cody, Lucas and some other juniors like Ryan Muller, Tyler Brennan, Ari Ehlts and Jack Cahill are all kids who lead by example, work very hard and are very positive. They all need to get a little more vocal in practice," he added.
Senior Joe Talmadge and sophomore Mitchell Grider are two other veterans battling for varsity spots. Among the newcomers who could make an impact are sophomores Calvin Haag and Andrew Roland and freshmen Cale Vandermark and Will Morris.
Centennial will open its season on Tuesday with a double dual meet at West Marshall. The Jaguars will face Albia in addition to the host Trojans.
Tuesday's meet is one of a few changes on this year's schedule. After competing in the Dallas Center-Grimes Invitational on Dec. 3, Centennial will travel to the Council Bluffs Lewis Central Quadrangular on Dec. 6.
"We dropped out of The Clash up in Wisconsin. It's a great tournament, but it didn't do us much good for seeds at state," Groth said. "We picked up the dual tournament at Iowa City West, and our early season duals are new. West Marshall and Albia are two strong smaller schools, and this will be fun as former Jaguar wrestler Zach Owens is an assistant coach at Albia. The quad at Lewis Central the following week will be good as well."
Groth is hoping that his team can challenge for a berth in this year's state duals tournament, which will be held on Feb. 4–the week before the district tournament-at the Xtream Arena in Coralville.
"I really like the new plan for state duals. I do believe it will be good for the sport, and I think we will get more fans and more coverage as a sport," he said. "I also believe we have a team that can contend for a berth in the state duals. We need to stay healthy, focused and committed to protecting the island."