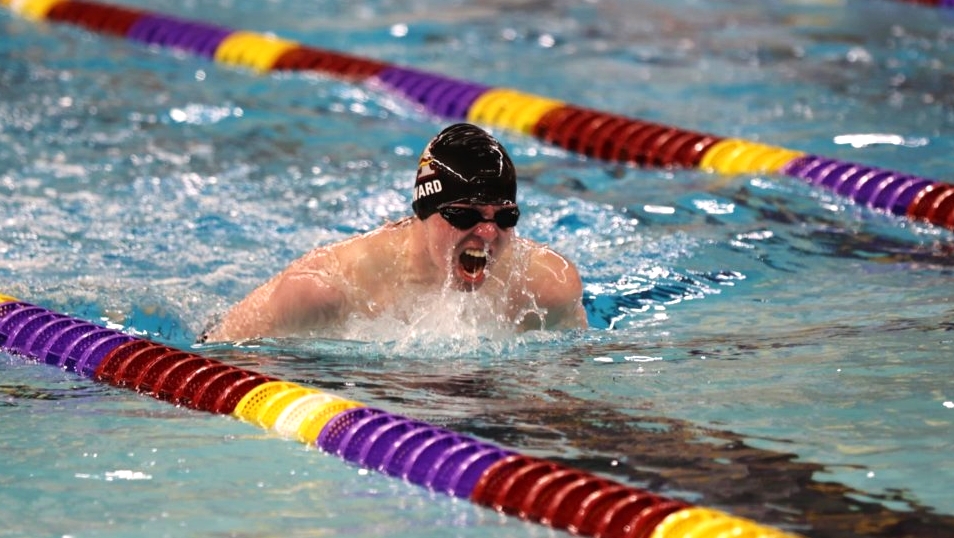 Senior Calvin Howard is one of the five returning state qualifiers for the Ankeny boys' swimming team. He helped the Hawks to a seventh-place finish at the state meet.
Howard tied for 14th place in the 100 butterfly with a time of 52.55 seconds and finished 29th in the 200 individual medley in 2:02.51. He also swam on the eighth-place 400 freestyle and 14th-place 200 medley relays.
On Tuesday, Howard helped the Hawks to a third-place finish in the season-opening Ankeny Sprint Invitational at Trail Point Aquatics Center. He placed fourth in the 25 freestyle in 10.83 seconds and also anchored the runner-up 200 medley relay.
Here is some inside info on Howard:
How was your Thanksgiving? Did you do anything special?
My Thanksgiving was great! I got to see some family that I haven't seen in a while, and coming off of a tough practice, I was ready to start eating right away.
What was your favorite part of Thanksgiving dinner?
My favorite part was the turkey. I normally like ham the most, but this turkey was amazing.
Were you happy with your races on Tuesday?
I am disappointed that I am not where I would like to be. I did go a lot slower than I was hoping for, but this allows me to see where I am and what sort of things technique-wise that I can be working on in practice. Coach (Justin) Crouch had me and some other team members work on some of the qualities we were lacking, which helped me fix my technique quite a bit. I am ready for our next meet on Thursday.
What did you think of your team's performance?
Overall, our team did pretty well. We had some strengths and weaknesses, but as we only finished 20 points behind Valley I consider this a great start to the season. There is a lot of potential on this team that we just need to work at, and soon it will become noticeable.
Waukee, the two-time defending state champion, won seven events and easily captured the team title. Do you think the Warriors will be the team to beat at the state meet again?
Easily. Waukee had some fantastic swims from some really strong guys, and they will definitely be up on the list. They have so many swimmers that are really bright, but I think once we get back into condition we will be a worthy contender.
Your team will face Waukee again on Thursday in a dual meet at the Waukee YMCA. What do you think will be the team's goal for the meet?
This meet will really bring out some of the strengths and weaknesses of the team. This meet will definitely have both good and bad races. As we are still early in the season, the goal for this meet is just for everyone to show how well they can do and beat some Warriors in the process!
What are your goals for the season?
My goals for the 50 freestyle are to fix my technique so I can provide the maximum power I can for the team. I also hope to get stronger and more smooth with my stroke. My time goal for the 50 free this year is to go under 21.8. With my fastest time being a 22.54 and my fastest relay split being a 22.03, I feel this goal is definitely achievable. My goal for the 100 fly is to place in the top six at the state meet. Seeing three top-six Ankeny swimmers on the podium would be amazing for this team.
Which event is your favorite, and why?
I find joy in the 100s (fly and free). I notice that some struggle with keeping their pace after the first 50 yards of the race, and that is where I come back and finish in front. When I fix some of the flaws in my butterfly, I will be ready to go at state
Which is your least favorite?
I despise the 200 IM. In my first few years, coach Crouch put me in the IM as there was no one else that could swim it. I asked him if there was anything else I could swim. He let me take a break from it a little during my sophomore year, but put me back in it my junior year. My times ended up being significantly better, but I was always tired after the race. I am thankful for the coach now letting me do the 50 free instead. I find the race exasperating as I constantly feel like I'm going to puke.
Are you planning to swim in college? If so, have you looked at any schools?
I have looked at a school in Missouri for swimming, but I still don't know about going out of state. Iowa doesn't have many colleges with DII or above men's swimming, however, so I am still deciding.
What are you going to study?
As of right now, I want to do Aerospace Engineering.