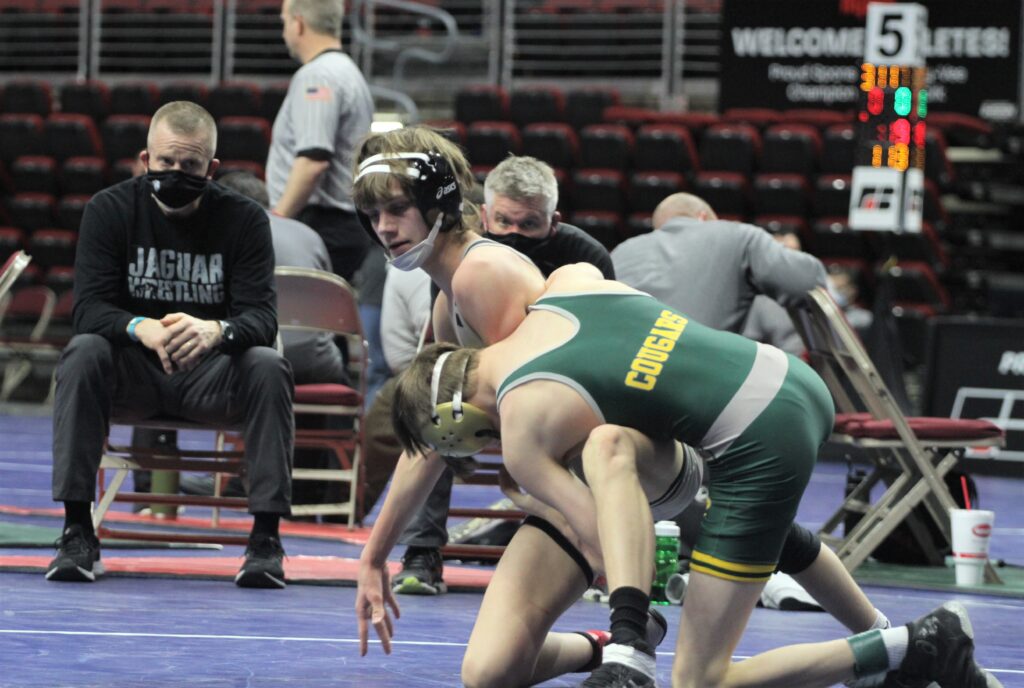 Despite being less than full strength, the Ankeny Centennial wrestling team opened its season on Tuesday with a pair of victories at State Center.
The Jaguars posted a 49-30 win over host West Marshall and also defeated Albia, 48-27, in the non-conference double dual meet.
"I was happy with how we wrestled," said Centennial coach Jay Groth. "I thought our guys were aggressive and looking to score points."
Centennial has been batting a rash of illnesses over the last several days, particularly at the upper weights. The Jaguars were forced to forfeit a couple of matches on Tuesday.
"I haven't seen my big guys–like 195 (pounds) and up–for more than a week now," Groth said. "We had a couple open weights tonight. We're a little thin at the upper weights as far as our depth goes, and when they're all sick, we just had to forfeit at 220 and heavyweight. We bumped a freshman in there, Dirk Winkel, and he stepped in and fought for us."
The Jaguars recorded six pins against West Marshall and seven more against Albia. Payton Bright at 120, Cael Wiener at 138, Lucas Bruhl at 152, Ari Ehlts at 160 and Logan Song at 170 each had a pair of falls.
"We needed our veterans to step up and get a lot of bonus points, and we got a lot of pins," Groth said. "So they answered the call."
Centennial will compete in the Dallas Center-Grimes Invitational on Saturday.
Here are the match-by-match results from Tuesday's meet:
Centennial 49, W. Marshall 30
120: Bright pinned Eggers, :57; 126: Muller beat Geers, 1-0; 132: Downs (WM) pinned Roland, 1:13; 138: Wiener pinned Vellinga, :53; 145: Anonson pinned Thompson, :35; 152: Bruhl pinned Moore, 1:45; 160: Ehlts pinned Kline, 1:52; 170: Song pinned Bartine, 1:52; 182: Pfantz (WM) pinned Cahill, 3:32; 195: Weuve (WM) pinned Entrekin, :45; 220: Schaper (WM) won by forfeit; 285: Meester (WM) pinned Winkel, :48; 106: Ca. Vandermark beat Decker, 18-8; 113: Co. Vandermark won by forfeit.
Centennial 48, Albia 27
113: Co. Vandermark pinned Stewart, 3:14; 120: Bright pinned Pickerell, 3:39; 126: Conner (A) beat Muller, 5-4; 132: Roland beat Henderson, 11-4; 138: Wiener pinned Hutchinson, :52; 145: Thompson (A) pinned Anonson, 1:31; 152: Bruhl pinned Keller, 5:34; 160: Ehlts pinned Rhodes, 2:35; 170: Song pinned Oddo, 1:51; 182: Cahill beat Kimball, 10-3; 195: Kamerick (A) pinned Entrekin, 1:18; 220: N. Ballard (A) pinned Winkel, 1:18; 285: P. Ballard (A) won by forfeit; 106: Smith pinned Crall, 1:22.