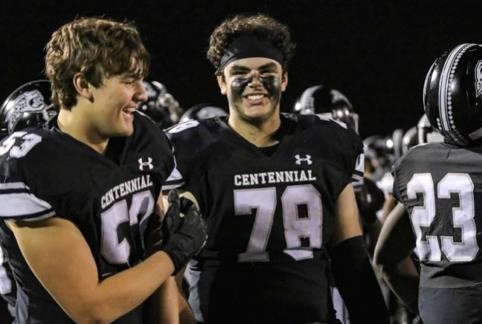 There's another Ankeny Centennial football player headed to Iowa Western Community College.
Offensive lineman Cavan Jones verbally committed to the Reivers on Friday. He joins teammates Hudson Simon and Brody Targgart, who both committed to Iowa Western last week.
"It definitely played a factor in my decision," said Jones. "I've been really close with Hudson ever since we started playing Ankeny Junior Football together in elementary school, and it's felt like we've grown up together. I've also been good friends with Brody ever since he moved to Ankeny our freshman year."
Jones helped Centennial to a 5-5 record last season. He was the anchor of the Jaguars' offensive line.
Jones, who earned second-team all-district honors, said he considered several other schools before making his decision.
"I did look at a lot of schools throughout the recruiting process, but Iowa Western ultimately felt like home," he said. "The coaches first and foremost are welcoming and create an environment I know I can thrive in once I get there for fall camp. Also, the facilities they have are second to none, and I can't wait to get on campus again.
"It'll be a lot of hard work, but I'm always ready for a challenge," he added.