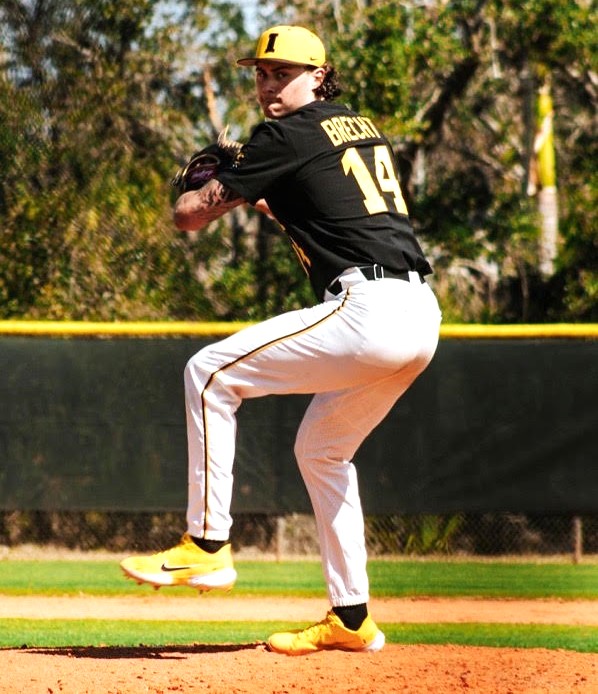 If former Ankeny pitcher Brody Brecht continues to throw like he did on Saturday, he may have to reconsider his dual sport career at the University of Iowa.
The sophomore righthander was named the DI Baseball Pitcher of the Week, it was announced on Monday. Then, on Tuesday, he was tabbed the Big Ten Co-Pitcher of the Week along with Dominic Pianto of Michigan State.
Brecht was perfect in his season debut and second career start, throwing five innings and retiring all 15 batters he faced with 10 strikeouts in the Hawkeyes' 7-1 victory over Quinnipiac in the Snowbird Baseball NCAA Classic at Centennial Park in Port Charlotte, Fla. Also a wide receiver on the Iowa football team, he overpowered the opposing batters with a fastball that hit 100 MPH on the radar gun.
"Brody went out and set the tone for us," said head coach Rick Heller. "He was outstanding. He was able to hit with his slider, pretty much at will all day, which made him very dominant and unhittable. A great start, the best performance of his young career."
The strikeouts and innings pitched were both career-highs for Brecht. His only previous start came in the 2022 Big Ten Tournament against Michigan on May 29, when he didn't make it out of the first inning.
Redshirt sophomore Zach Voelker came in and took over right where Brecht left off, striking out six batters over four innings en route to his first career save.
"Voelker came in and was lights out as well," said Heller. "Both of those guys did exactly what we needed to do. We didn't walk a batter today. That was the message to the group, we had a situation where the wind is blowing in, not a great day to hit and really made Quinnipiac earn everything that they got."
Brecht was named a preseason Third-Team All-American by Baseball America and was named a freshman All-American by Collegiate Baseball and Perfect Game a season ago.