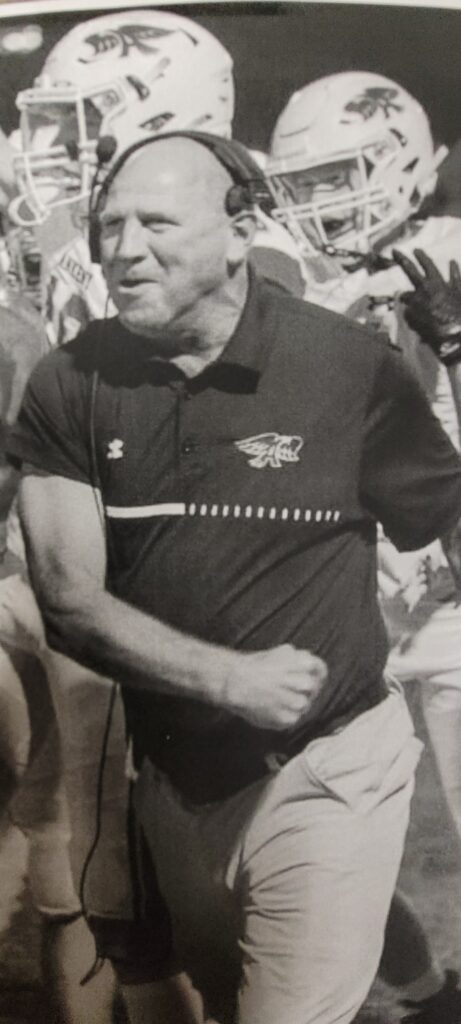 It turns out that the successor to Ankeny football coach Rick Nelson was already on his coaching staff.
Assistant coach Jeff Bauer has been named to replace Nelson, who announced in early January that he was leaving to return to his previous position as the offensive line coach at Northern Iowa.
"This is what I'm supposed to be doing," said Bauer, an Ankeny native. "When I went for this (job) and got it, I thought, 'This is it.' This is my hometown. What more could a guy ask for?"
Ankeny Activities Director Adam McDonnell said Bauer emerged from a strong pool of candidates.
"Coach Bauer's deep community ties and vision for the future of Ankeny Hawk football set him apart from the others," McDonnell said. "It is evident that Jeff is passionate and invested in Ankeny not only from the program and school standpoint, but from a community at large."
Bauer spent the last six years on Nelson's staff. He was a volunteer assistant the first year, then became a paid assistant in 2018.
Bauer helped the Hawks to a 37-10 record over the last four years, including the Class 4A state title in 2020. His son, Jase, was the star quarterback on the championship squad.
"The last four years have been a pretty special run," Bauer said. "But with that being said, everything is not going to be status quo. There are some things that need to be fixed or changed up. It'll be a little different, but I also know why we've been good the last few years."
Bauer was picked from a pool of candidates that included three other finalists.
"I think in my interview, my passion for Ankeny really showed," Bauer said. "I'm a lifelong guy here who knows the community and the school district. I think they realized that this position wasn't going to matter as much to other candidates as it matters to me."
Junior linebacker Connor Kayser said the Ankeny players were thrilled by Bauer's promotion.
"First of all, I applaud the other finalists because they all did great and I know they will all have success wherever they end up," said Kayser. "I think that familiarity is a good thing, especially when talking about high school sports. The whole team was rooting big-time for (Bauer), and I think we were all very happy with the district's decision.
"One thing that I think the players really love about Bauer is that he wants to win games of course, but he wants to become more involved in the community just as much. That's really big as a player because you know that you have a coach that can also shift his focus into helping us become better men alongside becoming a better football player. I think the players already love him, and I'm sure that the city of Ankeny will come to love him in no time!" he added.
Bauer graduated from Ankeny in 1986. He played on both sides of the ball for the Hawks and was a first-team all-conference pick.
Bauer then joined the Iowa State program as a walk-on and became a four-time letterwinner for the Cyclones from 1987-90. Last month, he was named to the Ankeny Fanatic all-time Ankeny football team.
After coaching in Texas for several years, Bauer moved to Overland Park, Kan., and coached for five years at Blue Valley North High School, helping the program to five winning seasons and four playoff berths. He coached the defensive backs and was also the defensive coordinator.
During this time, Bauer met New York Jets executive Terry Bradway and eventually joined the franchise's front office. He served as a Midwest scout for 11 years and then spent two more years as the Director of Scouting.
However, Bauer's tenure with the Jets came to an end in 2015 when Mike Maccagnan was named the General Manager.
"I knew (Maccagnan) was going to bring in his own people," Bauer said. "I thought I'd get back into (scouting), but I ended up being the runner-up for some other jobs."
After a brief stint in the mortgage industry, Bauer joined Nelson's staff at Ankeny. He briefly flirted with the XFL in 2020, but then the Covid-19 pandemic struck.
Now, Bauer is fully committed to the program that he once played for.
"I'm real excited," he said. "Being an Ankeny guy and getting this opportunity, it's pretty cool."
The first challenge for Bauer will be to assemble his coaching staff.
"We've got to get the right guys in place," he said. "I don't want any egos on our staff. I want everybody to feel free to have an opinion. It's not a 'my way or the highway' kind of deal. I think good football coaches are always trying to get better, and that's what I want to do."