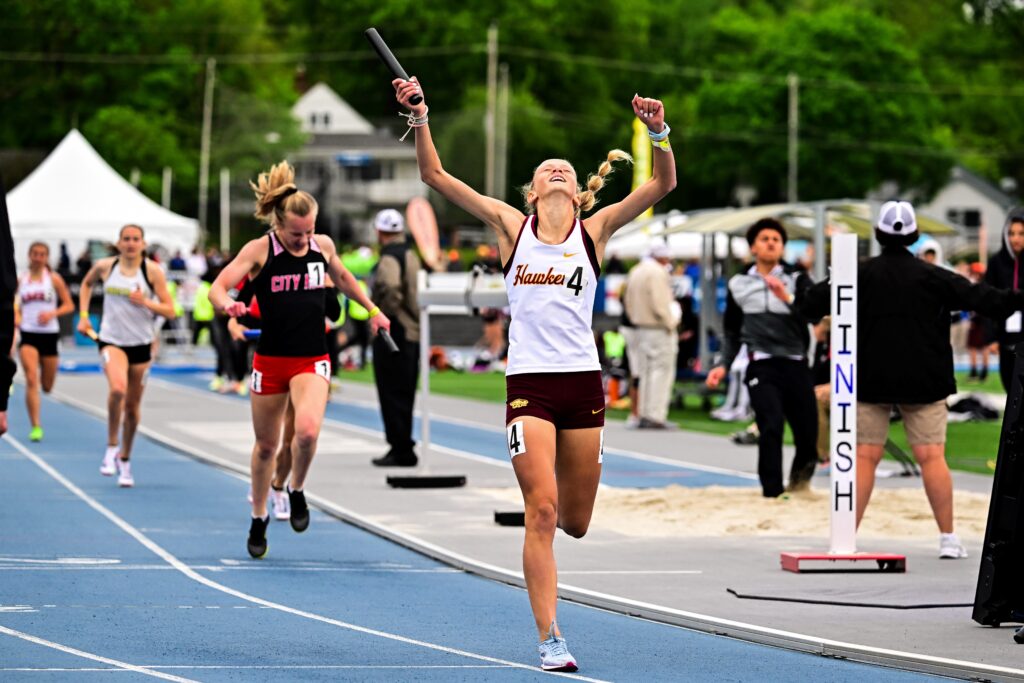 A year ago, the Ankeny girls' track team nearly captured a trophy at the Class 4A state meet, finishing just 1.5 points out of third place.
The Hawkettes, who placed seventh with 44.5 points, might have enough talent back from that squad to earn some hardware this spring.
Ankeny boasts 16 returning state qualifiers for new head coach T.J. Jumper, who took over the program after Thomas Cotter resigned to accept a new position in Carlisle.
"There are several strengths with this team," said Jumper. "There is so much depth and quality to this team. The team has a clear drive to take things to the next level with a growth mindset. So far the strength of supporting each other in workouts has been very evident."
There are 90 girls on the roster. Among the returnees are senior Zoe Shadravan, junior Lillian Smith and sophomore Alli Macke, who all ran on last year's state champion distance medley relay.
Macke ran the 800-meter anchor leg in 2:12.9 as the Hawkettes posted a time of 4:05.44 to break a school record that had stood for 43 years. It was the school's first-ever state title in that relay.
Macke also placed second in the 800 in 2:13.66. She nearly erased her own school record of 2:13.45 that she set at last year's Drake Relays, where she placed fourth in the event.
Smith took 12th in the 400 hurdles at the state meet in 1:07.31. She also anchored the 11th-place sprint medley relay.
Sophomore Sophie Loeffler is another key returnee in the relays. She joined Shadravan and Macke on the runner-up 4×400 relay, and she teamed up with Lauren Jackson, Drew Beason and Macke for a ninth-place finish in the 4×800 relay.
Jackson and Beason are also back for the Hawkettes. Beason, a sophomore, is a standout distance runner who placed ninth in the 3,000 and 13th in the 1,500.
Junior Morgan Johnson is Ankeny's other individual returning qualifier on the track. She took 20th in the 400.
In the field events, the Hawkettes boast a trio of returning placewinners in senior throwers Hannah Baier and Kendra Winfrey and sophomore high jumper Reagan Hanfelt.
Winfrey, a Texas A & M Corpus Christi softball recruit, placed second in the shot put with a toss of 39 feet 11 inches. Baier, who will throw for Iowa State, took fourth in the discus with a toss of 126-7.
Hanfelt tied for third at the state meet with a jump of 5 feet 4 inches. She had jumped 5-5.25 at the regional meet, the second-best jump in school history.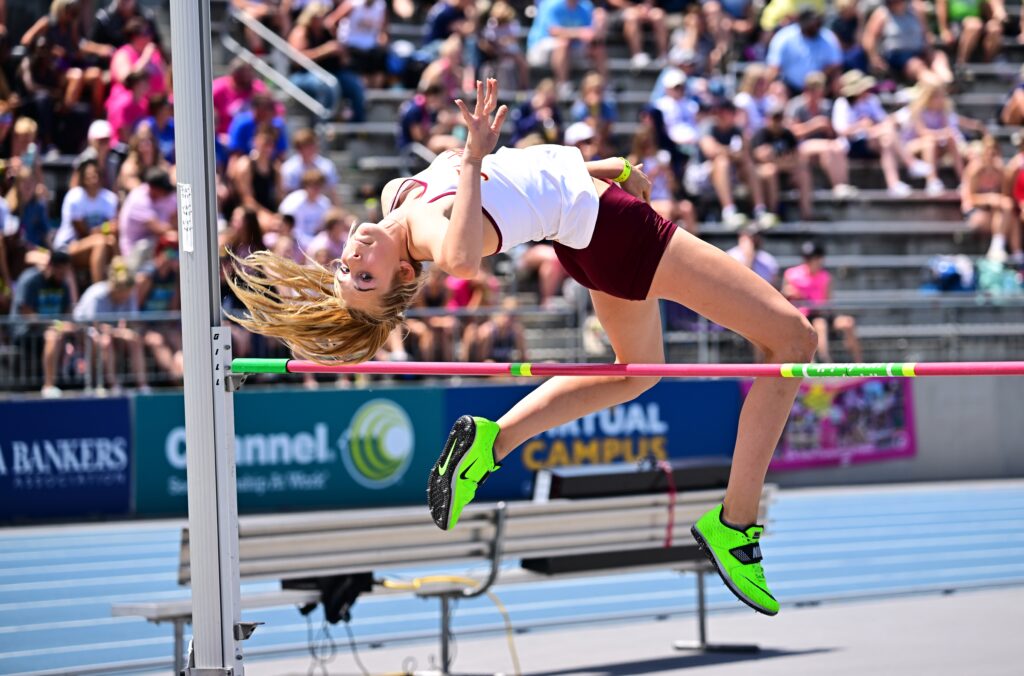 "The team has set a few goals," Jumper said. "The team wants each individual to set a personal record in their primary event. We are committed as a coaching staff and as a team to help athletes and teammates get there. As a team, we want to qualify more events this year than we did last year for the Drake Relays. We want to win both the JV and varsity divisions at the conference meet. We are also striving to win a state team championship."
Jumper, a former high jump state champion in Illinois, could be especially helpful to Hanfelt. His wife, assistant coach Laura (Aschoff) Jumper, also brings a lot to the program–she was a six-time state champion at Ankeny and is a member of the Iowa Girls' High School Athletic Union Track and Field Hall of Fame.
"We feel so fortunate to be able to work with this team and give back to Ankeny track and field," Jumper said. "The practices have been going really well. We have put a heavy focus on the process of being highly successful, teaching technique in each of the areas, and building a culture of support. The team has really bought in to improving and receiving feedback. Each event group has met and/or exceeded expectations so far. Fifty-five of the girls completed 45 voluntary workouts and/or participated in multiple activities in the offseason. As a coaching staff, we are excited about how the girls came in ready to go with official practice. Also, their willingness to implement new ideas. They are committed to leaving their legacy in the Ankeny track and field tradition."
Ankeny will compete in the UNI Indoor meet on Monday at 2 p.m., then will go to the ISU Indoor meet on Thursday. The Hawkettes will open their outdoor season on March 28 by competing in the Warrior Relays at Waukee.
Jumper said that "Together We Rise" has been established as the team's motto.
"We will have to continue being consistent with our effort and committed to the process of improvement," he said. "We are committed to the champion mindset, emphasizing being detailed in not just our technique and preparation, but in all areas of our lives. It will be very important for us to support each other not only in our successes, but also during the grind and struggles.
"This is where the team came up with the motto," he added.