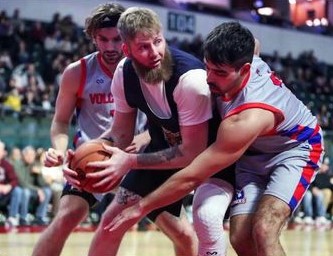 Joel Roberts admits that he wasn't much of a shooter on his high school basketball team.
Now, the former Ankeny player is being paid to play professionally.
The 6-foot-9, 255-pound Roberts is in his first season in The Basketball League, which began operating in 2018 with eight teams and has now expanded to more than 40 franchises across the U.S. He is a member of the Flint (Mich.) United after starting the season with the Wenatchee (Wash.) Bighorns.
"I want to be somewhere in the TBL where I can get some film (on me) and kind of make a name for myself on the floor so I can keep playing professionally either overseas or my biggest goal, if I can, is I'd like to try to make it into the G League and work my way up from there," said Roberts. "I feel like I have a lot left to give to the game. I feel like I can play at that level if I really wanted to. The TBL is a big stepping stone for me to get to that level."
Roberts averaged 3.2 points and 1.5 rebounds as a senior at Ankeny in 2015-16. He helped the Hawks to a 19-4 record.
Roberts was primarily a role player for then-Ankeny coach John Petersen, focusing on defense and rebounding.
"I've definitely expanded (my game). You have to add to your bag," Roberts said. "I'm able to stretch the floor a little more whereas in high school I wasn't much of a shooter. I've put in the work and now I'm able to shoot from outside the 3-point line, and I've also worked on my handles. But I would say what I pride myself most on my game still is rebounding and defense, especially in this league where there are a lot of big guys. These guys are big, and they know how to use their bodies."
After graduating from Ankeny, Roberts spent two seasons at Iowa Wesleyan University. The Tigers went 18-9 in his freshman year.
"We had a really good team," Roberts said.
Since then, Roberts has mostly been playing in some competitive men's leagues with a few of his former Ankeny teammates. But he yearned to take his game to a higher level.
"I was constantly doing something and staying in shape, and I kind of found out about the TBL maybe two years ago through social media," Roberts said. "Guys I followed from college–their friends played in it. So they knew about it, and they told me there were a lot of good opportunities."
Roberts traveled to Indiana for the TBL draft combine, where he had the opportunity to showcase his skills for various coaches throughout the league. He was then selected by Wenatchee with the 14th overall pick in the first round of the draft.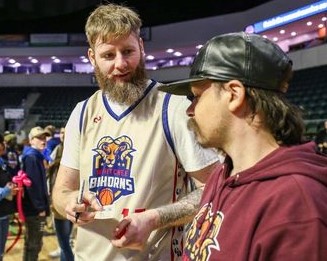 Roberts spent several weeks in Washington and played in a few games before being traded to Flint.
"I did the whole training camp and made the training camp cuts," he said. "I played in the first three games, but I just didn't feel like Wenatchee was the right fit. I wouldn't say I had the freedom to make a trade, but I kind of initiated it. Flint had talked to me the whole weekend of the combine, and they seemed super interested and had stayed in contact with me. They were able to make a deal for me."
Roberts has been in Flint for about 10 days and already feels at home. Last week, he spent some time at the Flint Boys and Girls Club, reading books to some young kids.
"It's fun to be involved with the community," Roberts said. "That's something that my family believes in, so I feel like Flint is just a better fit for me."
On the court, Roberts is also adjusting to a new team.
"Obviously, I miss my guys back there in Washington, but coming here it feels more like home to me," he said. "Everybody's got that good vibe and is real honest with each other. The coaching here is a 180-(degree turn) from where I was at previously. The coach (Kevin Crosby) is a little more involved with practice. It's a lot more fun and a lot better atmosphere to be in."
The average salary range for TBL players is from $500-$5,000 per month. Some players work other jobs to supplement their income.
Roberts is still trying to finalize the details of his contract with the Flint front office.
"How much you make really depends on the market you're in," he said. "Some of the teams can afford to pay a little more. So it's kind of a waiting game (on the contract)."
According to Roberts, the TBL operates much like the G League, which includes the Iowa Wolves franchise in Des Moines.
"Honestly, the level of play is a little better than I thought it would be," he said. "A lot of the guys that play in this league end up overseas, and a lot of the coaches and the owners in this league have good connections with those leagues over the water. So it's a great opportunity for guys who maybe aren't ready to make that leap into the G League or the NBA-type level of play to get that professional experience in the United States."