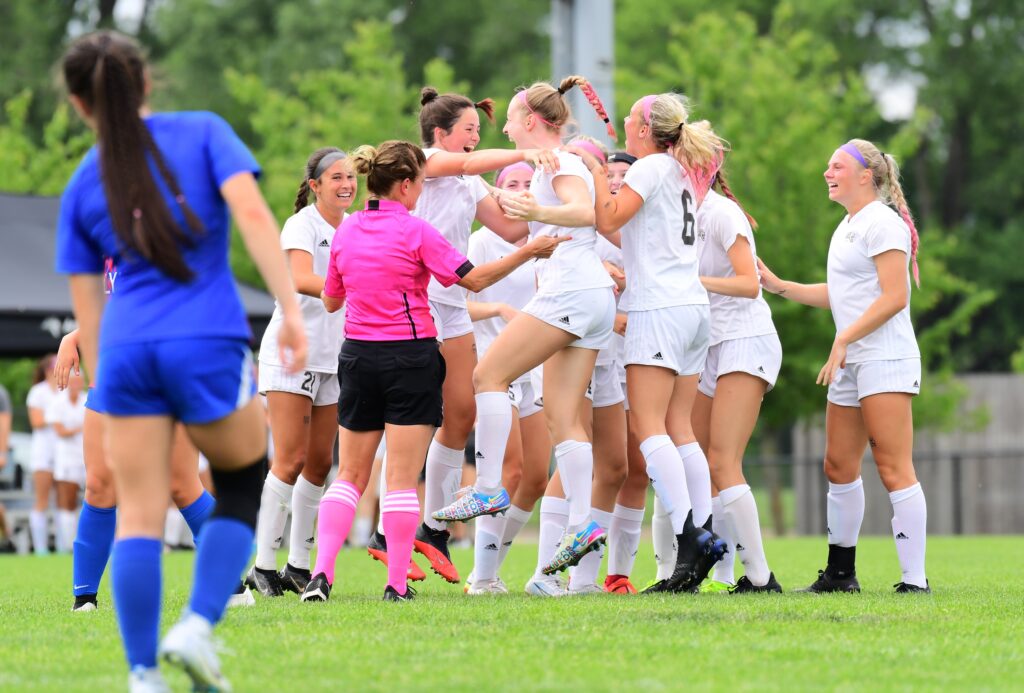 The Ankeny Centennial girls' soccer team has won three state championships in the last six seasons.
Now, the Jaguars will try to defend the Class 3A title they won a year ago–something they were unable to do in 2017 and 2019.
However, Centennial coach Chris Allen said his team isn't focusing on the big picture.
"We have not set any goals as a team at this point, but in terms of our identity, we will train to value the ball while looking for ways to get forward," he said. "We will commit to team defense and quick transitions, hoping to have a strong sense of defensive organization and a mentality to win the ball back engrained over the next couple of weeks."
Although all-American defender Courtney Kovacs will have to be replaced, Centennial returns several key players from last year's squad that posted a 19-3 record. Leading the way are senior midfielder Alanna Pennington and senior goalkeeper Kate Bergan.
Pennington scored a team-high 14 goals and also had five assists as a junior. She was named to the Class 3A all-state first team by both the Iowa Girls' Coaches Association and the Iowa High School Soccer Coaches Association.
Pennington, a Western Illinois recruit, was also selected to the CIML Iowa Conference first team for the second straight year. She helped Centennial to a share of the league crown along with Ankeny and Waukee Northwest.
"Alanna will likely play a huge role for us in the midfield as she did last season," Allen said. "The graduation of Ella Becker will force her to become more vocal as she plays, and this will only elevate her already strong game. If she can maintain her awareness and movement off the ball, we think she can put together a tremendous season."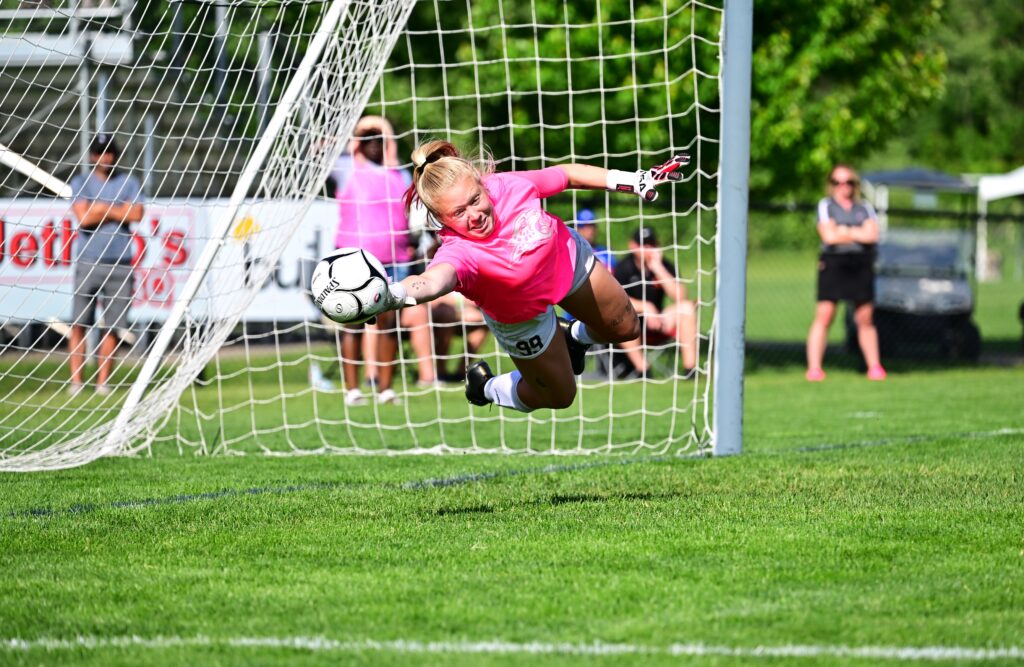 Bergan, meanwhile, made 41 saves while allowing just seven goals. The Carnegie Mellon recruit helped the team post 16 shutouts, including a 2-0 victory over Council Bluffs Lincoln in the Class 3A title game.
Bergan played a starring role throughout the entire postseason, winning penalty-kick shootouts in the regional final against Johnston and the Class 3A semifinal against 2021 state champion Valley. She made four consecutive saves against the Tigers to snap their 37-game winning streak.
Bergan was a first-team all-state pick by the IHSSCA and a second-team selection by the IGCA. She was also a first-team all-conference choice.
"Having Kate back and in a captain's role will be huge for us this season," Allen said. "She, of course, had the opportunity to play a lot last season, but her counterpart Teagan Hall (who graduated) held the role of captain. Kate has learned a lot about leadership from Teagan and has also done a lot of work to develop her leadership skills in the offseason. She will have a huge role in helping us get the back line organized and ready."
Senior forwards Cady Compton and Averi Porter are among Centennial's other returnees. They were both named to the IGCA all-state second team.
Porter, a William Jewell basketball recruit, scored 11 goals and had five assists. She had both of her team's goals in the Class 3A final in a 2-minute span midway through the first half.
Porter was named to the all-tournament team along with Bergan and Pennington. She was a repeat pick to the all-conference second team and was also a unanimous selection.
"Averi returns with a fire in her eye," Allen said. "She took a break from soccer after finishing the past season on a very high note, and sometimes that break can be a good thing. She has looked sharp in training and has shown flashes of creativity that will serve her well."
Compton, a St. Cloud State recruit, racked up 10 goals and a team-high 10 assists. She was a unanimous pick to the Iowa Conference first team.
"Cady, unlike Averi, has not had much of a break, and as a result she appears as crafty as ever," Allen said. "She has developed more versatility training with her club team, and with the lower numbers we are currently carrying on the varsity squad, this versatility might become significant."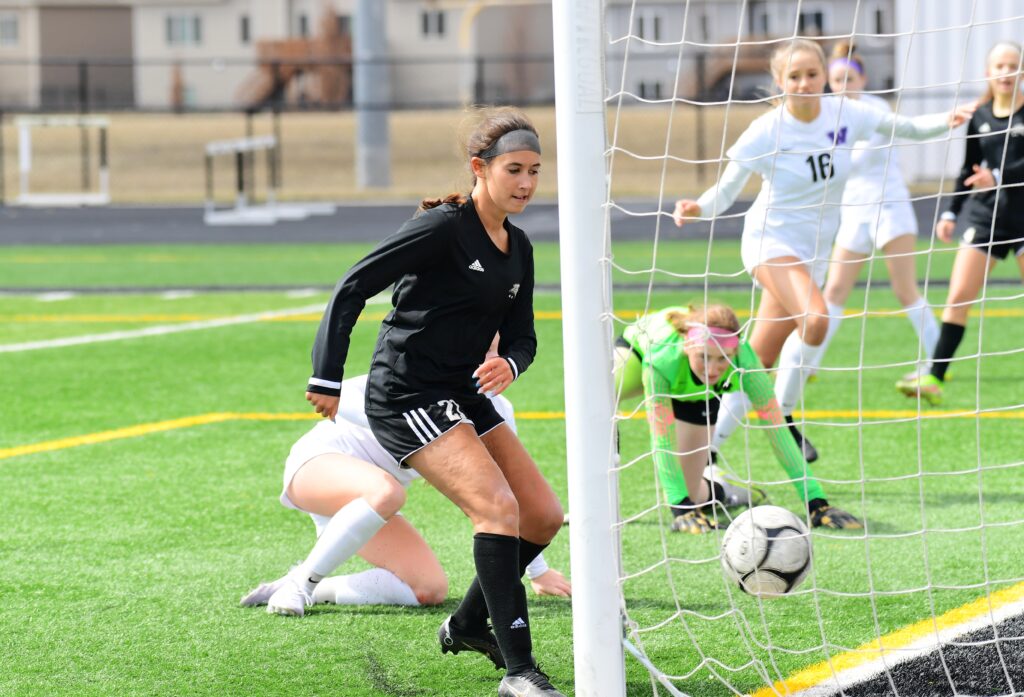 Three other all-conference players are back. They are senior defender Ella Hudachek, sophomore midfielder Olivia Kroska and sophomore defender Maddison Balashaitis.
Kroska scored four goals and had three assists, while Hudachek contributed a goal and four assists. They both received all-conference honorable mention along with Balashaitis.
"Ella is back after picking up an ankle injury prior to the state tournament," Allen said. "This sidelined her until she earned limited action in the final. It's great to see her healthy again, and we love her competitive fire when she is training."
Among the team's other returnees are junior forward McKenna Hilton, junior midfielders Gabby Lawrence and Avery Lewis, and sophomore forwards Addison Fair and Ava Martin. They all played in at least 13 games a year ago.
Martin had 10 goals and five assists, while Hilton chipped in five goals and four assists. Fair had four goals and an assist, Lewis had two goals and six assists, and Lawrence added two goals and an assist.
"In all, we return 12 players who have varsity experience," Allen said. "And we have added three freshmen to this group who appear to be incredibly hungry to compete: Emmarie Becker, Evie Boyle and Emily Conger. We elected not to fulfill the entire varsity roster, leaving us some room to monitor more players throughout the season."
The Jaguars will open their season on Tuesday by hosting a non-conference game against Carlisle. Their CIML Conference schedule will begin with a trip to Urbandale on April 6.
"In our (new) league, players will need to learn to put the team first, which is counter to the philosophies of other experiences," Allen said. "For example, this means players might need to sacrifice a preferred position to play a role that helps the team be successful. Additionally, we will need the younger players to grow quickly into the high school game. Hopefully, they can follow the model set by Balashaitis, Fair, Kroska and Martin, who all adapted quickly last season and became incredibly reliable down the stretch. Our upperclassmen will need to model vulnerability to encourage these younger players to play and speak freely.
"Finally, with our motto being 'Leave it on the field', we can't have that merely be a phrase on the back of a shirt. We need to compete in practice so that we can manage the tough CIML Conference to our best potential," he added.