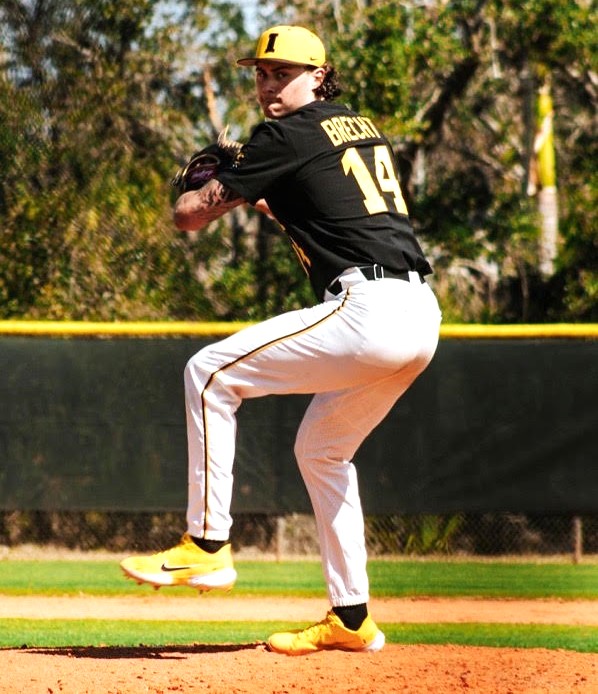 Brody Brecht's dual-sport career at the University of Iowa has apparently come to an end.
The former Ankeny star announced on Friday that he would step away from football in order to focus on his college baseball career. The hard-throwing righthanded pitcher was named a Baseball America Preseason Third-Team All-American and is projected as a potential first-round pick in the 2024 MLB draft.
"Thank you to the great Hawkeye fans for your unwavering support," Brecht tweeted. "Thank you to the coaches and staff of the Hawkeye football program for giving me a chance to fulfill my childhood dream as part of this incredible program. Thank you to my football teammates for a lifetime's worth of great memories. Thank you to my friends and my family for their unwavering support and love. Thank you to GOD–for the blessings of my life, and for the clarity to make the choice I've made. Football is my first love. But in the past few years, baseball has become my true passion. With that said, I have decided to step away from football to focus full-time on my college baseball career. I want to be great at baseball and hope to play Major League Baseball in the future. I believe putting my focus fully on baseball is the best way for me to achieve that goal. Go Hawkeyes."
Brecht tied his career-high on Friday with 10 strikeouts in the Hawkeyes' 9-3 victory over Western Michigan at Duane Banks Field in Iowa City. He tossed 5 2/3 innings to raise his record to 2-1 on the season.
"Brody gave us a great start," said Iowa coach Rick Heller. "He just continues to improve each time out. Almost got us out of the sixth (inning). Marcus (Morgan) had a couple good innings, and Jack Whitlock was able to come in and get the double play to end the game."
The Hawkeyes are now 17-3 overall, their best start since the 1939 Iowa squad started 18-3. That team went on to finish 19-5.
In six starts this season, Brecht has compiled a 2.20 ERA. The sophomore has racked up 46 strikeouts while limiting opposing hitters to a .146 average in 28 2/3 innings.
In 2022, Brecht posted a 1-3 mark with a 3.18 ERA in 17 appearances, including one start. He was named a Collegiate Baseball Freshman All-American.
Brecht spent two seasons with the Iowa football program as a wide receiver. After sitting out his first year as a redshirt due to an injury, he appeared in 11 games last fall, catching nine passes for 87 yards.
Brecht had three catches for 18 yards, along with a rushing attempt for 4 yards, in the Hawkeyes' 33-13 win over Northwestern. He had two receptions for 18 yards in a loss to fourth-ranked Michigan.
Brecht becomes the third former Ankeny receiver to leave the football program since the end of the season. Arland Bruce IV has transferred to Oklahoma State, while Jordan Kumm departed for Grand View.