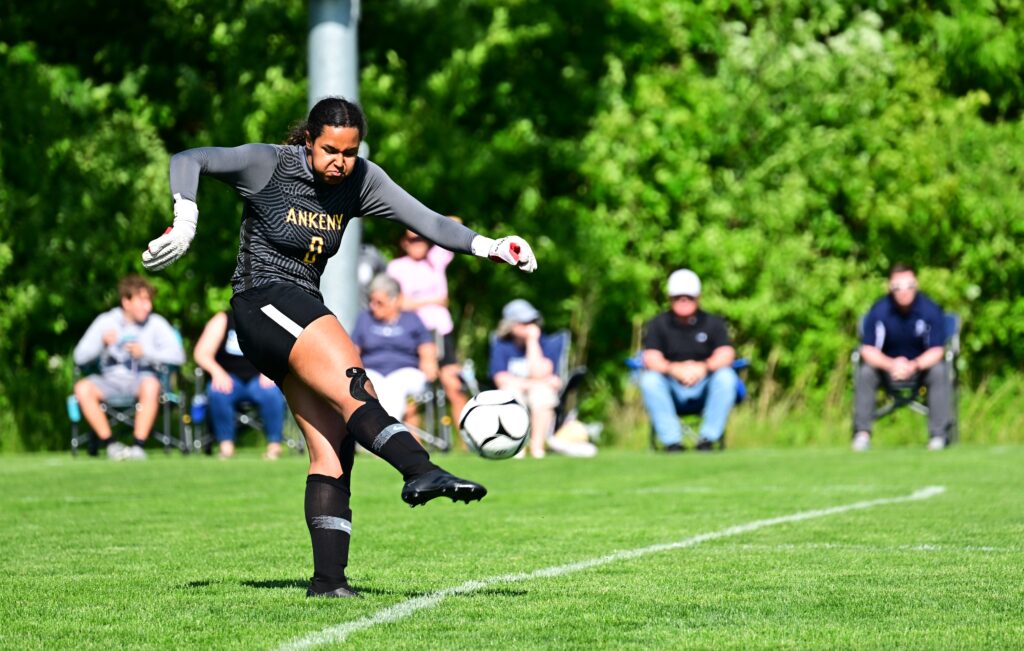 Senior goalkeeper Jasmine Moser is one of seven returning starters for the Ankeny girls' soccer team. She made 49 saves as a junior while helping the Hawkettes to an 18-2 record in 2022.
Moser was named to the Class 3A all-state first team by the Iowa Girls' Coaches Association. She received all-state honorable mention from the Iowa High School Soccer Coaches Association and was a unanimous pick to the CIML Iowa Conference second team.
Here is some inside info on Moser:
How are the practices going thus far?
Practice has been great! The team atmosphere and culture are great, and things are flowing pretty well. We have some great new talent this year as well as a very solid group of returners that are leading the group well, as well as a great new addition to the Ankeny staff in (assistant) coach Trevor (Neary).
As a senior, have you tried to take on more of a leadership role this season? And if so, how?
I think even last year I had some sense of leadership due to my position on the team, but yes, being a senior has amplified that necessity to lead. Because I am a goalkeeper, I am one of the only people who can see everything going on all at once, and I have been using that advantage to help instruct some of the underclassmen and new defenders in my back line so we can continue to build on our defense.
Your team allowed just two goals last year, and that will be a tough accomplishment to duplicate. However, do you think this defensive unit can be almost as formidable?
Absolutely! I have 1,000 percent confidence that this group of girls can be as strong as last year. Our team builds off togetherness and trust in one another and that is the definition of what it takes to be a defender. To have that confidence in one another and the discipline and drive to have the backs of the rest of the team. For years our defense has been something that is commonly feared by other teams, and I know this year won't be any different!
How helpful is it that two of your starting defenders, Jenna Pitz and Elizabeth Proctor, are also back?
Having returning defenders is extremely helpful, especially when it comes to some of the new freshmen and some players that are new to the style of play we run. With Jenna and Liz there to help guide the rest of the defense and expose them to the style of ball we play. It will only boost our culture as a defensive unit and strengthen our back line.
I know your team has added some freshmen to the roster, as well as a transfer in sophomore goalkeeper Claire Close. Do you think the newcomers can play a big role?
Of course! I don't think there has been a team where we didn't have some new freshmen and underclassmen that had big roles on the team. This year our underclassmen and new transfers have amazing talent, and I have all the confidence that they will add the strength and passion that we need on this team.
Your team battled Dallas Center-Grimes to a 0-0 tie in the Ankeny Jamboree on Friday. What did you think of your team's performance?
I believe this game was great to see what we are made of so far. First game jitters come for us all, whether we are seniors or freshmen. But this game went well in my book and gave us a look at some places to tweak and how our team flows as a whole.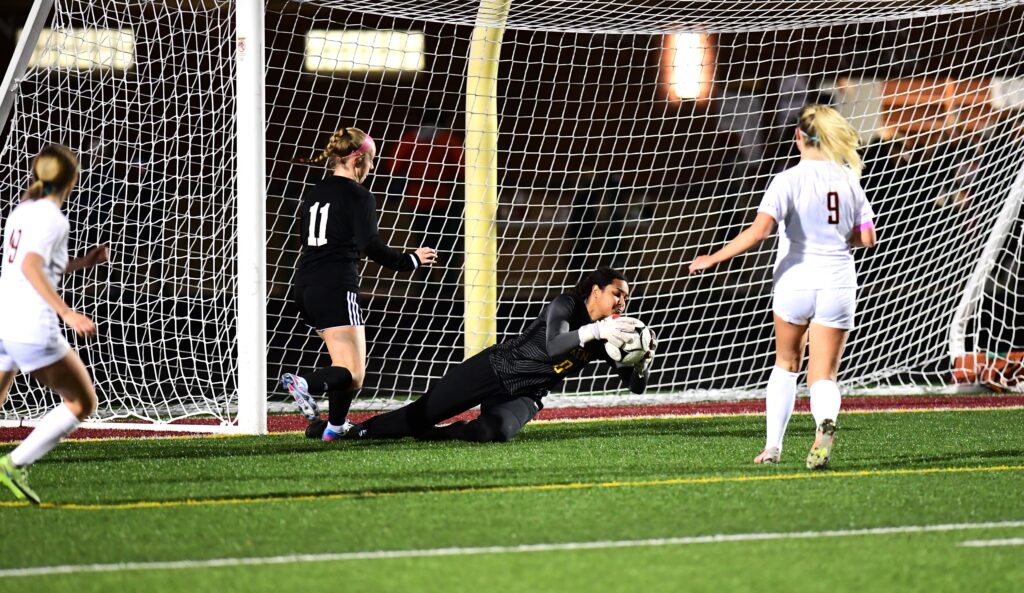 Goals for the season?
Some personal goals are to keep my reputation from last year and try to reach and even beat those two goals (allowed). But as a team, I want us all to beat Ankeny Centennial and make that climb to the top of the state. We have all the talent on this team. The only thing stopping us is ourselves.
Your team will open the season on Tuesday with a non-conference game at North Polk. Do you know much about the Comets?
I do not, but I am one to treat every team equally. Regardless of North Polk's previous lineup and their possible records, Ankeny is here to accept the challenge they have set for us. I am more than excited to play them on Tuesday and get this season rolling!
Are you planning to play soccer in college? Have you looked at any schools?
Personally, I have considered the option of playing soccer, but my biggest concern is with my education. I think continuing (to play) soccer would be nice, but some of the schools that have reached out haven't entirely peaked my interest education-wise.
Do you know what you want to study?
I am going to attend the University of Northern Iowa to double major in Mathematics and Education to become a secondary math teacher.
You were also a key member of the Ankeny girls' basketball team. Have you been watching any of the March Madness?
Yes, I have! This tournament has screwed up my bracket a lot due to these upsets, but so far in my family I am the one with the best bracket still standing. So I would say I am doing pretty well in that sense.