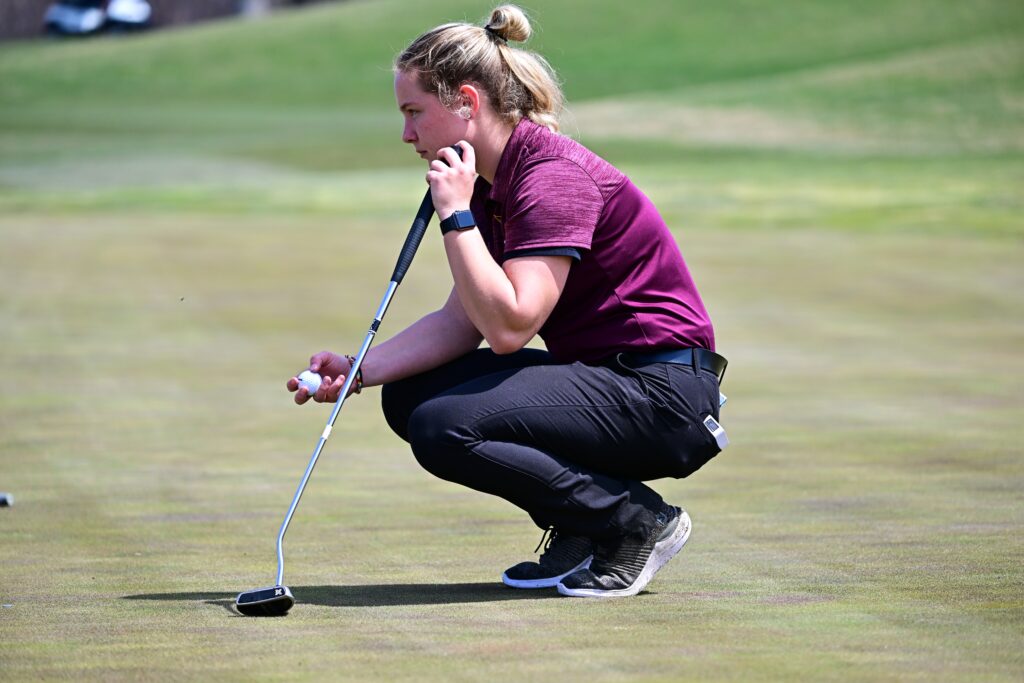 Last spring, the Ankeny girls' golf team missed an opportunity to qualify for a state meet that would be held on its home course.
Now, the Hawkettes are hoping that history doesn't repeat itself.
The Class 4A state meet was held at Otter Creek in 2022, but Ankeny failed to qualify after placing fifth in a regional meet at Willow Creek. The Hawkettes posted a season-best score of 381, but finished 30 strokes behind runner-up Southeast Polk–which advanced to state along with eventual Class 4A champion Valley.
This year, the state meet will again be held at Otter Creek on May 25-26. However, Ankeny coach Seth Hagarty isn't looking that far ahead just yet.
"Our main two goals for the season are to have fun and to improve a little bit each day," he said. "Golf should be a fun game to play, but we all know it can also be very frustrating when things go sideways. So the best way to ensure we are having fun is to focus on the next shot, or the one after that, and let what has already happened go. To quote Ted Lasso, we need to 'Be a goldfish'. We have to have the mindset that we can only control what happens next and not what has already happened.
"As for improvement, that comes with consistency–which is what we have been focusing on in practice so far. Hitting each club with at least some sort of consistency will allow the girls to improve their scores throughout the season," he added.
Ankeny returns a trio of varsity regulars from last year's squad that posted a 3-3 dual record in the CIML Iowa Conference. They are senior Gia Blaser, junior Addison Smith and sophomore Isabella Ross.
Ross placed third on the team with an average score of 51.9 strokes for nine holes. She shot a 95 at the regional meet.
Ross earlier carded a 50 to tie Blaser for runner-up honors in a dual-meet win at Mason City. She later fired a 100 to place 14th in the Turk Bowman Invitational at Veenker Golf Course in Ames.
Smith finished fourth on the squad with a 53.3 average. She carded a 44 to place fourth in the Ames Quadrangular at Veenker.
Blaser, meanwhile, placed fifth on the team with a 53.8 average. She took 12th at the Bowman Invitational with a 99.
Blaser shot a 49 to earn medalist honors in a dual-meet victory over Fort Dodge. She fired a 47 to earn medalist honors in a dual-meet loss to Ankeny Centennial.
Senior Jori Webb also gained some varsity experience last year.
"Gia and Jori are our two seniors, and they have done a great job at leading this team and ensuring everyone is having fun and enjoying the time spent at practices," Hagarty said.
The Ankeny squad won't have much depth. There are only nine girls on the roster.
"That is a small number, but this group has already proven to be a great group of girls to be around," Hagarty said. "They like to have fun and joke around with each other, which just builds great team-bonding experiences for everyone!"
The Hawkettes will open their season on April 10 by competing in the Ankeny Centennial Invitational at Briarwood Golf Club.
"The practices are going well so far," Hagarty said. "We've had to be a bit creative with practices as Otter Creek isn't open yet and won't be until Friday. We've been fortunate to partner with Backspin here in Ankeny to use their space and hit on their simulators, which at least allows us to hit actual golf balls. We are looking forward to getting out on the course next week and see where everyone is at going into the season."