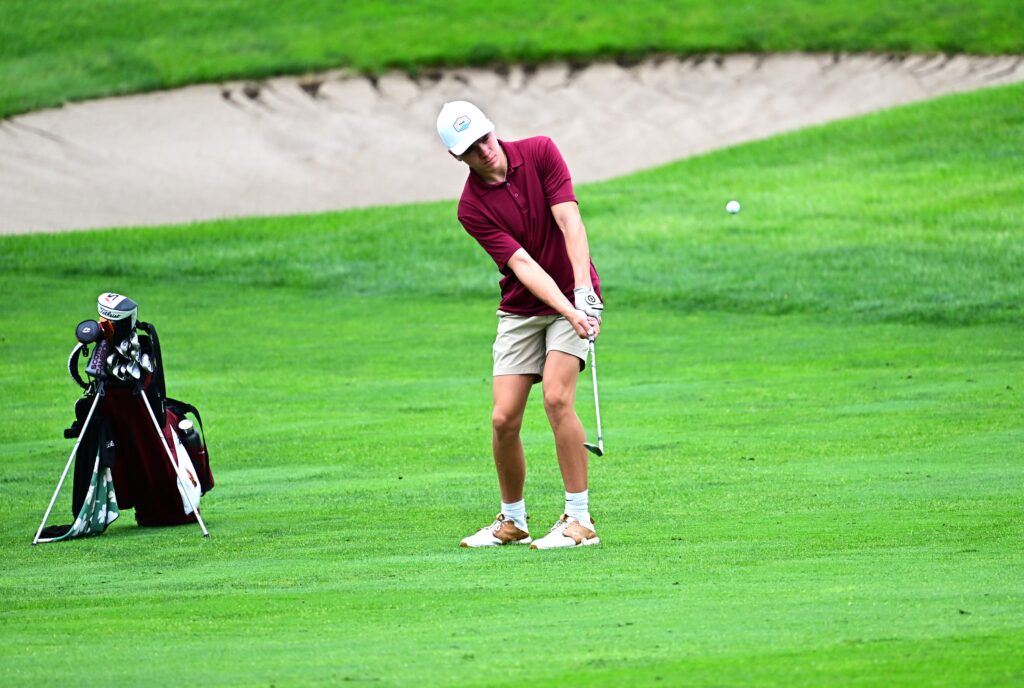 Junior Evan Hodapp is one of five returning varsity regulars for the Ankeny boys' golf team. He placed second on the team last year with a 78.5 average.
Hodapp placed sixth in a Class 4A district meet at Bent Tree Golf Club in Council Bluffs, where he shot a 73 to qualify for state as an individual. He then went on to tie for 58th place in Class 4A, carding back-to-back rounds of 83 and 84 for a 167 total at Elmcrest Country Club in Cedar Rapids.
Here is some inside info on Hodapp:
Did you play in a lot of events this summer?
I played in a couple.
What was the highlight for you?
My highlight of the summer was winning the Woodland Hills tournament.
I heard you shot a 68 in the first round of tryouts on Monday. Is that your best score ever at Otter Creek?
Yes, I did shoot 68. And yes, it is the best round I've played out at Otter.
What do you think is the strength of your game right now?
I would say the strength in my game right now is my putting.
Your team will open the season on Monday by competing in the Jesse Peck Invitational hosted by Ankeny Centennial. Do you like the course at Briarwood Golf Club, and what is the key to having a good round there?
Briarwood is a tough course. I've played it a lot with some of my friends who are members. The key out there is keeping your ball in play and in good position off the tee.
This should be one of coach Mike Weddingfeld's most experienced teams at Ankeny. What are your goals for the team?
Our goal is to make it to state and win it.
The state meet will be held at Otter Creek. Do you feel like it's a tremendous opportunity for your team to post a high finish at state, if you can get there?
I think it's a great opportunity for state to be hosted at our home course. We know the course well, and it should give us the upper hand when it comes to state.
You played in last year's state meet as an individual after your team missed qualifying by one stroke. Do you feel like it was a good learning experience for you?
Making state last year was a great experience for me and a great opportunity for me to not only play in state but be able to have the experience coming into this season.
What are your individual goals for this season?
My individual goals are to make my team better and shoot low scores.
Are you planning to play golf in college?
I really want to play golf at the college level. It has always been a dream of mine.
What do you want to study?
I haven't really thought about what I would want to study yet, but I am sure I'll figure it out sooner rather than later.