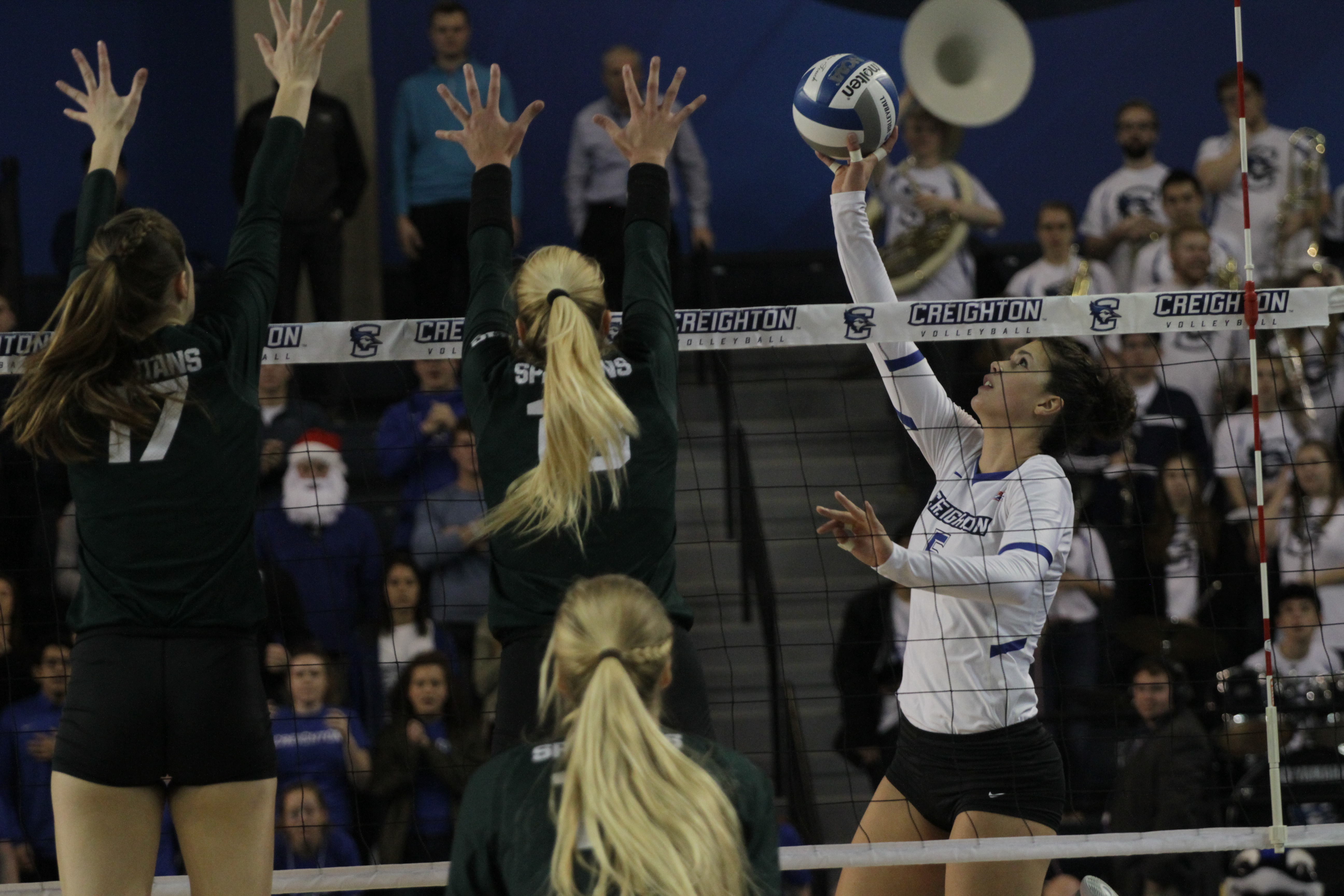 The dream of a Final Four run had ended just moments earlier.
Jaali Winters leaned against a wall outside the Creighton volleyball team's locker room and pondered what exactly went wrong. She didn't come up with any answers.
"We fought really hard in that fourth set," Winters said. "Everyone showed character, but Michigan State–they had all seniors playing and they're a great team. I wish them the best of luck with the rest of the tournament."
The 12th-ranked Spartans (23-8) overcame a hostile environment to defeat No. 15 Creighton, 25-23, 19-25, 25-20, 25-16, in the second round of the NCAA Tournament on Dec. 2 in Omaha. A sellout crowd of 2,415 at D.J. Sokol Arena did everything it could to help the ninth-seeded Bluejays, but it wasn't enough.
"It was great to host the tournament," said Winters, a former Ankeny Centennial star. "We love our fans. They did a great job cheering for us, and we could hear them. They got on their feet a couple of times, so props to them. We appreciate them very much."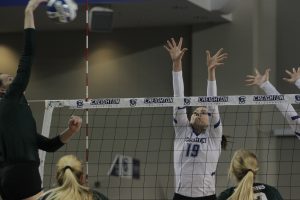 Shortly thereafter, Megan Ballenger emerged from the Bluejays' quiet locker room. The former Ankeny standout wiped a few tears out of her red eyes as she talked about her team's season-ending loss.
"They're big, and they have a big block," Ballenger said of the Spartans, who advanced to the Sweet 16 for the first time since 2013. "And they have really good parity, so I think that's what makes them tough."
Ballenger had nine kills and two blocks for the Bluejays, who finished the season with a 26-7 record. The sophomore middle blocker and right-side hitter had three of her kills on just three swings in the second set, when Creighton used an 8-1 run to even the overall match.
"I think our passing and serving was the key," Ballenger said. "When they were out of system, we kind of got our rhythm and got it going a little bit."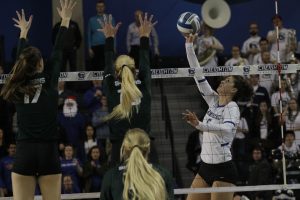 Winters had four of her 11 kills in the second set. The junior outside hitter closed out the set with a kill into the back right corner of the court.
"We talked a lot about how they're similar to Washington, who we played at the very beginning of the year," said Winters, who also contributed eight digs and two assists. "We tried to use the edges of their block when we were hitting, but obviously the game plan didn't go the way we wanted it to. But we're all really proud of our season, and it is what it is. Such is life."
Winters moved past Jessica Houts for fourth place on Creighton's career kills list and now owns 1,392 career kills. She is on pace to break the school's all-time record of 1,622 kills set by Leah Ratzlaff in 2002-05.
The Bluejays enjoyed another tremendous season, winning their fourth straight Big East Conference regular-season and tournament titles. They also racked up more than 20 victories and reached the NCAA Tournament for the sixth consecutive year.
But longtime Creighton coach Kirsten Bernthal Booth was hoping to take the program to a higher level after reaching the Sweet 16 in 2015 and the Elite 8 in 2016. A trip to the Final Four in nearby Kansas City appeared to be a realistic goal for the Bluejays.
However, Michigan State had other ideas, pounding five service aces en route to the road victory.
"They have a really great serving team," said Winters, who was later named to the all-East Region first team for the third straight season. "Unfortunately, we were just out of system too much and weren't able to quite get our rhythm."
Creighton will have to replace a strong senior class that includes standout setter Lydia Dimke and all-Big East middle blocker Marysa Wilkinson, but Ballenger and Winters will be back next year along with three other starters.
"We'll work really hard in the offseason and get back here in January and start lifting and strength and conditioning, all that stuff," Ballenger said. "It'll be another grind, but it was really, really fun to be here and host (the first two rounds of the NCAA Tournament) and to have the buzz around campus about it.
"That's something that we're going to put on our goal board for next year," she added.