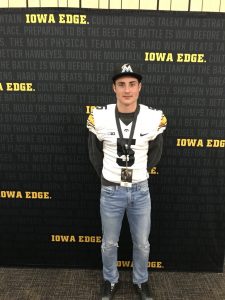 When Riley Moss verbally committed last summer to play football at North Dakota State, he indicated that his pledge was a firm one.
According to Moss, there was only one school that could take him away from the Bison.
That team was the Iowa Hawkeyes.
Last month, the Ankeny Centennial defensive back flipped his commitment when the Hawkeyes offered him a "grayshirt" opportunity.
"They kind of started contacting me early to midway through my season," said Moss. "I went to a couple of game day visits, and I was hoping I would get an offer. It was definitely a tough decision, but I'm glad that I'm going to be a Hawkeye. It's kind of a dream come true."
Moss helped Centennial to a second consecutive appearance in the Class 4A semifinals this season. He earned all-state honors as a defensive back after making 27 tackles and recording one interception.
Moss also contributed as a receiver and kick returner for the Jaguars. He caught a 64-yard touchdown pass, returned a punt 63 yards for a touchdown, and also scored on a 78-yard kick return.
Moss said it wasn't easy to decommit from North Dakota State, one of the top FCS programs in the nation.
"I went to one game this fall and it was cool to get up there and hang with all the other recruits and talk to the coaches," Moss said. "The Fargo Dome is a pretty cool place and I appreciate everything that they did for me, but at the end of the day it's business sometimes. It was tough to make that call (to the NDSU coaches), but it had to be done."
Moss and the other members of his family have been lifelong Hawkeye fans.
"We've had season tickets since I was three years old," he said.
Moss committed to the Hawkeyes shortly before former Pella star Noah Clayberg announced his decision to leave the Iowa program. Clayberg was the first "grayshirt" recruit in the Kirk Ferentz era.
Clayberg paid for his own school in the fall of 2016 before joining the team last spring. As a true freshman this fall, he played mostly on special teams.
Like Clayberg, Moss will have to pay his own way for at least the first semester.
"There are some different options," Moss said. "I can pay my first semester and then take under 11 hours of schooling, so my clock doesn't start. I think I'm going to be redshirted, but I'm not sure how it's going to work. If I pay my way through it, I can work out with the team and stay with the team and basically be on the team. I'll be a walk-on that first semester basically."
Moss, who is also one of the state's top hurdlers, said he's simply excited to get his college career under way.
"I've got to get developed, for sure, because I'm a lot different than some of the other guys who are three-star (recruits)," he said. "I'm pumped to get into their program and kind of have them develop me into something. Coach (Chris) Doyle does a great job with their weight program, and I'm kind of excited to see what happens once I buy into the program. We'll see what happens in the future."
Moss placed second in the 110 hurdles at last year's Class 4A state track meet. He also helped the Jaguars to a state title in the shuttle hurdle relay.
However, there was no doubt which sport he wanted to pursue in college.
"I just have more passion for football than I do track," he said.