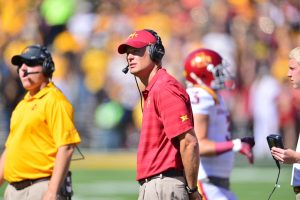 Paul Rhoads has always dreamed of coaching at a place like UCLA.
Now, he'll get his chance.
The Ankeny native and former Iowa State head coach was officially named the Bruins' defensive backs coach on Dec. 13 by new head coach Chip Kelly.
"I'm really excited," Rhoads said during a telephone interview shortly after meeting with some UCLA recruits two days later. "This is actually a place that I have always sort of wanted to coach at. I actually had a chance to do that when Karl Dorrell got the head coaching job here (in 2003), but at the time I was at Pitt and my boys (Jake and Wyatt) were too young at the time to make the move out here and try to figure out where we were going to live and where to put them in school. So we didn't come then, but now here we are."
Rhoads was the head coach at Iowa State for seven seasons before being fired in 2015. He then joined the staff of Arkansas coach Bret Bielema as secondary coach in 2016 before being promoted to defensive coordinator this season.
Rhoads served as the Razorbacks' interim head coach after Bielema was fired on Black Friday following a 4-8 season. He was not retained when Arkansas hired SMU coach Chad Morris to replace Bielema.
"(Fayetteville) was a great place to live," Rhoads said. "I loved the people, and I loved that part of the country. It's a beautiful place, and it was a chance to be back in the SEC and a chance to compete against the best was well worth the two years."
It only took Rhoads about a week to find his next job. He credits Jeff Hafley, who was a graduate assistant at Pitt when Rhoads was the Panthers' defensive coordinator, for helping him to land the position.
"There is a little bit of a connection, but it's not a real strong connection," Rhoads said. "Jeff was coach (Kelly)'s secondary coach with the 49ers a year ago. That was my 'in'–that was the guy who was working him for me."
Rhoads has also crossed paths with Jerry Azzinaro, who will be the Bruins' defensive coordinator. Azzinaro was once hired by Iowa State coach Dan McCarney, but he never coached a game with the Cyclones.
When Azzinaro left Ames in 1995, Rhoads was hired to replace him.
"He had come from (UMass) and got hired a month or a month and a half later by Boston College, so he never had to move his family and was able to go back to Boston," Rhoads said of Azzinaro. "And then Mac hired me. We crossed over for about a week there in Ames, so (Azzinaro) knew of me. They did their research from there and were able to do their due diligence, and I passed the test."
The 50-year-old Rhoads previously coached on the west coast at the University of Pacific, where he started his career as an assistant in 1992. He spent three years in Stockton, which is located about 300 miles north of Los Angeles.
"When I got the job at Pacific, quite honestly I didn't know if I wanted to go out here," Rhoads said. "But we absolutely loved it. Loved coaching the kids, loved living out here, just loved everything about it. And to me, (UCLA) is one of the premier jobs in college football. They were a consistent top 20 football team under Terry Donahue, who took them to a lot of bowl games (from 1976-95). I liked the style of their uniforms, and we mimicked some of that at Iowa State with the stripes on the shoulders, and I liked how they played.
"And Larry Coyer, who is arguably my mentor in this profession, had coached out here in the 80s. This was always just a place that I could see myself at," he added.
Rhoads will be working for one of the most successful coaches in college football history. Kelly compiled a 46-7 record in four seasons at Oregon (2009-12) and took the Ducks to the 2011 BCS National Championship Game.
Kelly then left for the NFL, where he coached Philadelphia (2013-15) and San Francisco (2016). He was also courted by Florida before taking the UCLA job.
"You're year one with a guy who is just a flat-out proven winner, especially here in the Pac 12," Rhoads said of Kelly. "His record speaks for itself with what he was able to accomplish at Oregon. (UCLA) is a place that you can recruit to, and you can see that with the guys who are on campus as well as the doors that are opened to us as we travel around the city and up and down the coast. I'm very excited about what we can do with this program, and working with Chip I look forward to learning a great deal."
Rhoads said his ultimate goal is to become a head coach again. He guided Iowa State to a 32-55 record and took the Cyclones to three bowl games.
Rhoads was the first ISU coach since 1907 to win seven games in his debut season and the first since 1931 with a winning record in his first year when he coached the team to a 7-6 mark in 2009. But that was his only winning season in Ames.
"At this point I would almost describe it that I need to (be a head coach)," Rhoads said. "I don't know if I could go out finishing like I did and not having the opportunity to run (my own program) again and apply what I learned and maybe end up in a position where I can be successful. To do that, obviously, we're going to have to have success here and have success on the defensive side of the ball and if we get that done, maybe I can get (a head coaching job) from here but more than likely I'll probably have to get a coordinator job again to put myself in a position to be a head coach again."