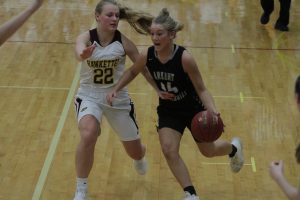 Sydney Wycoff was still trembling several minutes after she made a game-winning basket.
"It's awesome. I'm so excited," Wycoff said. "I'm still shaking."
The senior guard drove the length of the court in the final 6 seconds, split two defenders and banked in a left-handed layup as time expired to give the sixth-ranked Ankeny Centennial girls' basketball team a 43-41 victory at No. 15 Ankeny on Dec. 21. Wycoff had never before made a game-winning shot.
"It's the first one for the books, so that's exciting," she said.
Wycoff scored 12 points and had three assists as the Jaguars improved to 3-0 in the CIML Central Conference and 8-2 overall despite playing without three of their best players. Guard Keanna Williams has yet to return from an ACL injury, forward Kenna Sauer underwent surgery on Dec. 15 to repair a broken bone in her leg, and center Rachel Schon was out of the lineup after the team's leading scorer sprained an ankle in practice three days earlier.
"We've had a tough stretch, and hopefully it makes us better," said Centennial coach Scott DeJong. "I thought this might be one of our tougher games. I thought Ankeny played great, and they really took it to us early in the game. We didn't play well with our turnovers the first four possessions, but we kept hanging tough and came through at the end. We're really pleased to get out of here with a win."
The loss dropped Ankeny's records to 1-2 in the conference and 6-4 overall. The Hawkettes are still seeking their first win against their crosstown rival.
"We fought really hard the whole game," said junior forward Sara McCullough, who led Ankeny with 14 points. "I'm so proud of how we played. We definitely took a step (forward) tonight."
Sydney Shadravan added 13 points for the Hawkettes, including a 3-point goal that put her team ahead, 38-37, with 6:15 remaining. But that was Ankeny's final lead of the game.
Centennial's Chloe Olson scored off a rebound with 4:40 left to give the Jaguars a 39-38 advantage. Alexandria Keahna-Harris then added a layup with 50 seconds to go.
After Wycoff missed a free throw with 23.6 seconds left, the Hawkettes worked the ball around to McCullough, who buried a 3-pointer from the top of the key to tie the game with 6 seconds to go.
"All I was thinking was, 'I've got to get a shot up,'" McCullough said. "So I just shot it and surprisingly it went in."
Wycoff was left stunned by McCullough's clutch shot. But she was determined to answer with one of her own.
"My head was exploding," Wycoff said. "I was like, 'You've got to be kidding me. We are not going to overtime.' And we didn't. We got the job done."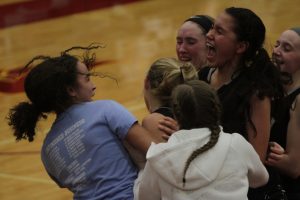 During the ensuing timeout, DeJong decided to put the ball in Wycoff's hands.
"It didn't matter what (defense) they were in," DeJong said. "Sydney was going to take it to the basket and hopefully get a foul or get some sort of shot up, and it worked out for us this time. I'm really happy for Sydney. She's a four-year player for us, and she's had some trying times in her career, obviously, with (the death of) her dad. To make a shot like that in her senior year, I'm really happy for her."
Keahna-Harris had a career-high 11 points for the Jaguars. Olson added eight points and five rebounds.
Centennial scored the final four points of a seesaw first half to take a 25-21 lead. Ankeny then opened the third quarter with an 11-0 run, capped off by Shadravan's five consecutive points.
"This is probably the best Ankeny team that I've seen," Wycoff said. "They're a great team, and they definitely challenged us."
Wycoff scored off a rebound to end the Hawkettes' run. Meg Burns and Wycoff later hit back-to-back 3-pointers to tie the game at 34 with 6:57 left, setting up the dramatic finish.
"You never let up with them," Ankeny coach Dru McAnelly said of the Jaguars. "They're going to keep coming at you. We had a couple crucial turnovers down the stretch, but we didn't hang our heads. We stayed the course, we persevered through some tough moments the last 2 1/2 minutes, and we had a chance to win the game. It just didn't happen tonight.
"Wycoff made a great play, and that's what great players do–they make great plays in the clutch," he added.