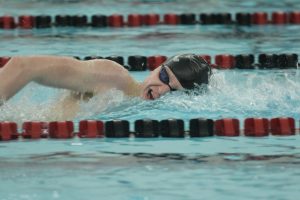 The Ankeny boys' swimming team might be getting healthy at the right time.
The second-ranked Hawks posted a 5-1 record in the first month of the season, despite battling some illnesses. Their only loss came to No. 1 Ames, 98-72, on Dec. 7 at Trail Point Aquatics Center.
"We had a tough meet with Ames, but it was a close meet considering that we had a lot of sickness going into that meet," said Ankeny coach Justin Crouch. "We're starting to get healthy now, and it showed during our wins over Dowling (Catholic) and Johnston–two very good swim teams."
Ankeny is one of four CIML teams at the top of the state power rankings. The Hawks have amassed 1,591 power points, just 38 fewer than Ames.
Valley and Johnston are ranked third and fourth, respectively. Two-time defending state champion Waukee is ranked seventh.
"There's a lot of competition for those top three spots," Crouch said. "It makes competition a lot of fun and our meets quite exciting. I think it's good for the sport to see some parity. It's been a while since we've had parity like this with so many quality teams in the CIML."
Ankeny placed seventh at last year's state meet, its highest finish since 2012. Senior Connor Neils, junior Adam Vaske and sophomore Max Martin are the top returnees from that squad.
Neils placed fourth in the 500 freestyle and fifth in the 200 individual medley, while Martin took eighth in the 50 freestyle and joined Neils on the fourth-place 200 medley relay. Martin and Vaske are both back from the fifth-place 200 freestyle relay.
"Before the season started, I thought we'd be in the mix to do some good things," Crouch said. "I thought we could possibly get a top-three finish or maybe top-five at state, but right now with only being about 30 points out of first place in the power rankings, that really puts you in contention (for a state title)."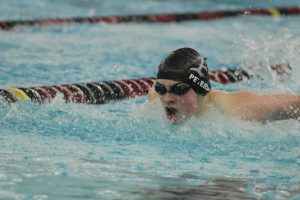 Ankeny has been strengthened by a talented freshman class led by Trent Frandson and Brek Stukerjurgen. Frandson is currently ranked third in the state in the 200 freestyle (1:46.16) and fourth in the 500 freestyle (4:45.29).
"They've both swam for a lot of years, and they're pretty seasoned," Crouch said of the duo. "High school is a different animal for them, because their best events aren't high school events. They're more distance-oriented swimmers, but they're adapting well to the sprint workouts. I think they've responded really well."
Ankeny showed off its tremendous speed while winning the Mercer Invitational on Dec. 16 at Iowa City. The Hawks racked up 346 points, 29 more than runner-up Cedar Falls.
The meet featured four of the state's top 10 teams.
"Overall, the boys have exceeded my expectations," Crouch said. "There are 50 guys on the team, but they're putting out great efforts in practice and it's really showing up in the meets. We've got a pretty young team. We've only got two or three seniors that swim in varsity spots consistently, so I think the future looks pretty bright."
Martin is ranked first in the state in the 50 freestyle (21.69). Ankeny is ranked third in the 200 freestyle relay (1:29.73) and fifth in the 400 freestyle relay (3:19.36).
The Hawks will return to action on Thursday, hosting a dual meet against Southeast Polk. They will also host Valley on Jan. 18 before hosting a district meet on Feb. 3.
Ames and Waukee will be among the teams in the district field.
"The district meet can put a lot of pressure on young kids, especially ones who haven't been through the process," Crouch said. "It's good to have guys like Connor, Adam and even Max who have been through the process and know what that district meet is like. Our goal right now is to win a district championship and maybe a state championship. The sky's the limit."