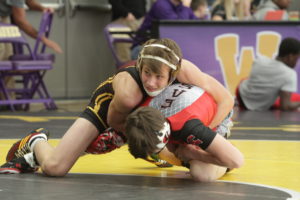 Ankeny wrestling coach Jack Wignall is anxious to get the second half of the season under way.
The Hawks, who will host fifth-ranked Valley on Thursday, finished 2017 with a 5-4 dual-meet record. Three of their four losses came to opponents ranked in the top five of the Iowa Wrestling Coaches Association dual team rankings.
"We were ready for a break," said Wignall. "We beefed up our schedule, and I think our kids were physically and mentally ready for a break. And it's paid off. We gave them six days off, and it's going to be good for them. They're ready to get going again, and we're looking forward to (Thursday).
"I think we're poised to knock off a team like (Valley)," he added.
Ankeny has been led by freshman phenom Caleb Rathjen and junior Derek Anderson. Rathjen is ranked second in Class 3A at 113 pounds by The Predicament, while Anderson is 10th at 120.
Rathjen placed second in the prestigious Cliff Keen Invitational on Dec. 1-2 at Independence, where he led the Hawks to a 14th-place finish. His only loss of the season came in the finals of that tournament, where he dropped a 6-5 decision to nationally-ranked Vincent Zerban of Christian Brothers College (Mo.).
"Caleb has been better than advertised. He's really good," Wignall said. "What I get to see now every day is how he trains in the room and then how that transfers to the mat. He's fun to watch."
Like many top wrestlers, Rathjen often wins by forfeit or wrestles an overmatched opponent.
"And that frustrates him," Wignall said. "But I told him that when you're good, about 70 percent of your matches will be forfeits or you'll be wrestling kids who won't be able to compete with you. That's just kind of the way it is."
Ankeny also got a sixth-place finish at the Independence tournament from Sam Kallem at 126. Killyan Green finished eighth at 145.
After winning the tournament, No. 1 Fort Dodge traveled to Ankeny for a dual meet on Dec. 7 and barely escaped with a victory. The Dodgers prevailed, 39-38, on the fifth criteria tiebreaker.
"We lost a couple dual meets that we feel like we shouldn't have lost, including the one against Fort Dodge," Wignall said. "We lost that dual because we couldn't stay off our backs. You just can't give up those bonus points."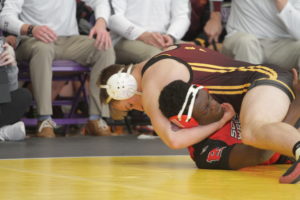 Ankeny placed fourth in the Valley Invitational on Dec. 9. Rathjen won a title at 113, while Spencer Anderson captured a crown at 126.
The Hawks later completed the first part of their schedule with a 60-12 victory at Ames on Dec. 19. They evened their mark at 1-1 in the CIML Central Conference.
"I'm really happy with the guys who were able to fill in when we couldn't put the starters on the mat," Wignall said. "We haven't always had that (depth), but right now we've got some really good backups, especially at the lower weights."
The Hawks will host three home meets in an eight-day stretch later this month, beginning with the Bob Sharp Invitational on Jan. 13. They will host crosstown rival Ankeny Centennial on Jan. 18, followed by the Ankeny Duals two days later.
"We had some goals last year and after we beat Centennial, we had achieved everything that we had written out," Wignall said. "We ended up kind of selling ourselves short, and that was one of the reasons that we didn't do so well at the district tournament.
"This year, we want to qualify for the state duals and not just the regional duals. We'd like to be in the top five at the traditional state tournament if our kids can stay healthy. I think we've got some kids who can qualify for state and place," he added.