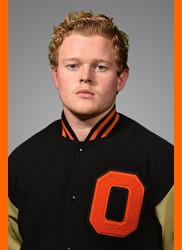 Former Oklahoma State long snapper Tanner Morgan will be moving closer to home.
Morgan, who earned all-state honors as a defensive end at Ankeny Centennial in 2015, has decided to transfer to Northern Iowa. He is already enrolled for the spring semester.
"The only coaches that I talked to were UNI and North Dakota State," said Morgan. "They both offered me spots on their spring roster as a walk-on, so I'm still a walk-on and I like that. I have an underdog's mentality."
Neither of the FCS programs had recruited Morgan out of high school.
"I have a lot of respect for North Dakota State's program," Morgan said. "They're very good year in and year out, but so is UNI."
Morgan spent two seasons at Oklahoma State, helping the Cowboys to a pair of bowl appearances. The 6-foot-1, 235-pound sophomore had previously announced his decision to transfer on Nov. 19.
"I didn't have the opportunity to compete like they had promised," Morgan said. "I went to the coaches several times asking why and what I had done wrong–why I couldn't compete. And they didn't give me an answer."
Morgan earned a starting position as a true freshman in 2016, when he played in 10 games and snapped without incident. He also recovered a fumble deep in Baylor territory to set up a touchdown during a loss to the Bears.
However, Morgan did not play in the Cowboys' Alamo Bowl victory over Colorado at the end of that season. He was hoping to compete with redshirt sophomore Sam Walkingstick for the starting long snapper position in 2017, but was not invited to fall camp and did not play in any games.
"I was very disappointed in that, but I'm just putting that behind me," Morgan said. "I know college football is a business and that life is not always fair. I'm just looking forward to hopefully contributing at UNI."
Morgan, who finished his high school career with 105 tackles and 10 sacks, will be joining a UNI program that posted an 8-5 record this season. The Panthers reached the second round of the FCS Playoffs before losing at South Dakota State, 37-22.
Morgan said he will continue to focus just on long snapping.
"Some people don't realize that the FCS level is pretty good," he said. "They're just as good as the DI players, they're maybe just a little smaller and not as quick. So I'm not totally sure that I could compete at that level if I was going to be a linebacker."
Morgan, whose father, Dave, played rugby for Northern Iowa, will be reunited in Cedar Falls with former Centennial teammate John Yount. Yount is a freshman offensive lineman for the Panthers.
"There's a bunch of people up there that I know," Morgan said. "It's closer to home, and I just felt like academically it fit me better with my accounting degree."