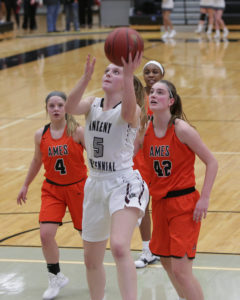 The Ankeny Centennial girls' basketball team faces perhaps its most challenging week of the season.
The fifth-ranked Jaguars will play two other top-10 teams in a span of four days, beginning with Tuesday's visit to No. 10 Southeast Polk. Tip-off is at 6:15 p.m., with the boys' varsity contest to follow.
Centennial will then host No. 8 Waukee on Friday in another crucial CIML Central Conference contest. The two teams are currently tied atop the league standings at 4-0.
"We've had a very difficult schedule thus far, and this is going to be another tough week," said Centennial coach Scott DeJong. "We're kind of scrambling around (due to some injuries), and playing at Southeast Polk is always a challenge."
The Jaguars (9-2) will take a three-game winning streak into Tuesday's showdown. Southeast Polk is also 9-2 overall, but just 2-2 in the conference.
Centennial won the first meeting against the Rams, 55-36, on Dec. 8. Sydney Wycoff scored 16 points in the win, while Rachel Schon added 11 points and eight rebounds.
"The final score in that game was fool's gold, because we scored 27 points in the fourth quarter and most of them came on free throws," DeJong said. "(Southeast Polk) did not shoot well and they had some foul trouble that hurt them, so I'm guessing it'll be a different game this time."
The Rams shot just 25.5 percent from the field (12-of-47) in the loss. They were even worse from 3-point range, going just 2-for-16 from behind the arc.
Freshman Grace Larkins is averaging 18.5 points to lead the Rams. Shiloh McCool is averaging 13.3 points and 9.2 rebounds.
Southeast Polk's only other loss came to Waukee, 65-64, on Jan. 2. The Rams then rebounded with a 76-70 victory at No. 11 Valley on Friday, when they got 18 points and eight steals from Larkins.
"You don't see too many kids who are averaging nearly 19 points per game, especially a freshman," DeJong said of Larkins. "They have a great 1-2 punch with her and McCool."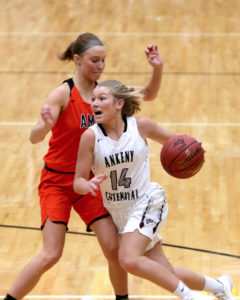 The Jaguars, meanwhile, could again be without two of their post players. Schon, who leads the team in scoring with a 12.8 average, has missed the last three games due to a sprained ankle.
Both Schon and Alexandria Keahna-Harris, who sat out Friday's win over Ames after tweaking her hamstring, likely won't play tonight.
"It's not out of the question, but it's doubtful," DeJong said. "They're both kind of day-by-day right now. It'll be a game-time decision."
Centennial is also awaiting the return of senior point guard Keanna Williams, who has yet to play this season after tearing an ACL last summer. She has been practicing on a limited basis.
"Keanna goes to the doctor on Wednesday, and we're hoping that she gets a full release," DeJong said. "If she is (cleared), then we're certainly going to move forward with her."
Waukee will host Valley on Tuesday before traveling to Centennial later in the week. The unbeaten Warriors (10-0) won their first three conference games by a combined total of nine points before pulling away to defeat No. 15 Ankeny, 49-36, on Friday.
The Jaguars have won the last five meetings against Waukee.
"They're having an awesome season," DeJong said of the Warriors. "They've got a transfer from Spirit Lake, (Anna) Brown, who has had some 30-point games. They've also got a lot of size, so they present some different problems than the other teams in the conference."