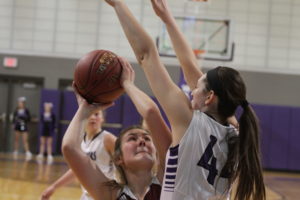 This wasn't the same Ames girls' basketball team that Ankeny played last month.
The host Little Cyclones rolled to a 65-47 victory over 15th-ranked Ankeny on Tuesday, avenging last month's 19-point loss to the Hawkettes.
"We ran into a hungry basketball team tonight," said Ankeny coach Dru McAnelly. "(Ames) had given away a couple of other close games that they could have won, and their backs were a little against the wall. They came out fighting and made some shots. You could feel the energy in the gym sway their way."
Ames held a 26-18 halftime lead, then used a big third quarter to put the game away. The Little Cyclones outscored Ankeny, 21-8, to build a 47-26 advantage after three quarters.
"We knew Ames always shoots the ball much better at home," McAnelly said. "I didn't think our defense was too bad to start the game, but they hit some shots and their confidence just grew. We really struggled offensively, and it just kind of snowballed from there."
Sara McCullough led the Hawkettes with 11 points, her 12th straight game in double figures this season. Sydney Shadravan added eight points.
Ankeny had lost nine straight games to Ames before posting a 57-38 victory over the Little Cyclones on Dec. 8. McCullough had 18 points in that game, but was held nearly six points below her average on Tuesday.
"Talk about two different games," McAnelly said. "We just rolled the last time we played them."
It was the third consecutive loss for the Hawkettes, who dropped to 1-4 in the CIML Central Conference and 6-6 overall. Ames improved its records to 1-3 and 6-6.
Ankeny will host No. 11 Valley on Friday.