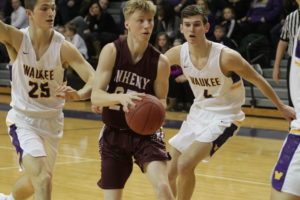 It was a case of deja vu for the Ankeny boys' basketball team.
The visiting Hawks suffered yet another close loss when Ames' Joe Evans made two free throws with 2.5 seconds left to give the Little Cyclones a 50-49 victory on Tuesday.
Last month, Evans made a free throw with no time left to force overtime in a game that Ames eventually won, 49-47, at Ankeny.
"It was almost the exact same situation as the last time we played them," said Ankeny coach Brandt Carlson. "That's just the way things are going for us right now."
The loss was the seventh in a row for Ankeny, which dropped to 0-5 in the CIML Central Conference and 1-9 overall. The Hawks have lost six games by five points or less, three of them in overtime.
"I'm not saying I'm used to (the close losses), but it's becoming a consistent thing," Carlson said. "We just need to find a way to get over the hump."
Ankeny led most of the way on Tuesday and held a 47-45 advantage with about 1 minute left to play. After the Hawks committed a turnover, Ames (2-2, 4-6) then converted a three-point play on a putback.
"We had a really great defensive possession, but we gave up an offensive rebound and an and-one," Carlson said.
Ankeny regained a 49-48 lead when Ben Lyon made a 15-foot jumper with a little under 8 seconds remaining. But the Little Cyclones hurried the ball up the court, and Evans drew a foul when he drove to the basket.
Only a 62 percent free-throw shooter, Evans made both of his attempts to put Ames ahead. Ankeny was unable to get off a shot in the final seconds, allowing the Little Cyclones to snap their four-game losing skid.
Dillon Carlson led the Hawks with 16 points. Lyon finished with 15.
Coach Carlson said his team had a chance to build a bigger lead earlier in the game, which might have prevented Ames' late rally.
"I don't think our guys understand the value of possessions in the first quarter," he said. "We need to extend those leads early on so that teams have to come from farther back to get us. We're just playing with such a small margin for error."
Ankeny will host Valley on Friday.