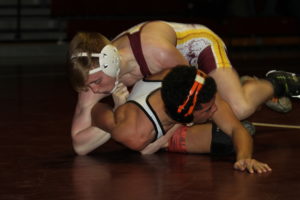 Crosstown rivals Ankeny and Ankeny Centennial will see a lot of each other on the wrestling mat over the next 10 days.
Both teams will compete in the Bob Sharp Invitational on Saturday at Ankeny, beginning at 10 a.m. The Jaguars will be seeking their fourth consecutive Bob Sharp title after winning last year's tournament with 194 points, while the Hawks finished fifth with 150.
Centennial had six runners-up a year ago, including Ben Monroe, who lost in the finals at 106 to Cullan Schriever of Mason City in a preview of the eventual state championship match. Monroe is one of five ranked wrestlers for the Jaguars–he is currently ranked third at 120.
Ankeny's Sam Kallem, who is ranked 10th at 126, will be looking to capture his second Bob Sharp crown. He defeated Centennial's Eric Owens, 5-0, in last year's title match at 113.
The Hawks boast one other rated wrestler in standout freshman Caleb Rathjen. He is ranked second at 113.
The two teams could meet two more times next week. Ankeny (5-5) will host a CIML Central Conference dual meet against Centennial (15-5) on Jan. 18, then will host the eight-team Dave Ewing Duals on Jan. 20.
The Jaguars will be looking to avenge last year's 28-26 loss to Ankeny. That was the Hawks' first dual-meet win against Centennial.
The Jaguars need one more win to tie the school record for most victories in a season.