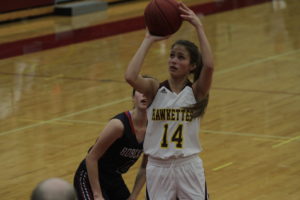 Two girls' basketball teams in search of a consistent second scorer collided on Tuesday at Ankeny High School.
Visiting Mason City may have found one in Anna Deets, who made four 3-point goals and scored 19 points to help the Mohawks to a 65-56 victory in a CIML non-conference game. Deets provided plenty of support for teammate Megan Meyer, who matched her average with 26 points.
Meyer, the younger sister of Iowa sophomore guard Makenzie Meyer, is one of the state's top players. And so is Ankeny forward Sara McCullough, who went 5-for-5 from 3-point range and led the Hawkettes with 25 points.
However, no other Ankeny player scored more than six points.
"It was kind of an ebb and flow game with peaks and valleys," said Ankeny coach Dru McAnelly. "Both teams played well at times. But they went on a 10-0 run to start the third quarter, and that proved to be the difference."
The game was tied at 28 at halftime before Mason City pulled away. The Mohawks improved to 8-7 on the season.
"Anna has had two great games back-to-back," Mohawks coach Curt Klaahsen told the Mason City Globe Gazette. "She's been aggressive and looking for her shot, and we really need that with our second and third scorers."
Kayla Pitz had five points, four assists and three steals for Ankeny, which dropped to 7-7. The Hawkettes were coming off a big win over defending Class 5A state champion Valley on Friday.
"It was a true 50/50 game that could have gone either way," McAnelly said. "I thought (Mason City) played with a little more energy than we did the second half, and we didn't get to 50/50 balls and we missed close to 15 layups. When you're not getting loose balls and you're missing layups, it's hard to win basketball games."