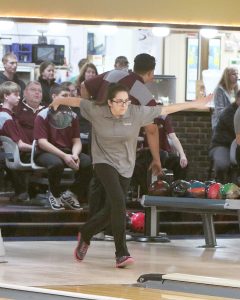 As the weather warmed up on Thursday, so did Ankeny bowler Sydney Sears.
Sears bowled back-to-back games of 236 and 235 to lead the Ankeny girls' team to a 2,564-2,345 victory over visiting Marshalltown in a CIML non-conference meet at Great Escape. She set a school record with a 471 series, breaking the mark of 446 that was set by Brianna Payton in 2011.
"Sydney lit up the lanes tonight and led our girls to a fabulous victory," said Ankeny coach Jim Robidoux. "She is the spiritual leader of both the boys' and girls' teams, and she earned the season-high series for both teams tonight."
Sears, who has a season average of 200.3, was Ankeny's top scorer for the fourth straight meet. She helped the Hawkettes eclipse their previous season-high by 122 pins.
"I am really proud of our girls and their enthusiasm," Sears said. "It was amazing."
Isabel Tetmeyer rolled a 378 series as the Hawkettes evened their record at 3-3. Cynthia Angran bowled a 289, Christina Angran had a 272, Emma Harris bowled a 254, and Zoe Baker added a 246.
"The girls rolled 19 pins over their individual average and 33 pins over their Baker average," Robidoux said. "They opened the Baker games with a 212 and closed with a 202, which was fantastic."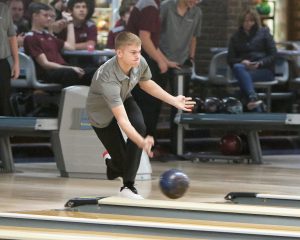 In the boys' meet, Marshalltown remained unbeaten with a 3,208-2,658 victory. The Bobcats improved to 8-0, while Ankeny's mark fell to 1-5.
"The boys rolled two pins over their individual average and 14 pins over their Baker average," Robidoux said. "They won one of the Baker games against the best team in the state. They left happy and hopeful for the second half of our schedule."
Collin Runyan led the Hawks with a 391 series. Bryce Follett bowled a 357, Gage Payton had a 346, Brandon Schumacher rolled a 342, James Cole had a 331, and Joel Unick followed with a 255.
The Bobcats boast five of the state's top 17 bowlers regardless of class.
"I was looking forward to this meet to bowl with Marshalltown," Payton said. "They are fun to watch."