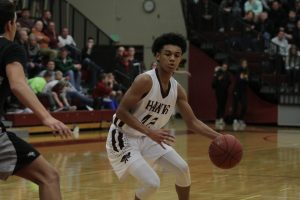 After ending an eight-game losing skid, the Ankeny boys' basketball team is suddenly on a winning streak.
The Hawks earned their second straight victory on Friday by defeating visiting Southeast Polk, 66-52, in a CIML Central Conference game. It was the first league win for Ankeny, which avenged an earlier overtime loss to the Rams.
"It was fun," said Ankeny coach Brandt Carlson, whose team improved to 1-6 in the conference and 3-10 overall. "The guys played hard and they shot the ball better in the second half, and that allowed us to get some separation–which just felt good. I was happy for the guys."
Ankeny held a 29-24 lead at halftime. The Hawks then outscored Southeast Polk in the third quarter, 20-8, to build a 49-32 advantage.
Ben Lyon scored 18 points to lead four Ankeny players in double figures. Dillon Carlson chipped in 16 points, Jaxon Smith had 12, and Jordan Kumm added 10.
"That's something we've been working toward for awhile," Carlson said of the balanced attack. "That was a nice bonus tonight."
The loss was the fourth in a row for Southeast Polk since it posted a 54-53 upset at Valley on Jan. 5. The Rams dropped to 2-5 in the conference and 4-9 overall.
"I think Southeast Polk is a scary team," Carlson said. "They had beaten Valley and they've got a couple of nice players, so we were very fortunate. Our energy was good and we were able to make them take tough shots, and we were able to rebound out of it without hardly giving up any offensive boards.
"It was a great effort, and the ball just bounced our way," he added.
Ankeny will visit Des Moines East on Tuesday before heading to Ankeny Centennial on Friday. The Hawks could be taking a three-game winning streak into their rivalry rematch.
"I think our guys do believe that they can play with anybody," Carlson said. "The guys just have to stay confident and humble as they move forward."