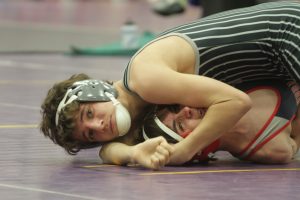 Coming off an emotional week, the Ankeny Centennial wrestlers didn't have much energy left for Tuesday's dual meet at fourth-ranked Valley.
The Jaguars won only five of the 14 matches and suffered a 51-22 loss in a CIML Central Conference matchup. Eight of the Tigers' nine victories came by fall.
"We were pretty flat," said Centennial coach Jay Groth, whose team dropped to 2-3 in the conference and 20-7 overall. "We had a pretty stressful week last week with the Bob Sharp Invitational, the Ankeny dual and the Dave Ewing Duals, so it might have been a little bit of a post-rivalry hangover or letdown, whatever you want to call it. We were just kind of going through the motions and didn't really perform, so I was disappointed overall in how we wrestled."
Centennial got a pin from Ethan Carter at 106 pounds, while sixth-ranked Ben Monroe won by a technical fall at 126. Tenth-ranked Noah Blubaugh at 120 and Alan Ayres at 145 each posted a major decision, and fifth-ranked Logan Neils edged Blake Underwood, 4-2, at 160.
The biggest match of the night came at 182, where Valley's top-ranked Joel Shapiro remained unbeaten with a fall over fifth-ranked Colin Honderd. He got the pin in 3 minutes 8 seconds.
Shapiro, an Iowa State recruit, extended his winning streak to 77 matches. He is now 28-0 this season with 23 pins, 17 of them in the first period.
Honderd, who fell to 29-5, didn't yield the pin until midway through the second period.
"I thought (Honderd) wrestled pretty well, but it's hard to say," Groth said. "Colin's a real good wrestler, but Shapiro is just very good."
Eighth-ranked Zach Oldham at 138, second-ranked Grant Stotts at 152 and fourth-ranked Beau Lombardi at 220 also had falls for the Tigers.
"I think most of our guys just gave Valley too much respect," Groth said. "We knew they had beaten Southeast Polk and they're pretty tough, so we kind of let them have their way with us."
The Jaguars will be back in action on Friday in the CIML Invitational at Southeast Polk.
Here are the match-by-match results:
Valley 51, Centennial 22
220: Lombardi (V) pinned Frazier, 1:22; 285: Cart. Lawrence (V) pinned McClaskey, 1:26; 106: Carter (AC) pinned Fallacaro, 5:07; 113: Nielsen (V) pinned Bresson, 3:30; 120: Blubaugh (AC) beat Cars. Lawrence, 13-4; 126: Monroe (AC) won by technical fall over Micka, 15-0; 132: Corbin (V) beat Owens, 2-1; 138: Z. Oldham (V) pinned Nessler, 1:52; 145: Ayres (AC) beat Umble, 11-2; 152: Stotts (V) pinned Vaughan, 1:46; 160: Neils (AC) beat Underwood, 4-2; 170: Myers (V) pinned Young, 1:01; 182: Shapiro (V) pinned Honderd, 3:08; 195: Cobb (V) pinned Stober, 1:34.