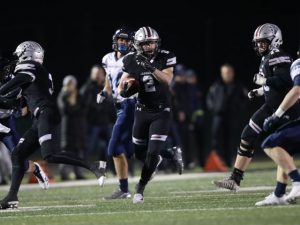 Both Ankeny and Ankeny Centennial now know some of their football opponents for the 2018 season.
The Iowa High School Athletic Association has released its district assignments for the next two years. Ankeny has been placed in Class 4A District 1 along with Des Moines Hoover, Des Moines Lincoln, Dowling Catholic, Sioux City East and Sioux City North, while Centennial has been placed in District 2 along with Des Moines Roosevelt, Fort Dodge, Marshalltown, Sioux City West and Southeast Polk.
Based on last year's records, Centennial is the top returning team in District 2. The Jaguars reached the semifinals of the Class 4A playoffs for the second straight season and finished with a 9-3 mark.
Southeast Polk is the only other returning playoff team in District 2. Centennial's five opponents combined for an 18-28 record a year ago.
Dowling, the five-time defending state champion, is the lone returning playoff team in District 1. After going 4-5 last year, the Hawks will play five district opponents who combined for a 25-24 mark in 2017.
At its monthly meeting on Wednesday, the IHSAA's Board of Control approved some changes to the sport's playoff qualifying system. The Board unanimously voted to maintain the current schedule with nine regular-season games and 16 postseason qualifiers per class, but a provisional recommendation was approved that will change how the 16 teams in each class qualify for their playoffs starting this fall.
The new format for 2018-19 is as follows:
1. Only the district champion or teams tying for a district championship receive automatic qualification.
2. For the first time since the debut of district football, all nine games will count toward postseason qualification.
3. The 17-point district tiebreaker will be eliminated and not factor into qualification.
4. Remaining at-large qualifiers will be determined by a Ratings Percentage Index formula. The RPI will use three criteria to determine postseason qualification:
a. Team's overall win-loss percentage (accounting for 37.5% of the index)
b. Team's opponent's win-loss percentage (37.5%)
c. Team's opponent's opponent's win-loss percentage (25%)
5. Classification differences between non-district opponents do not affect RPI.
The NCAA uses RPI in several men's and women's sports. The Colorado High School Activities Association debuted a similar RPI system in 2016.
"Our goal is to have the best 16 teams in each class qualify for the playoffs," said IHSAA Executive Director Alan Beste. "We believe we get closer to that goal by having only district champions as automatic qualifiers, and the remainder of qualifiers determined by their success and the success of their opponents and other successful teams."