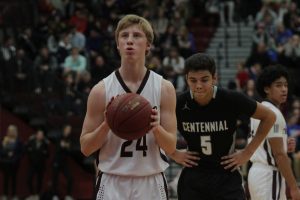 Both the Ankeny and Ankeny Centennial boys' basketball teams could be facing some familiar opponents during postseason play.
The Iowa High School Athletic Association announced its Class 4A substate assignments on Friday. Centennial has been placed in Substate No. 7 along with Des Moines Hoover, Des Moines Lincoln, Marshalltown, Urbandale and Valley, while Ankeny has been placed in Substate No. 8 along with Ames, Des Moines East, Des Moines North, Fort Dodge and Johnston.
Pairings will be announced at a later date, but Centennial (10-4) appears to be headed for a No. 2 seed in its bracket behind Hoover (13-1). The Jaguars would receive a first-round bye before hosting a semifinal game, likely against Urbandale (6-7) or Valley (8-7).
Valley has already handed the Jaguars two of their four losses. The Tigers posted a 49-46 victory on their home court on Dec. 15, then won at Centennial, 43-41, on Jan. 19.
The two teams could meet in postseason play for the fourth time in five years. The Jaguars lost at Valley in a substate semifinal last year, lost to the Tigers in a substate final at Dallas Center-Grimes in 2016, and also lost to Valley in a substate final at Ankeny in 2014.
Ankeny (4-10), meanwhile, is trying to earn a No. 3 seed in its bracket behind North (13-2) and Johnston (11-3). Fort Dodge (7-6) and Ames (7-7) are also in contention for the No. 3 seed, which would host winless Des Moines East (0-14) in the opening round.
If Fort Dodge earns the No. 3 seed, Ankeny and Ames would meet for the third time this season in the 4 vs. 5 game. The Little Cyclones won the first two meetings by a total of three points, 49-47 in overtime and 50-49.
The Hawks advanced to a substate final a year ago before losing to North, 88-68, at Dallas Center-Grimes.