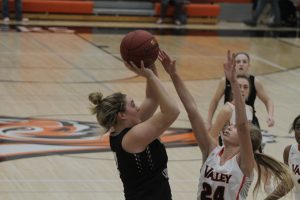 The Ankeny Centennial girls' basketball team won't even have to leave its own gym in order to qualify for the Class 5A state tournament at Wells Fargo Arena in Des Moines.
The fifth-ranked Jaguars earned a No. 1 seed in Region 5 after posting a 50-42 overtime victory against Des Moines East on Tuesday at Centennial. They raised their record to 15-3 on the season.
"It was a big win for (seeding purposes)," Centennial coach Scott DeJong said after Tuesday's game. "I think we've earned home-court advantage, and our crowds have been awesome this year. Our whole side was full tonight on a Tuesday. We should be able to play at home for two games and we've played great at home, so we're excited about it."
Centennial will host Des Moines North (2-15) or Urbandale (8-10) in a regional semifinal on Feb. 17 at 7 p.m. The Jaguars have already defeated both teams.
With a win, Centennial would host defending state champion Valley (9-9) or Ottumwa (9-9) in the regional final on Feb. 20 at 7 p.m. The Jaguars have also defeated both of those teams, including two wins over Valley.
Centennial posted a 55-43 victory at Valley on Dec. 15, then later rallied from a 26-22 halftime deficit to beat the Tigers again, 63-57, on Jan. 19. Junior guard Zoe Young, a Maryland recruit, poured in 26 points in the rematch and now leads the No. 12 Tigers with a 22.8 average.
"Whoever plays (Valley) in the tournament is not going to be looking forward to it, that's for sure, with the record they have," DeJong said after his team's last win over the Tigers.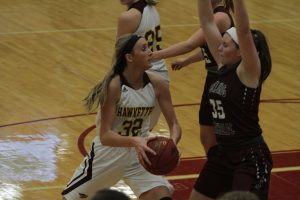 Ankeny, meanwhile, earned a No. 2 seed in Region 7. That will allow the No. 15 Hawkettes (9-9) to host a tournament game for the first time since the community split into two high schools in 2013.
"It would be amazing to not only host a game, but to get a win," said Ankeny coach Dru McAnelly. "That's kind of our goal right now."
Ankeny will host Des Moines Lincoln (5-13) in a regional semifinal on Feb. 17 at 7 p.m. The Railsplitters dropped a 77-30 decision to Ankeny in their season opener on Nov. 21.
No. 3 Dowling Catholic (15-1) will host Fort Dodge (4-13) or Sioux City East (2-14) in the other regional semifinal. With a win, the Maroons would also host the regional final on Feb. 20 at 7 p.m.
The Hawkettes opened their season on Nov. 20 with a 70-38 loss to Dowling.