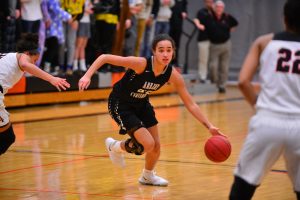 It took awhile for the Ankeny Centennial girls' basketball team to take control of Tuesday's game at Fort Dodge.
The fifth-ranked Jaguars trailed in the second quarter, 19-16, before scoring the last nine points of the half. They then used a 24-4 run in the third quarter to pull away for a 62-41 victory in a CIML non-conference game.
"We kind of had a slow start. We didn't play great, but we're happy to be going home with a win and we're looking forward to the last game of the (regular season)," said Centennial coach Scott DeJong, whose team will play at No. 6 Waukee on Friday for the CIML Central Conference title.
The win was the eighth in a row for Centennial, which raised its record to 17-3. The Dodgers (4-16) lost their fifth straight game.
Reserve Becca Anselme scored 12 points to lead the Jaguars' balanced attack. She had tallied just eight points in six previous appearances.
Meg Burns, Chloe Olson and Rachel Schon each had 10 points. Keanna Williams added a season-high nine points.
Williams, who missed the first 13 games of the season due to an ACL injury, had averaged 2.2 points over her first five games.
"She's playing a little better," DeJong said of his senior point guard.
Beth Murman led Fort Dodge with 12 points, while leading scorer Shareece Smith had nine before leaving the game with a sprained ankle midway through the fourth quarter. She did not return.
"We played hard, but I think we started to run out of gas after (a tough week) and given the fact that (the Jaguars) are one of the best defensive teams in the state," Dodgers coach Julius Michalik told the Fort Dodge Messenger. "We got off to a good start, which was an encouraging sign given what's happened recently, but they're famous for their man-to-man defense and after a while, that seemed to take a toll on us."
Like Fort Dodge, Centennial will try to get healthy before the start of postseason play. The Jaguars are battling some injuries as well as some sickness.
"Chloe is banged up a little bit so we were able to give her a lot of rest," DeJong said. "She just tweaked her groin a little bit, but hopefully she'll be better by Friday. We need her to be better."