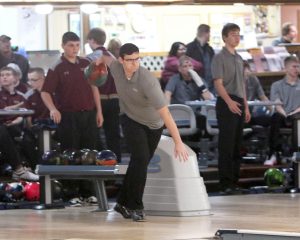 The Ankeny bowling teams tuned up for Thursday's CIML Central Conference meet with strong performances on their Senior Night against Southeast Polk Tuesday at Great Escape.
The Ankeny boys' team dropped a 3,158-3,012 decision to the Rams, but the Hawks posted their highest score in more than four years. Ankeny surpassed the 3,000-pin mark for the first time since Jan. 28, 2014, when the Hawks rolled a 3,053 to defeat Johnston in a meet at Plaza Lanes.
"The boys came out red hot with a 225 average for the first game," said Ankeny coach Jim Robidoux. "Gage Payton (252), Collin Runyan (246), Bryce Follett (235) and Mason Thompson (222) all added their names to the top 10 list on the season."
Southeast Polk, which also uses Great Escape as its home bowling center, still managed to build a 39-pin lead after the individual rounds. The Rams (8-4) then closed the Baker round with scores of 217, 223 and 243 to seal the victory in the Central Conference matchup.
Runyan bowled a 219 in his second game to finish with a 465 series, matching his career-high. Payton had a 433 series, Joel Unick bowled a 389, Brandon Schumacher had a 388, Follett rolled a 377, and Thompson added a 352.
The loss dropped the Hawks' records to 0-3 in the conference and 2-8 overall. Runyan, who was the team's top scorer for the fourth time this season, was honored at the meet along with seven senior bowlers on the Ankeny girls' squad.
"We are blessed to have two four-year players who currently lead each varsity team," Robidoux said. "Sydney Sears leads the girls and the team with an average of 197.1, which ranks 11th in the state. And Collin leads the boys' team with an average of 187.7.
"We are thankful for all eight seniors on the roster. Newcomers Nikki Ault, Emily Davis, Kora Kolln, Maddie Nielsen, Betsy Ridout and Marisa Smith brought tremendous energy and enthusiasm to our meets," he added.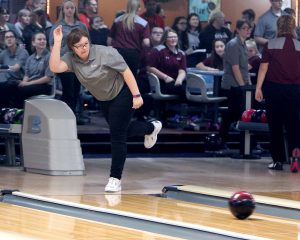 The Ankeny girls' team lost a narrow decision to Southeast Polk, 2,424-2,414. The 10-pin margin was less than one-half of 1 percent of the total score.
"The girls challenged Southeast Polk to the wire in a heartbreaker," Robidoux said. "Losing by just 10 pins is just two converted spares somewhere over the course of 180 total frames of a bowling match."
Freshman Isabel Tetmeyer bowled back-to-back games of 201 and 211 to lead the Hawkettes with a 412 series. She was the team's top scorer for the second straight meet.
Sears bowled a 364 series. Christina Angran had a 306 series, Zoe Baker rolled a 274, Cynthia Angran had a 272, and Emma Harris added a 253.
The win improved Southeast Polk's record to 9-3. The Hawkettes fell to 1-2 in the conference and 5-5 overall.
"We look forward to returning to Great Escape on Thursday when Ankeny hosts the conference meet with six top-15 teams out of eight competing," Robidoux said. "There will be some excellent bowling."