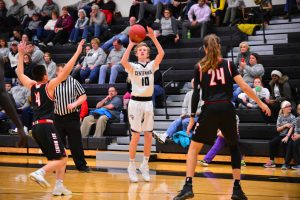 Tuesday's loss at Fort Dodge could have some costly ramifications for the Ankeny Centennial boys' basketball team.
The Jaguars suffered a 50-37 loss that ended their two-game winning streak and dropped their record to 12-6 on the season. The outcome could have an effect on the seedings for the Class 4A Substate 7 tournament, which will be determined on Wednesday.
Centennial is expected to battle Valley (11-7) for the No. 2 seed behind Des Moines Hoover. The Tigers are on a five-game winning streak following Tuesday's 46-30 victory at Urbandale.
The team that is awarded the No. 2 seed would receive a first-round bye and a semifinal game at home rather than on the road.
"We'll see how it plays out," said Centennial coach Bob Fontana. "Our record is better (than Valley's), and we have the edge against common opponents. But they beat us twice head-to-head."
Fort Dodge jumped out to a 10-0 lead on Tuesday and cruised to its fourth straight victory in the CIML non-conference game. The Dodgers improved to 11-7, assuring themselves of a winning regular season.
"We got off to a bad start and just never really recovered," Fontana said. "They took it to us and beat us in every phase of the game. We got outrebounded by nine boards, and we only shot eight free throws."
Zach Kluver led Centennial with 11 points. Micah Johnson added 10 on 5-of-7 shooting.
Senior guard Hunter Strait was held to a season-low five points, 12 below his average, and did not record an assist.
"Hunter did not play real well," Fontana said. "(Fort Dodge) did a good job of defending him at times, but I was just not real pleased with our senior leadership tonight. I was disappointed with how we showed up to play for a big game."
Trey Mosley led Fort Dodge with 15 points, while Malcolm Clayton added 12. Clayton missed nine of his last 11 shots, but that hardly mattered as the Dodgers held their opponent under 45 points for the third game in a row.
"This group continues to buy into each other and the idea of building an identity around its defensive (performance)," Dodgers coach Tom Daniel told the Fort Dodge Messenger. "We don't have any size to speak of. We aren't much of a 3-point shooting team. But our guys are accepting their roles and playing with both a physical and mental toughness that I think sometimes catches our opponents off guard."