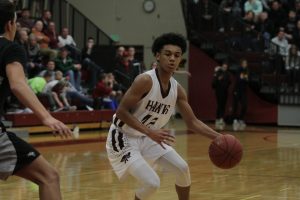 The Ankeny boys' basketball team was expecting to head north for its postseason opener later this month.
It turns out that the Hawks won't have to go as far up I-35 as they thought.
Fifth-seeded Ankeny will play at fourth-seeded Ames in a Class 4A Substate 8 quarterfinal on Feb. 19 at 7 p.m. The Little Cyclones (7-11) are currently on a five-game losing streak.
The Hawks (6-12) were hoping to land the No. 3 seed, but a 65-61 loss to Fort Dodge on Jan. 30 put an end to their hopes of hosting a quarterfinal game. Ankeny coach Brandt Carlson assumed after the loss that his team would have to play Fort Dodge again in the postseason, this time on the Dodgers' home court.
However, that victory ignited a four-game winning streak for the Dodgers, who improved their record to 11-7 with a 50-37 triumph over Ankeny Centennial on Tuesday. Thus, Fort Dodge leapfrogged Ames for the No. 3 seed, allowing the Dodgers to host winless Des Moines East (0-18) in a quarterfinal.
Ankeny and Ames will be meeting for the third time this season. The Little Cyclones posted a 49-47 overtime victory at Ankeny on Dec. 8, then won the rematch at Ames, 50-49, on Jan. 9.
Joe Evans, the Little Cyclones' leading scorer, played a key role in both victories. He made a free throw with no time left to force overtime in the first meeting, then connected on two free throws with 2.5 seconds left to give Ames the win in the rematch.
The winner of that game will play at top-seeded Des Moines North (17-2) in a substate semifinal on Feb. 23 at 7 p.m. Second-seeded Johnston (15-3) will host the other semifinal game.
Centennial, meanwhile, has been awarded the No. 3 seed in Substate 7. The Jaguars (12-6) will host a quarterfinal game against Des Moines Lincoln (4-14) on Feb. 19 at 7 p.m., three days after hosting the Railsplitters in their regular-season finale.
Centennial was battling Valley (11-7) for the No. 2 seed, but the loss at Fort Dodge may have cost the Jaguars a first-round bye. It also means Centennial would have to play at Valley in the semifinals on Feb. 23, rather than hosting that game.
The Jaguars own a better record than Valley and also fared better against common opponents, but the Tigers earned the No. 2 seed on the strength of their two head-to-head wins over Centennial. Valley, which is on a five-game winning streak, defeated the Jaguars in a pair of close games, 49-46 and 38-36.
Top-seeded Des Moines Hoover (16-1) will host Urbandale (7-11) or Marshalltown (6-12) in the other semifinal game.