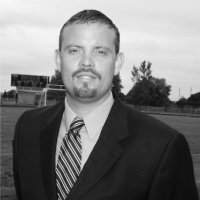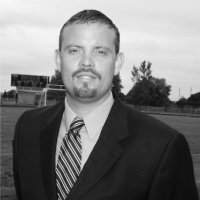 In the fall of 2013, Scott Garvis became the Athletic Director at Newton High School at the same time that Tom Kinseth took control of the athletic department at Ankeny Centennial's brand new high school.
Now, five years later, Garvis has been named the successor for the retiring Kinseth. He will take over the position this summer.
"I know Scott, and he's a good guy," Kinseth said. "He was a past president of the Athletic Directors' Association. He's got good leadership skills, and I think he'll love it here."
Garvis announced on Monday that he was stepping down from his job at the end of the school year. His hiring was approved by the Ankeny School Board that night.
"I'm looking forward to the opportunity to helping Ankeny Centennial continue to build upon the great tradition they've already started," Garvis said. "I'm excited to be a part of that and excited to be a part of the community."
Garvis grew up near Eldora, where he went to Eldora-New Providence High School. He earned a bachelor's degree at Westmar University and a master's degree from Drake.
Garvis has worked in three different Iowa school districts. He also held positions in Minnesota and the Seattle, Wash., area before taking the job at Newton.
"I've been at very small schools and very large schools," Garvis said. "I feel like I've got a good wealth of experience from my many years of service as an athletic director. And obviously being from Iowa and Minnesota, I love being in Iowa and being in the Des Moines area will be an awesome added bonus for me."
Under Kinseth's direction, Centennial has already won six state championships in less than five full school years. The Jaguars' athletic success includes a run of three consecutive Class 5A volleyball titles from 2014-16.
"Obviously, Ankeny has a tradition of having great academics, activities and athletics," Garvis said. "I was just drawn to the position by the fact that it's a great place to work. I've heard nothing but great things about Dr. Lindaman and Dr. Kimpston. Just having an opportunity to work with them, I'm really looking forward to that as well as just being at a school that is just so well established and has a great tradition."
Kinseth, who will turn 62 years old in May, said it was simply time for him to move on.
"Forty years of being in education, that's long enough," he said. "It was a tough decision, but I'm looking forward to (retirement). I'll be spending more time with the family and the grandkids. And I've got some hobbies–I like to fish and golf and hunt. I'll have some more time to do that and to do some traveling."
Kinseth came to Ankeny from Fort Dodge five years ago to start up the Centennial program. He said the new school faced numerous challenges in those first few years.
"The equipment was a big piece of that, trying to order everything that you needed to get an activities program up and running–not just athletically but with band and choir and all the other things," Kinseth said. "The first year our office looked like the UPS store. It was challenging, but yet it was fun doing it."
Kinseth said he thought about retiring a year ago, but wanted to stick around for the completion of Centennial's new baseball and softball fields. He also wanted to help with the renovation of Ankeny Stadium.
"That's going to be a heck of a stadium when it's all completed," Kinseth said. "Just being a part of that planning process was fun, and to be here for the opening of the DMACC pool was a highlight, too. They invited us to sit in on their preliminary meetings, and that was fun as well."
Kinseth said he's proud of Centennial's athletic accomplishments during his tenure. The Jaguars have also won state titles in boys' golf, girls' basketball and girls' soccer.
"There were some people who thought it would take five years to recover and to be where Ankeny was at before the split, but in that first year we won boys' golf right out of the chute and then volleyball won, too, and we were off and running," he said. "It was amazing."
Kinseth attributed Centennial's success to a team effort, but gave most of the credit to the coaches and athletes.
"The kids and the talent that Ankeny has is incredible, but they work at it–the coaches and the kids," he said. "We have a lot of coaches who spend a lot of time in the offseason to make their programs better. It just doesn't happen overnight."
Garvis is looking forward to following in Kinseth's shoes.
"Tom is well-respected within the state amongst the athletic directors," he said. "I know he worked really hard coming from Fort Dodge to Ankeny to kind of build that foundation. For me, it's about getting in there and working with our sponsors, the directors, and the coaches to build on the success that they've already had and how we can continue to improve to get better and better as the years go on. Coming up with a plan to continually improve will be really important for us."