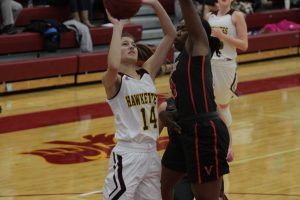 Valley's Zoe Young showed again on Friday why she's considered one of the nation's top girls' basketball players in the Class of 2019.
Young, a Maryland recruit, made a trio of 3-point goals and scored 19 points to lead the 12th-ranked Tigers to a 68-58 victory over No. 15 Ankeny at Valley. The junior guard also had eight rebounds, three assists, two steals and four blocks in the win.
"I thought we made her work for everything she got," said Ankeny coach Dru McAnelly. "She didn't really score much in transition, but it was Valley's Senior Night and they had a couple of girls step up and hit shots they don't normally hit. But that happens once in a while."
Shea Fuller had 13 points, five assists and three steals as the Tigers avenged last month's 59-53 loss at Ankeny. Valley finished 3-7 in the CIML Central Conference and improved to 11-10 overall, while the Hawkettes' records dropped to 2-8 and 10-11.
The defending Class 5A state champion Tigers have now won six of their last eight games after suffering through a six-game losing streak. They turned their season around following the loss at Ankeny.
"(Valley) only missed two free throws the entire game, and we missed 10," McAnelly said. "So that was a huge statistic right there."
Sara McCullough led Ankeny with 26 points, including four 3-pointers. She also had seven rebounds, three steals and two blocks.
Kayla Pitz and Holly Trimble each added nine points. Jaelynn Kueker dished out three assists.
"We got down big and then tried to get back into the game," McAnelly said. "We played with a little higher level of energy in the fourth quarter. We got some steals, forced some quick shots and played with a little more attack mode on offense.
"We hit some shots and cut the lead to six points, but we just couldn't get over that hump," he added.