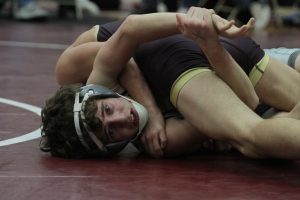 Here are some quick observations after looking at the brackets for this week's Class 3A state wrestling tournament:
*At 113 pounds, Ankeny's Caleb Rathjen and Ankeny Centennial's Noah Blubaugh could be headed for a showdown in Friday's quarterfinals. The second-ranked Rathjen will be favored to beat unranked Hons Von Rabenau of Iowa City West in Thursday's opening round, while the ninth-ranked Blubaugh will have to pull off a mild upset against seventh-ranked Jakey Penrith of Cedar Falls in order to advance.
*At 120, Centennial's Ben Monroe faces an uphill battle to reach the finals for the second straight year. The sixth-ranked Monroe faces fifth-ranked Dylan Albrecht of Waverly-Shell Rock in the opening round, then would likely have to beat fourth-ranked Zachary Thompson of Perry just to reach the semifinals.
*There was both good news and bad news for Ankeny's Spencer Anderson when the 132-pound bracket was revealed. The good news: Anderson will face an opponent that barely has a winning record, Rylan Hughbanks of Bettendorf (27-25), in the opening round. The bad news: His quarterfinal foe would likely be top-ranked Zach Price of Johnston, who enters the tournament at 40-1.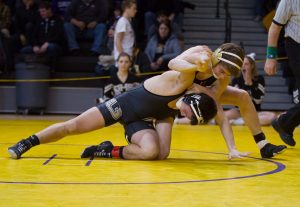 *Three of Centennial's qualifiers will meet opponents from the CIML in the opening round. Sixth-ranked Colin Honderd will face third-ranked Brandon Tessau of Waukee at 182, Noah Stober will meet seventh-ranked Triston Licht of Fort Dodge at 195, and heavyweight Riley McClaskey will battle seventh-ranked Carter Lawrence of Valley. McClaskey was pinned by Lawrence during a dual meet last month.
*Of the Jaguars' eight qualifiers, nobody has a tougher draw than Nic Leo, who will face top-ranked Ben Sarasin of Cedar Rapids Kennedy in a first-round match at 170. Sarasin sports a gaudy 36-0 record.
*Some of the 3A brackets are extremely unbalanced. The top three wrestlers at both 120 and 160 are all in the same quadrant of the bracket, which means that only two of those six grapplers can advance to the semifinals. At 182, four of the top five wrestlers are in the bottom half of the bracket. If Honderd can avenge an earlier 7-6 loss to Tessau on Thursday, he would then be favored to reach the finals.