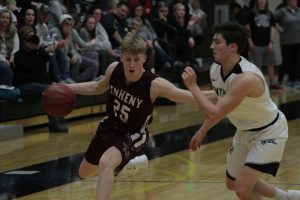 The boys' basketball postseason gets under way for the Class 4A teams on Monday night. Both Ankeny and Ankeny Centennial will face a rematch in the quarterfinal round.
The third-seeded Jaguars (13-8) host sixth-seeded Des Moines Lincoln (5-17) at 7 p.m. The Railsplitters have lost 10 of their last 11 games, including a 66-52 decision at Centennial in the regular-season finale on Friday.
"They've got some good young kids," Centennial coach Bob Fontana said of the Railsplitters. "They went to Urbandale and beat them three weeks ago, and Ankeny was actually fortunate to beat (Lincoln) on Tuesday."
In Friday's game, Centennial dominated the first half, building a 33-8 lead. But Lincoln then outscored the Jaguars, 44-33, in the second half.
"I hope they got our attention, and we're not overlooking them," Fontana said. "If we do overlook them, then we're going to be in big trouble."
Centennial is seeking its first trip to the state tournament. With a win, the Jaguars would play at second-seeded Valley (14-7) in a substate semifinal on Friday.
Fifth-seeded Ankeny (7-14), meanwhile, travels to fourth-seeded Ames (9-12) for its third meeting against the Little Cyclones, beginning at 7 p.m. Ames has struggled down the stretch, going 2-6 in its last eight games.
However, the Little Cyclones won both contests against Ankeny during the regular season. They posted a 49-47 overtime victory at Ankeny on Dec. 8, then won the rematch at Ames, 50-49, on Jan. 9.
Joe Evans, the Little Cyclones' leading scorer, played a key role in both victories. He made a free throw with no time left to force overtime in the first meeting, then connected on two free throws with 2.5 seconds left to give Ames the win in the rematch.
"There's no doubt we have a lot of confidence," said Ankeny coach Brandt Carlson. "The first two times we played them we didn't have our full group playing together yet, so the guys are looking forward to it. The seniors who played last year fully expect to go on another run. That's kind of our motto at Ankeny–we want to be great in the postseason."
Ankeny has been in this position before. A year ago, the Hawks avenged two lopsided losses to Waukee in a substate semifinal before losing to Des Moines North in the substate final.
"We're absolutely pumped to play Ames," said senior forward Ben Lyon. "We're looking forward to having another crack at them. I think it'll be a challenge, but I think the guys are ready to step up and take care of business this time."
The winner will play at top-seeded North (19-3) in a substate semifinal on Friday.